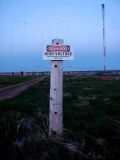 They've become a preoccupation of mine, especially after I moved to Nova Scotia from New Brunswick.
With family and friends still in Fredericton, I'll often drive from Wolfville to Fredericton and I'll always notice the shortwave transmission towers of RCI in Sackville, New Brunswick. I also like signs, so this image captures some of both.
Luckily as I was driving in a van filled with interesting artists from Iceland, Ireland, Newfoundland, and Canada we stopped for a break beside the towers. After a few minutes a security guard came out and asked if we would like a tour, but we needed to get to Moncton for the conference that begins today.
And now, through the magic of Airport I'm able to post this article from the e-lounge at the conference. I think that it's going to be fun here!