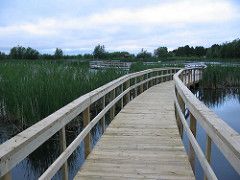 Five years ago today Flickr started and it changed the way that people view and share photos online. It also was the first place that I really used and understood tagging and folksonomies. I joined in August of 2004, and the photo of the walkway in Sackville, New Brunswick is the first image that I uploaded to my photostream.
A few minutes ago I uploaded my 9,211th photo (my 7,451st public one) to Flickr and I'm so glad that Flickr is still around to let me share photos with the world, my friends and family. It was a different world in 2004 and while I signed up for Flickr fairly early, it took me a while to upload my first image. When I would explain how I found this neat place to put photos online it would often result in a blank stare or the question, "why"? But now in the age of Facebook, not many people wonder about sharing photos, videos or other parts of their life and Flickr laid much of that groundwork for me.
While sharing is a lot of fun, it's the community that got me hooked with a diverse range of people whose images I enjoyed seeing and commenting on. When people started commenting on my photos it really started to make a lot of sense. Then the group of friends grew as did the groups and I started taking photos just about every day. Flickr is a wonderful way to communicate how you see the world and it transcends language and crosses borders.
The evolution of tags makes it much easier to find photos and since I fairly compulsively tag my images, I can also find something much easier online on Flickr than I can on my hard drive. The free form tagging or "folksonomy" that is created is a vast pool of information that grows and provides a more valuable context for photographs. Tags give you a way to identify photos and group them together with others who use the same tags for events and places. With the Flickr API (Application Program Interface), there is a wonderful range of applications and sites that enhance and use the millions of photos there. My favourite (and essential) add-on is Frasier Speir's Flickr Export for iPhoto, which is how I upload photos, tag them, and add them to groups and sets.
I still check in with Flickr every day and upload photos every week. The evolution of the site has continued with the addition of location-based geotagging, the fascinating concept of interestingness as a way to find photos, and video. But Flickr is about the images and the people and it's still what keeps me there. Happy Birthday Flickr!