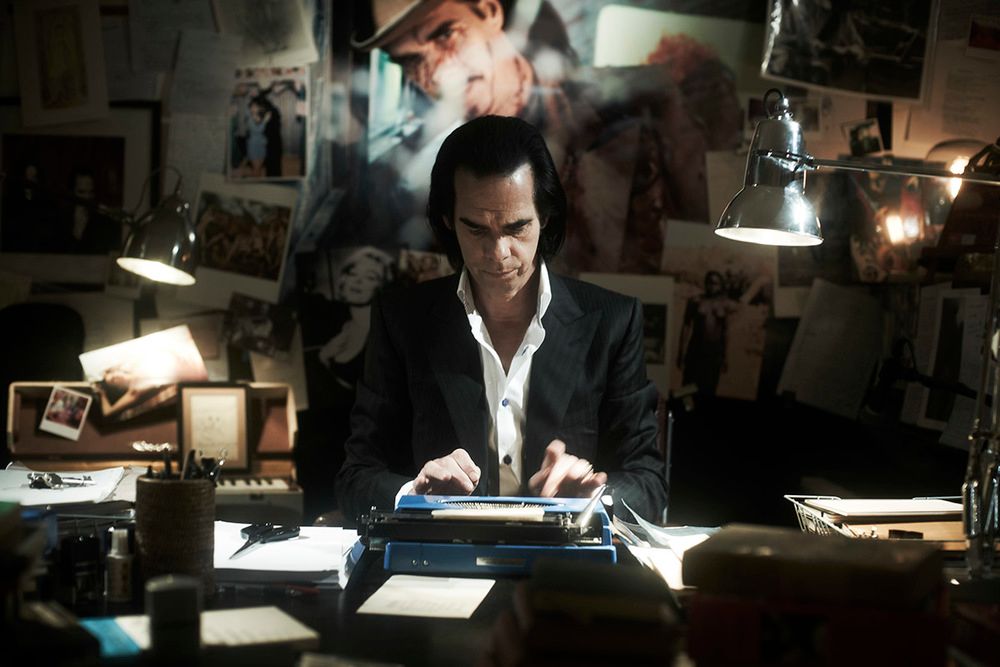 Nick Cave in the documentary 20,000 Days on Earth
While the feature dramas make up the bulk of the attention received by the Atlantic Film Festival, there are dozens of shorts and documentaries that give opportunities to see unique and challenging work with an appreciative audience. With a focus firmly built around the region with the Atlantic Shorts programs as well as some standout Canadian and international shorts programs, it's a rare opportunity to see collections of short films in a theatre. With solid documentaries from within the region and around the world, it makes the task of determining what to see just a little bit more challenging.
One change this year is the broadcast-length documentaries are now in individual slots of about an hour or so instead of being part of a longer program, which makes it easier to customize what you are seeing. With the shorts programs as well, you can see dozens and dozens of films in a short period of time and balance out the features you'll be watching. Figuring out the right balance can be hard, and that's why the best deal and easiest way to enjoy as much as possible is to get one of the passes. But even if you don't have the time to see a lot, with careful planning you can get a lot of cinematic pleasure in a short period of time.
Friday
On Friday you can start early with Les Sceaux d'Utrecht, a documentary from Paul Bossé about the 1713 Treaty of Utrecht which is an exploration of the treaty hosted by Algonquin / Métis rapper Samian. You can see the winner of the Best Canadian Feature Documentary at Hot Docs, Out of Mind, Out of Sight. Directed by John Kastner and it looks into the lives of four patients in the Brockville Mental Health Centre with filming over a year.
A film that I saw recently was The Boy Who Was Bullied, which is Greg Hemmings' short documentary about Hampton, New Brunswick's John Humphrey who was key player in the drafting of the Universal Declaration of Human Rights which the United Nations adopted in 1948. A second short documentary directed by Hemmings plays later and in Code Kids you can see how kids learn to write computer programming code in the Maritimes. Both films will let you find out more about the people in the region as well as giving you hope for the future.
If you're in the mood for personal portraits of individuals you can see Danic Champoux's documentary Self(less) Portraits which has 50 people boldly sharing a range of personal subjects with the camera celebrating the diversity of the lives that we live. Geoff D'Eon's short documentary Bounty: Into the Hurricane explores what happened in October 2012 when the tall ship Bounty set sail into the path of Hurricane Sandy.
The final documentary on Friday night is Giuseppe Makes a Movie where you can find out more about a teen actor turned director who makes films quickly with non-actors. With over 30 films in his body of work, the documentary is a portrait of a minimalist filmmaker outsider that should be inspiring and entertaining.
The Atlantic Shorts play every day of the festival after the opening night film. If you want to see the talent from the region, it's the best way to get a concentrated look at those in front of and behind the camera and what they are capable of. The first of the Atlantic Shorts programs is on Friday at 4:30 with Atlantic Shorts 1 which has a diverse range of films from documentary to animation to drama to humour in all sorts of combinations.
Saturday
Saturday has Atlantic Shorts 2 with NSCC Screen Arts grad Luke Freeman's Lord of Chaos, Michael Melski's Miles From Nowhere, Jesse Anthony's Crates, and Righteous from Cory Bowles. Atlantic Shorts 3 then follows in the late afternoon slot and all three of the Saturday Atlantic Shorts also have screening times the next Monday which can help in squeezing them all in.
The French language compilation of shorts, Courts Métrages, which is part of the Cinéma en Français S.V.P. programming stream that runs through the festival, is screening at 4:15 on Saturday. Sure to contain some gems, this program has featured some of the best recent short films from Québec. The film La coupe (The Cut) written and directed by Geneviève Dulude-De Celles recently won the Short Film Jury Award: International Fiction at Sundance should be one of the highlights of this program (and it also is part of Shorts 1 on Monday).
Saturday
Saturday has a lot of great documentaries to choose from as well as an exhibition related to one of the films. Jennifer Hogg's short documentary State of Mine looks at the creation of portraits by Chris Geworsky of seven musicians. Later on Saturday and on Sunday you can view the State of Mine Exhibition related to the photographs at the NSCAD University Academy Building.
For international documentaries on Saturday there are The Overnighters from Jesse Moss which looks at a pastor in the North Dakota oil fields, Gabe Polksy's Red Army telling the story of the Soviet Red Army hockey team, and I Am Big Bird: The Caroll Spinney Story from Dave Lamattina and Chad Walker about Sesame Street's popular giant character.
Locally there are interesting topics explored in three documentaries on Saturday. Santa Quest by P.J. Naworynski is about actor John Dunsworth in an international Santa Claus competition along with some philosophical insights. Patrick Callbeck's Rainbow Valley tells the story of the P.E.I. amusement park which closed after 36 years. Danny has Justin Simms and William D. MacGillivray telling the story of the former Premier of Newfoundland Danny Williams.
Sunday
Another big day with many documentaries focussing on people, the choices they make, and what they do with their lives are available on Sunday. Vocation, directed by Rhonda Buckley which looks at a group of artists who choose to work as artists and talk about what being an artist means to them. In keeping with the artistic theme, but in a much different direction, the Kickstarter-funded documentary Art and Craft from Sam Cullman and Jen Grausman is about the most prolific art forger in U.S. history. Jackie Torrens finds common ground between the UFO hunters of Shag Harbour, Halifax Steampunks, and some Kings County yodellers in her documentary Edge of East.
Later in the afternoon Douglas Kass and Roger Kass illuminate the struggle of migratory songbirds in Europe and the challenges that they face from poaching in Emptying the Skies. In Raising Windhorse Kent Martin looks at the intersection of spirituality and farming at the oldest working sustainable farm in Canada. With Sister Morphine, Brad Gover provocatively profiles some of the nurses in Newfoundland and Labrador who struggle with addiction in the difficult circumstances of their profession.
The documentary day wraps up with a pair of documentaries about artists and their work. First at 8pm is Ron Mann's latest, Altman, which looks at the great American director. In his other films, Mann skillfully weaves together archival footage to construct brilliant stories with insight into their subjects and this look at Robert Altman should be the definitive reflection on him. Finally the experimental documentary 20,000 Days on Earth from Iain Forsyth and Jane Pollard weaves together music, writing, fact, and fiction in a collaboration with Nick Cave which should be a delicious combination.
There are three shorts programs on Sunday, all Atlantic and all interesting looking with Atlantic Shorts 4 consisting a short documentaries about artists and artistic practice and how it helps people in the world. I've seen John Pollack's short Art, Medium Roasted, which is a tasty treat for those interested in art and coffee. The gala for the day is the CBC Atlantic Shorts Gala with producer Lora Campbell and writer / director Lisa Rose Snow's When Fish Fly having a world premiere at the gala. Their earlier collaboration, Two Penny Road Kill is a beautiful film and their latest film should be great as well. The final Atlantic Shorts program for the day, Atlantic Shorts 5, has a lot of humour and animation including Ruby Boutilier's Ken trilogy (featuring the misadventures of Barbie's love interest), as well as ubiquitous actor (appearing in 5 films in the festival this year) Glen Matthews writing and directing the wrestling picture Saving Face.
Monday
The first three of the Atlantic Shorts programs have encore screenings during the day on Monday. Then things get more experimental with Atlantic Shorts 6 with a range of visual and sonically cinematic explorations including Chris Spencer-Lowe's Transfer and Graeme Patterson's beautiful and intricate stop-motion animated Secret Citadel. Something a bit different from the Atlantic shorts could be Shorts 1 with some of the best short films from Canada and around the world. The final shorts program of the day is the new program, NextGen Atlantic Shorts with emerging filmmakers from the region featured. Screen Arts grad David Mullins debuts his FILM 5 short Hero D, and Screen Arts grad (and my daughter) Caitlin Campbell premieres her short musical documentary Leaving, which is about Cud Eastbound. The NextGen program also has Kirk Pennell's virtuoso 11-minute, one-take short POV which is amazing.
The documentary Advanced Style from Lina Plioplyte, grew out of the blog of the same name and takes a stylish look at 7 New York women ranging in age from 62 to 95 who show how to define beauty in a world obsessed with youth. Director Bashar Shbib looks for one of the first Canadian feature films and the Longfellow poem that spawned it in The Search for Evangeline in a journey that ranges across North America.
Tuesday
Things slow down a bit the next day, but you can start early on Tuesday with youth oriented screenings with the Viewfinders Shorts at 10am and an encore screening of I Am Big Bird: The Carroll Spinney Story at 10:30am. There is also an encore screening of Atlantic Shorts 4 at 4:30pm. At 6:45 you can see Shorts 2 with more of the best short films from around the world and Canada.
There are a couple of documentaries in the evening on Tuesday exploring history, politics, and identity. You can explore the teen movie genre in Charlie Lyne's Beyond Clueless which looks at over 200 teen movies in the post John Hughes era. The Swiss documentary The Circle won the Best Documentary award this year in Berlin and it tells the story of the gay male organization and the 50 year relationship of a Swiss couple through interviews and recreations.
Wednesday
A pair of documentaries on Wednesday both promise to be compelling and interesting for different reasons. First up is The Green Prince, a documentary by Nadav Schirman constructed like a thriller about the son of the founder of Hamas who became a spy for Israel. Sturla Gunnarson's Monsoon goes into the heart of the massive Indian weather system that annually covers the country. For Wednesday shorts you can catch the encore screening of Atlantic Shorts 5 followed by Shorts 3 with international and Canadian shorts exploring life and death.
Thursday
The final day of the festival has one documentary in the morning and encore shorts screenings throughout the day. Born to Fly: Elizabeth Streb vs. Gravity is a documentary by Catherine Gund that paints a fascinating portrait of extreme choreographer Elizabeth Streb and the amazing and physically demanding performances that redefine dance and risk. The NextGen Atlantic Shorts have an encore screening at 4:45, the CBC Atlantic Shorts Gala screens again at 8pm, and Atlantic Shorts 6 has another screening at 10pm.
You can see the results of the intense 10x10 music video and director collaboration (and find out who wins) at the 10x10 Music Video Screening at 7:30pm. Over the course of five days, bands and filmmakers met and in that short period of time they will have made 10 music videos that will all screen at this event. The RBC Foundation's Emerging Artist Award of $10,000 goes to the winning video and is divided between the filmmaker and the musicians.
The key to a good festival is balance and mixing drama, documentaries, and shorts is a great way to get a diverse experience and have a lot of fun at the Atlantic Film Festival. Good luck planning out what to see!