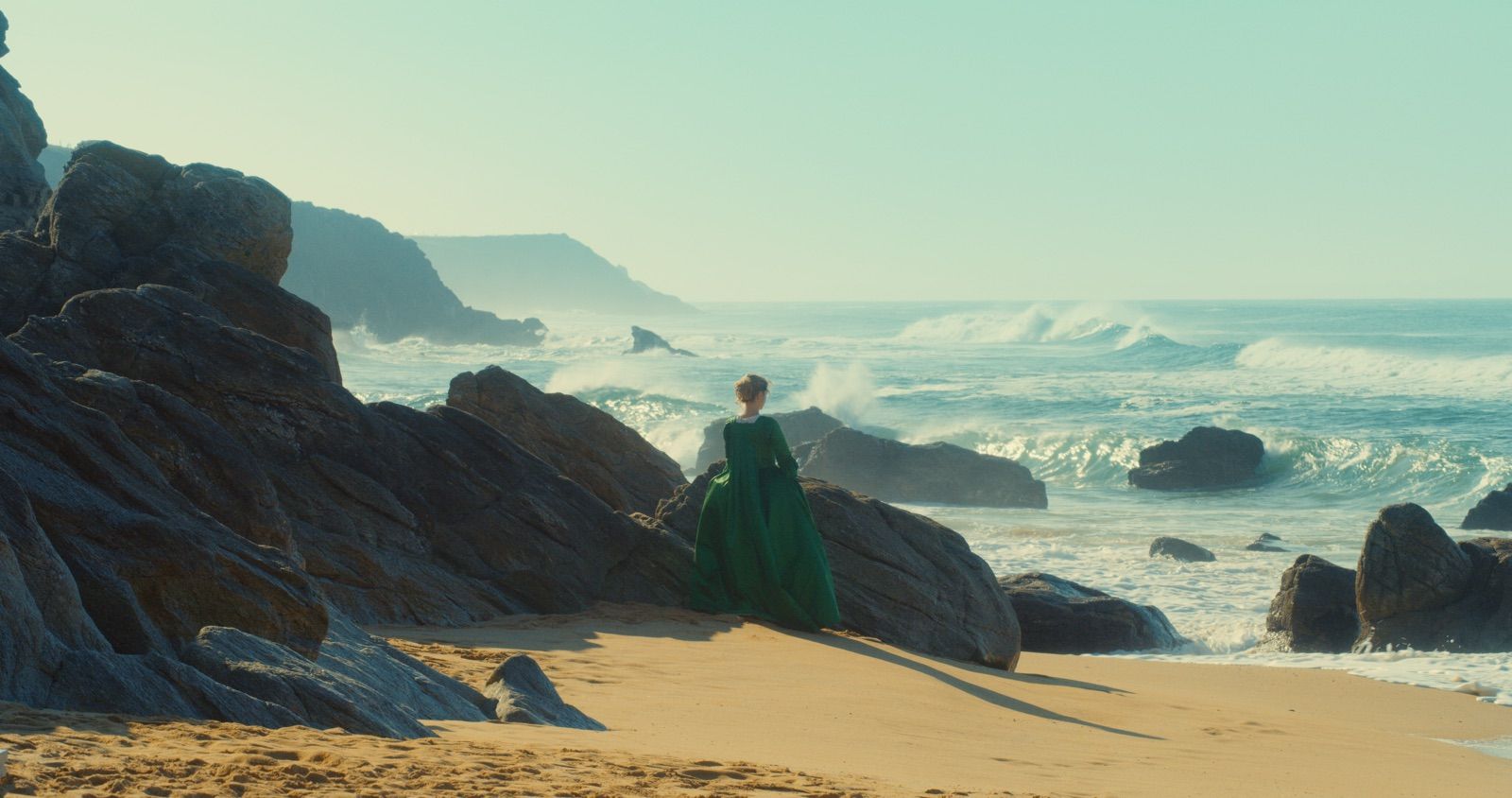 It was a good year for films and I enjoyed a lot of what I saw. We said farewell to the remarkable Agnès Varda and many powerful voices emerged and experienced directors released work that drew on their experience and history. My viewing routine now has at least 50% of films directed by women and in my top 20 list it reflects that with 10 films directed or co-directed by women so that is something I'm definitely going to keep doing. There were great films in theatres, at festivals, and some remarkable films seen for the first time on streaming services.
It's a good time to love films despite the consolidation of franchises under the umbrella of the Disney empire. I only watched one Marvel film, in January, when I rewatched Black Panther. There were so many great old and newer films with context on The Criterion Channel that there is always something to watch there. On MUBI there is a range of interesting contemporary and older work from around the world. Netflix has some great mainstream and more obscure work ranging from the latest Scorsese to Mati Diop's remarkable feature debut.
I have my list of my favourite films of the year on Letterboxd and as the weirdness of the awards season goes on, it seems like it would be good to point out some of the great work in the films on that list. So here are some highlights and observations from my favourite films of 2019:
Film
Emotionally the films that I connected with the most crept up on me with Portrait of a Lady on Fire from Céline Sciamma surprising me the most. It's a gorgeous film and it slowly built until the end of the film with a conclusion that left me breathless. It was similar with Greta Gerwig's Little Women which also was surprising in how it navigated through the historical drama while adding a more modern approach all while staying within the parameters of a traditional film. In Pain and Glory most of the elements of Almodovar's other films where there, but it was toned down and also slowly built in emotional power as the moments became more resonant. Parasite is a cleverly and carefully constructed story of class and privilege that mixes tones and genres to keep you destabilized all the way through the film.
Cinematography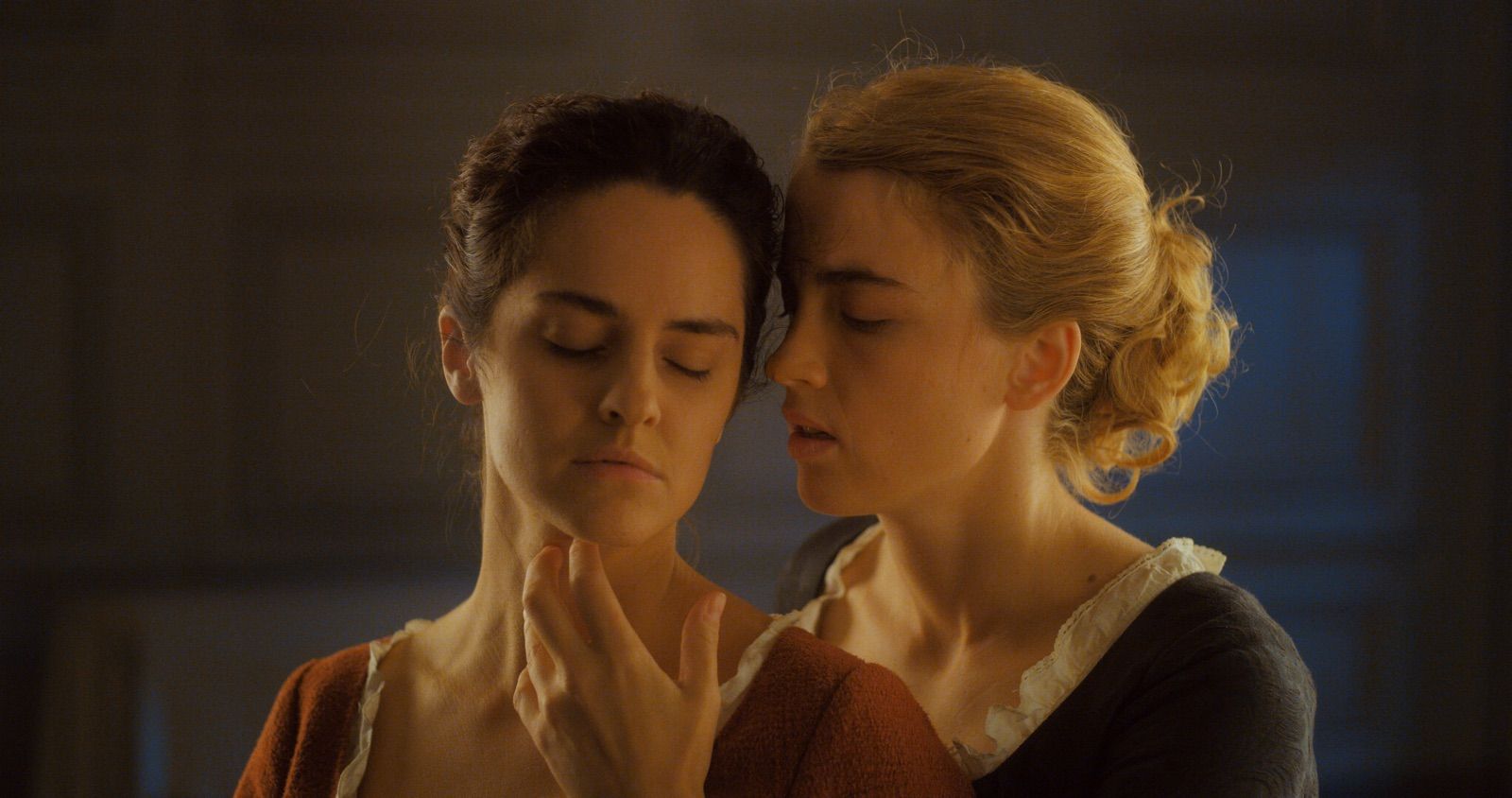 With the development of digital cinematography it can be a challenge to tell if a film originated on celluloid or not. Along with the availability of 4K HDR video at home, it's a great time for watching films and there was some absolutely stunning cinematography as well.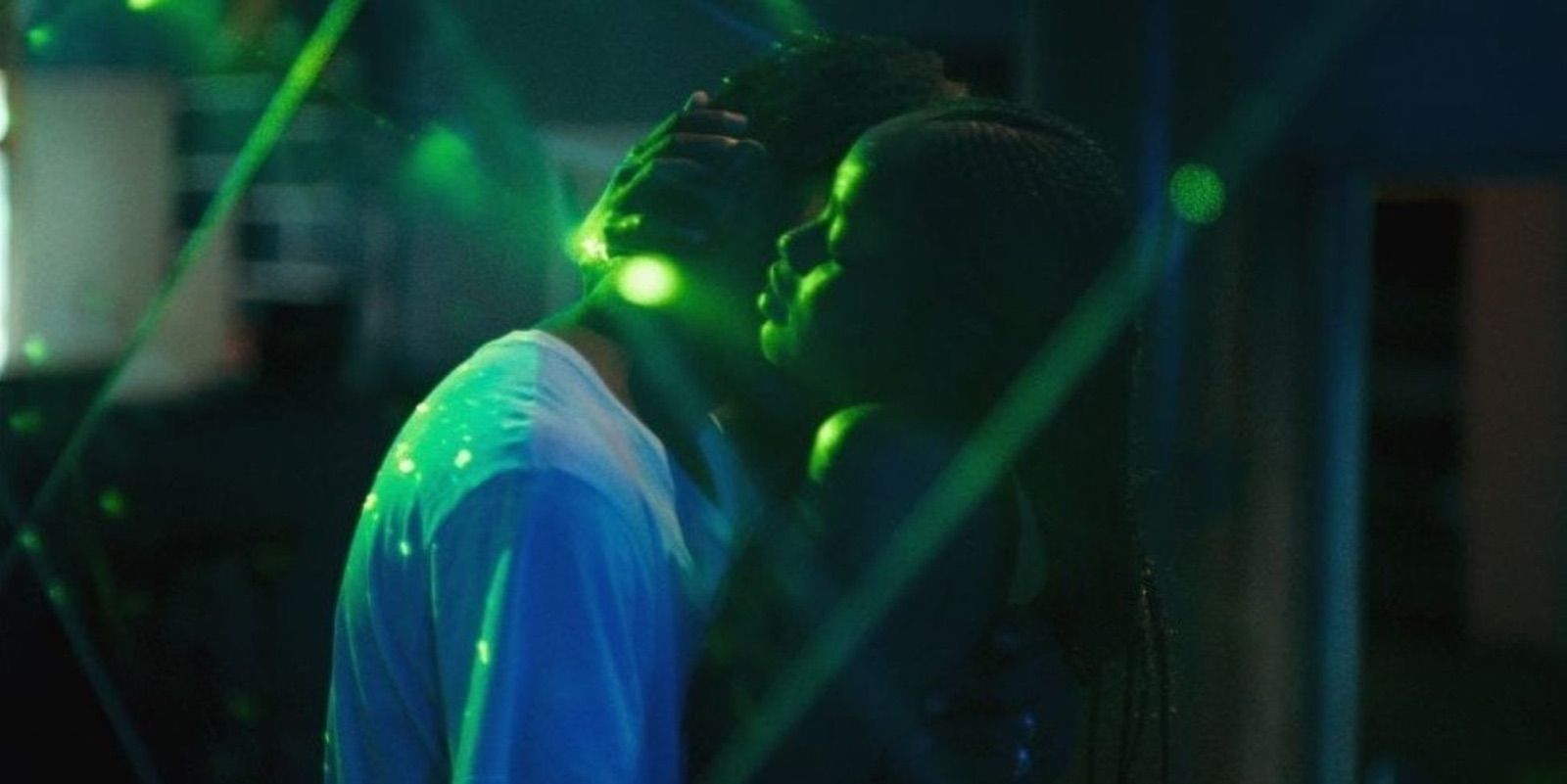 Easily the most breathtaking cinematography of the year came from one cinematographer, Claire Mathon, especially with Portrait of a Lady on Fire, and also with Mati Diop's Atlantics. Her use of light, framing, and camera movement allowed her directors to tell complex stories and to establish locations and characters that became completely immersive and almost overwhelming at times.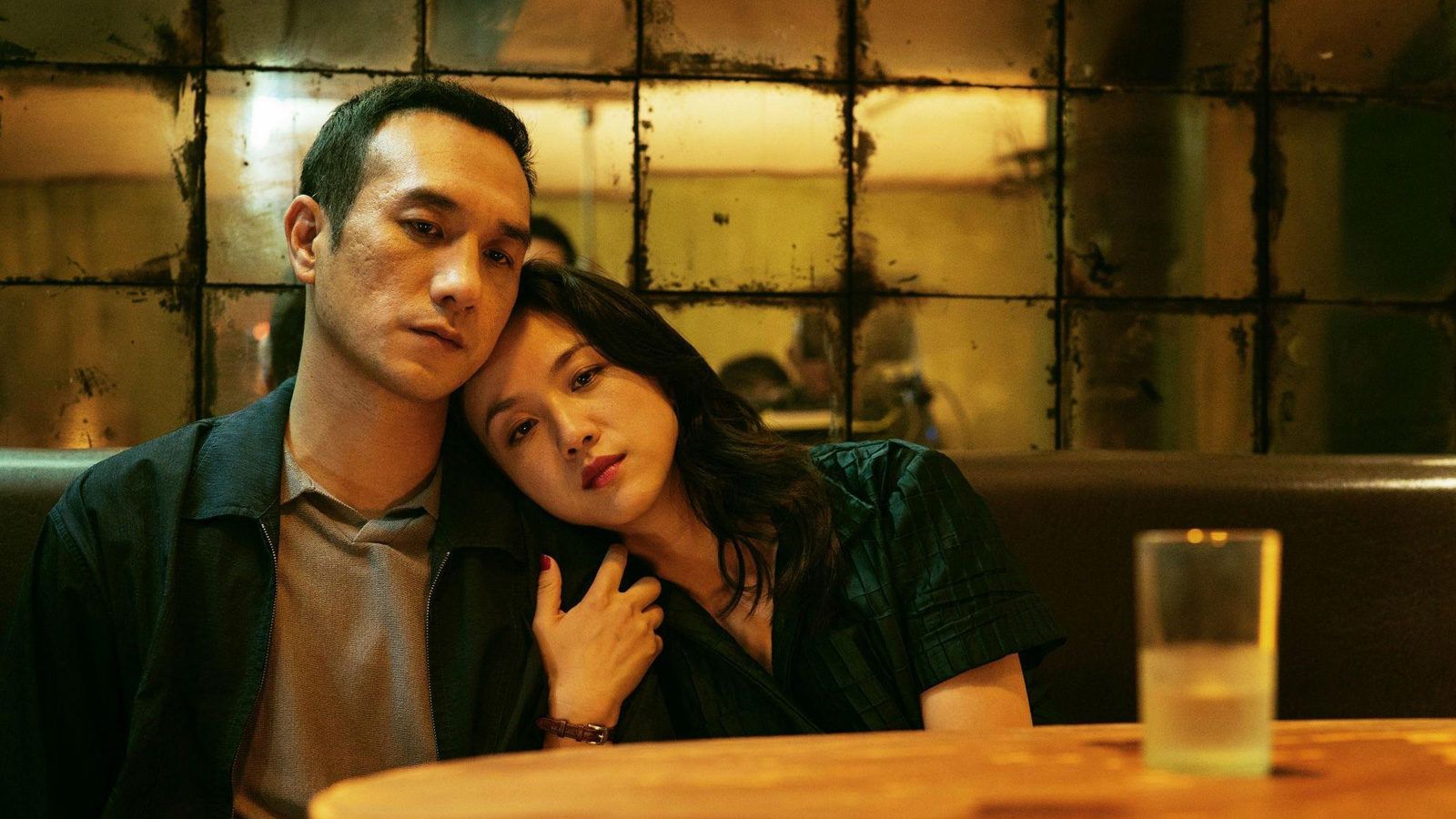 Though I didn't see it in a theatre, Bi Gan's Long Day's Journey Into Night is remarkable in having long takes in a dream-like story that cycles around. With cinematography by David Chizallet, Dong Jinsong, and Yao Hung-I, it boldly reveals a title card about halfway through the film and then features a 70 minute unbroken take which was in 3D in the theatrical release. In Elle-Máija Tailfeathers and Kathleen Hepburn's The Body Remembers When the World Broke Open, shot by Norm Li, there are many unbroken takes that immerse you in the tense world in the aftermath of domestic abuse.
Screenplay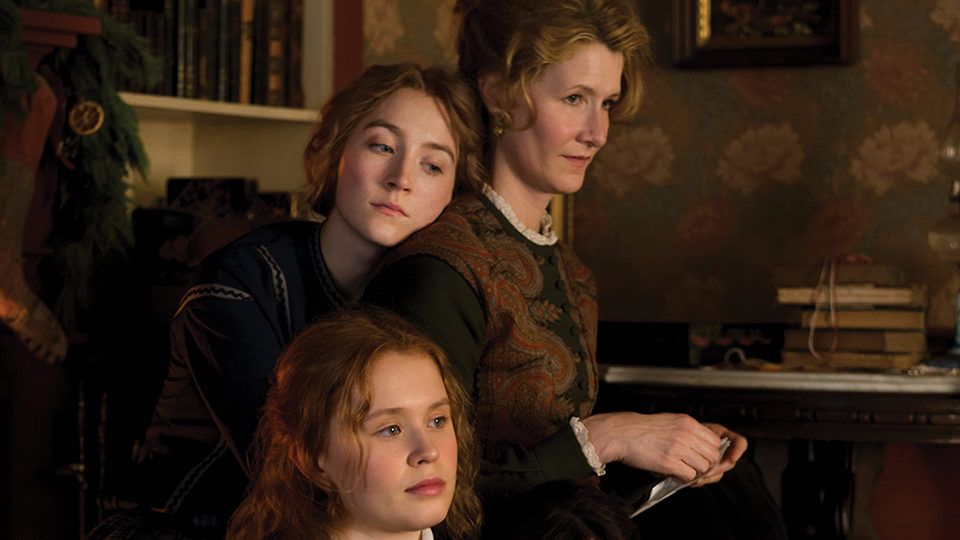 There were some intricately-constructed films over the past year who had outstanding screenplays. Greta Gerwig's Little Women reinvigorated the classic novel with a fragmentary structure that increased the emotional impact of the film and also had a brilliant conclusion that slyly subverted the conventions of the genre while making a commentary on the pressure from major studios as well.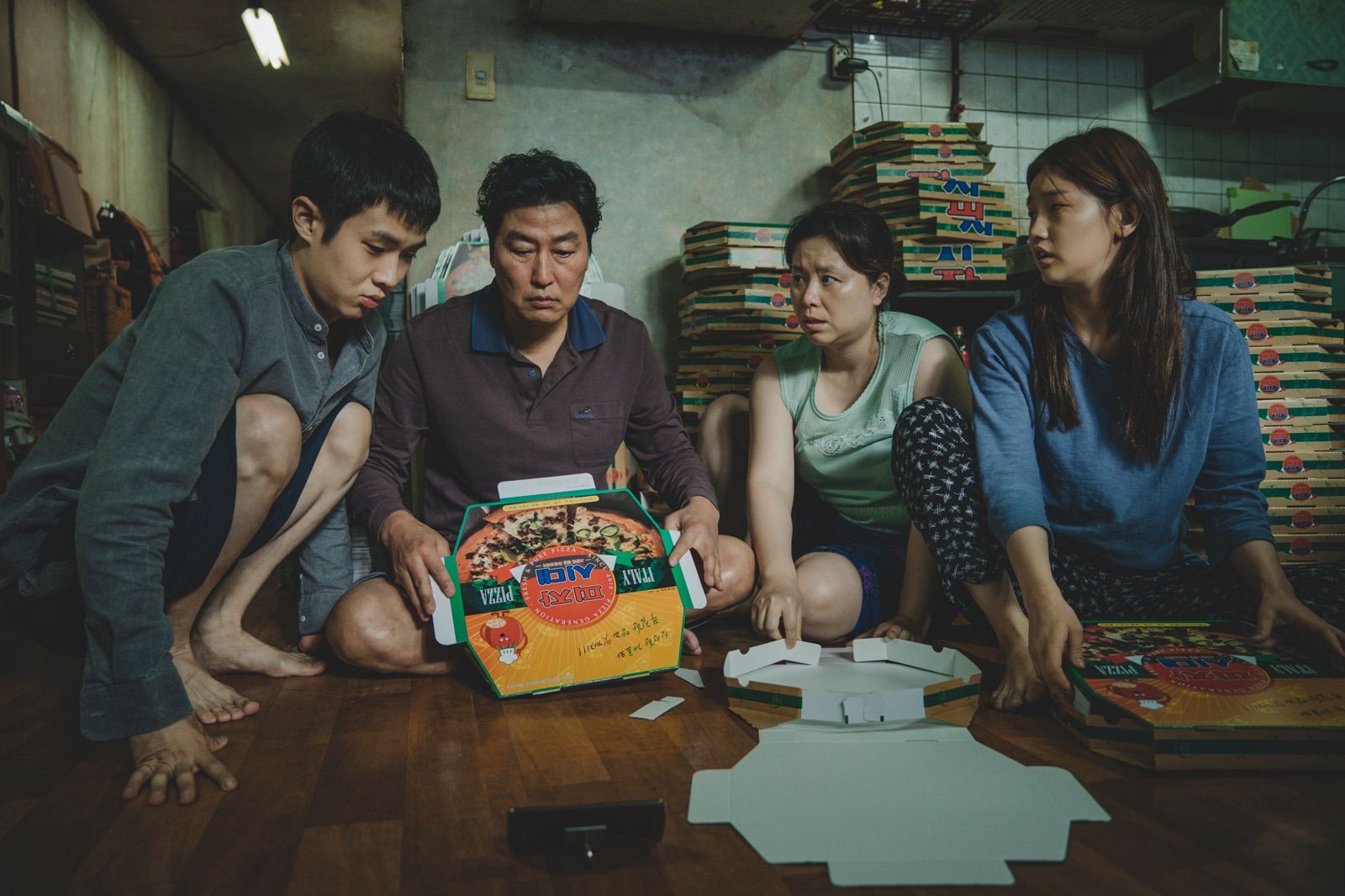 In Bong Joon-Ho's Parasite (which is co-wrote with Han Jin-won), the story unfolds carefully which many twists and turns and tonal shifts that create something that takes you an a journey that comments on class and society. In Rian Johnson's Knives Out the traditional whodunit is reworked to keep you guessing and to solve a mystery that is a whole lot of fun along the way.
In Corneliu Porumboiu's The Whistlers we have a film noir reworked through the lens of a Romanian New Wave master with a complicated plot that takes the antihero around the world in search of a woman and money all with a dry sense of humour throughout.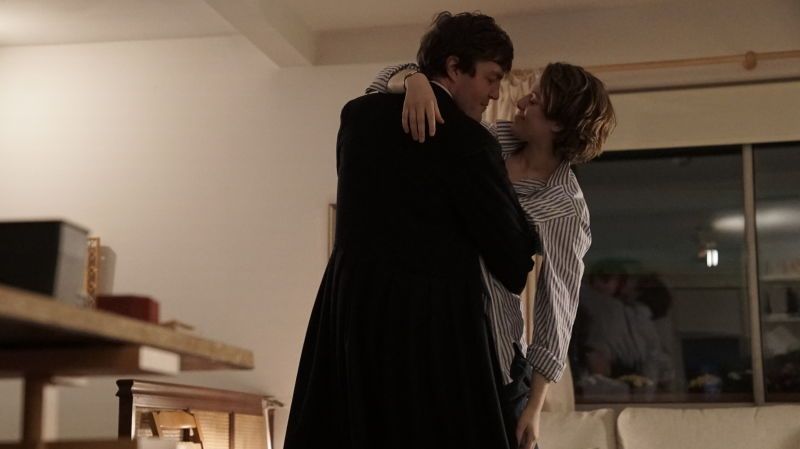 There were also films about difficult situations and characters that were emotional and gave some great opportunities for their actors. The Body Remembers When the World Broke Open (co-written and co-directed by Elle-Máija Tailfeathers and Kathleen Hepburn) was an immersive and intimate story about two women who connect with each other on the street in the aftermath of domestic abuse. In Heather Young's Murmur, we follow a woman who tries to piece her life together by taking care of animals after losing her drivers license following an incident of driving under the influence. In Joanna Hogg's The Souvenir, a filmmaker remembers a challenging relationship as she begins her filmmaking career. Taika Waititi adapted a novel set in World War II Germany with Jojo Rabbit and blends in some humour and manages to pull off a film that moved me as it walked a very fine line in telling the story.
Acting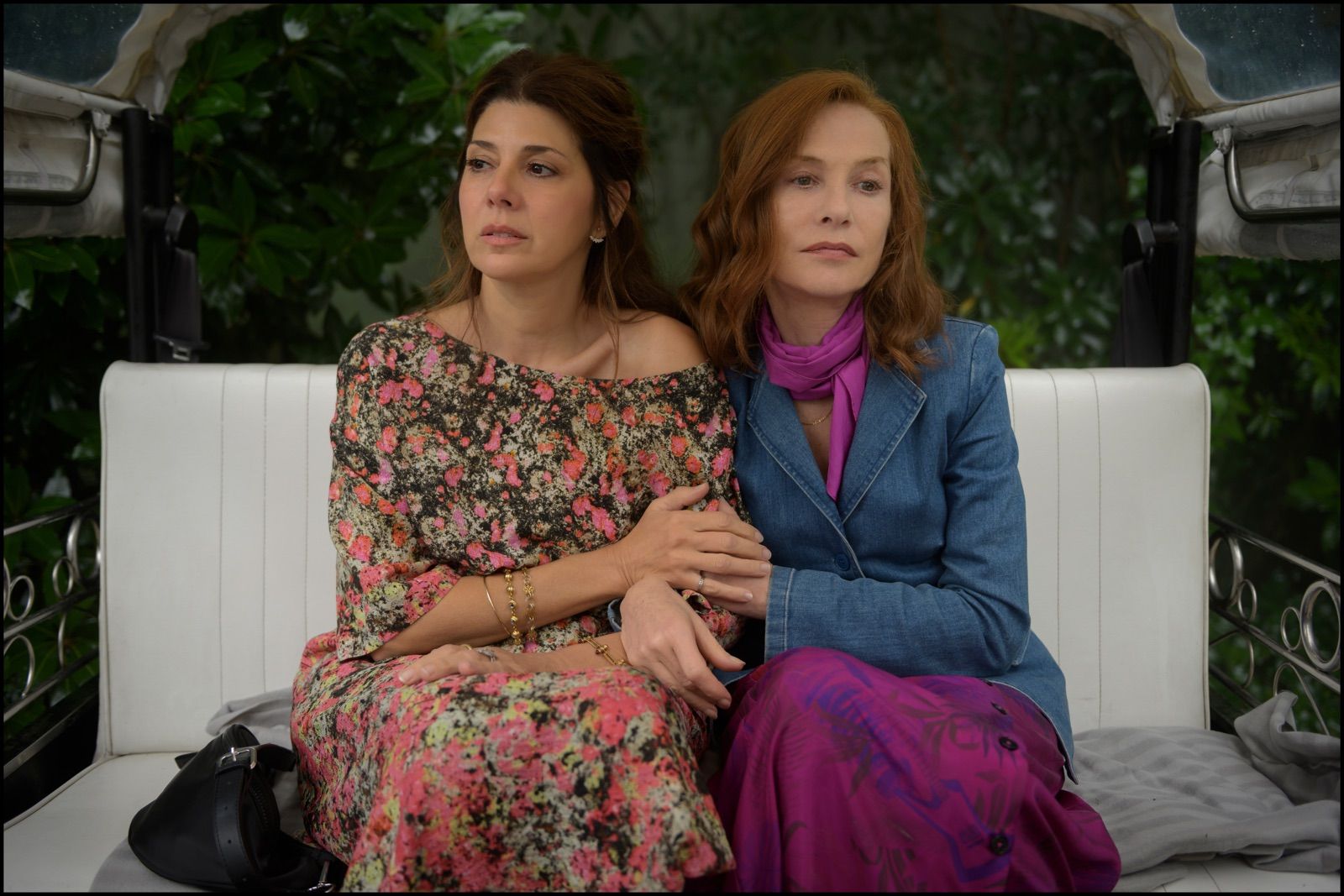 There were superb performances in many of the films of the past year with some great ensemble casts. Little Women, Frankie, The Irishman, Marriage Story, Booksmart, Jojo Rabbit, High Life, Knives Out, Parasite, and Portrait of a Lady on Fire had solid ensembles set within great films.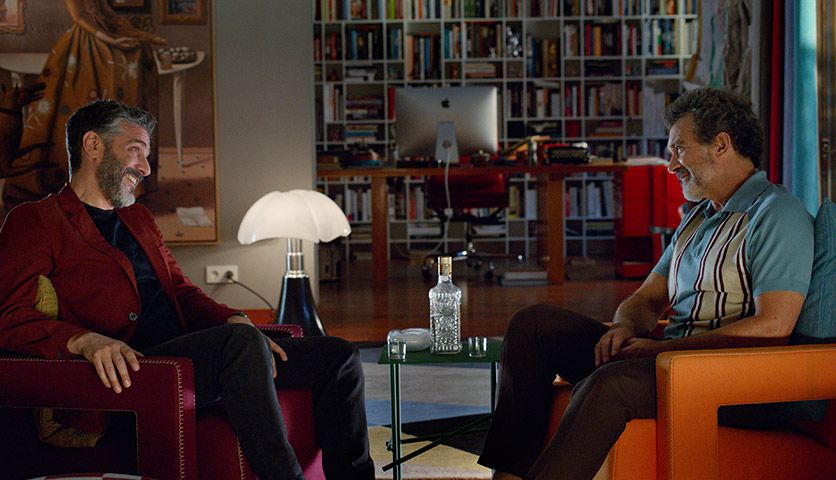 The performances that really stood out for me were Noémie Merlant as the painter in Portrait of a Lady on Fire. The always-reliable Elisabeth Moss in Her Smell as a burned out rock star. Antonio Banderas as Pedro Almodóvar's alter ego in Pain and Glory. Isabelle Huppert as an actress organizing her family and friends in Ira Sach's Frankie.
There were also some great supporting performances too. Laura Dern as the matriarch in Little Women and a divorce lawyer in Marriage Story. Chris Cooper in a small and remarkable supporting role in Little Women. Joe Pesci returning to acting with an understated and surprising performance in The Irishman. Archie Yates stealing every scene in Jojo Rabbit and Sam Rockwell's delightfully off-kilter supporting part as well.
Letterboxd is essential to keeping track of what I've watched and what I want to watch. Last year I was able to write something about every film that I logged and rated every film I logged as well. Using lists it was easy to keep track of the contenders for favourite films of the year as the year went along and then it was a matter of editing the list to keep the films that stood out and stuck with me. In total I watched 494 films and 310 of the films were new to me in 2019(https://letterboxd.com/bitdepth/list/new-to-me-2019/). There were 481 unique films I watched (with 13 diary entries that were multiple viewings of a film during the year).
Directed by Women
Of the 481 unique films, 255 were directed or co-directed by women, which comes out to almost 53%. My striving for a balance of films directed by women is inspired by Marya Gates with her A Year With Women(https://cinema-fanatic.com/2016/01/01/a-year-with-women-what-i-learned-only-watching-films-directed-by-women-in-2015/) and the 52 Films by Women challenge. After meeting that goal of at least one film a week directed by a woman, I thought it would be even better to strive for 52% of the films I watch be directed by women, so I have been able to meet that goal and will continue on with it. The fascinating thing is that I made up my list of favourite films of the year and without trying to balance it by gender, it actually balanced out by gender, so there must be something good happening with balancing out my viewing.
Directors
For directors whose films I watched Agnès Varda once again was at the top of the list with me watching 17 of her films in 2019. Of the top 20 directors of the year for me there were 15 women in the list. Here are the directors that I viewed 6 or more films directed by during 2019: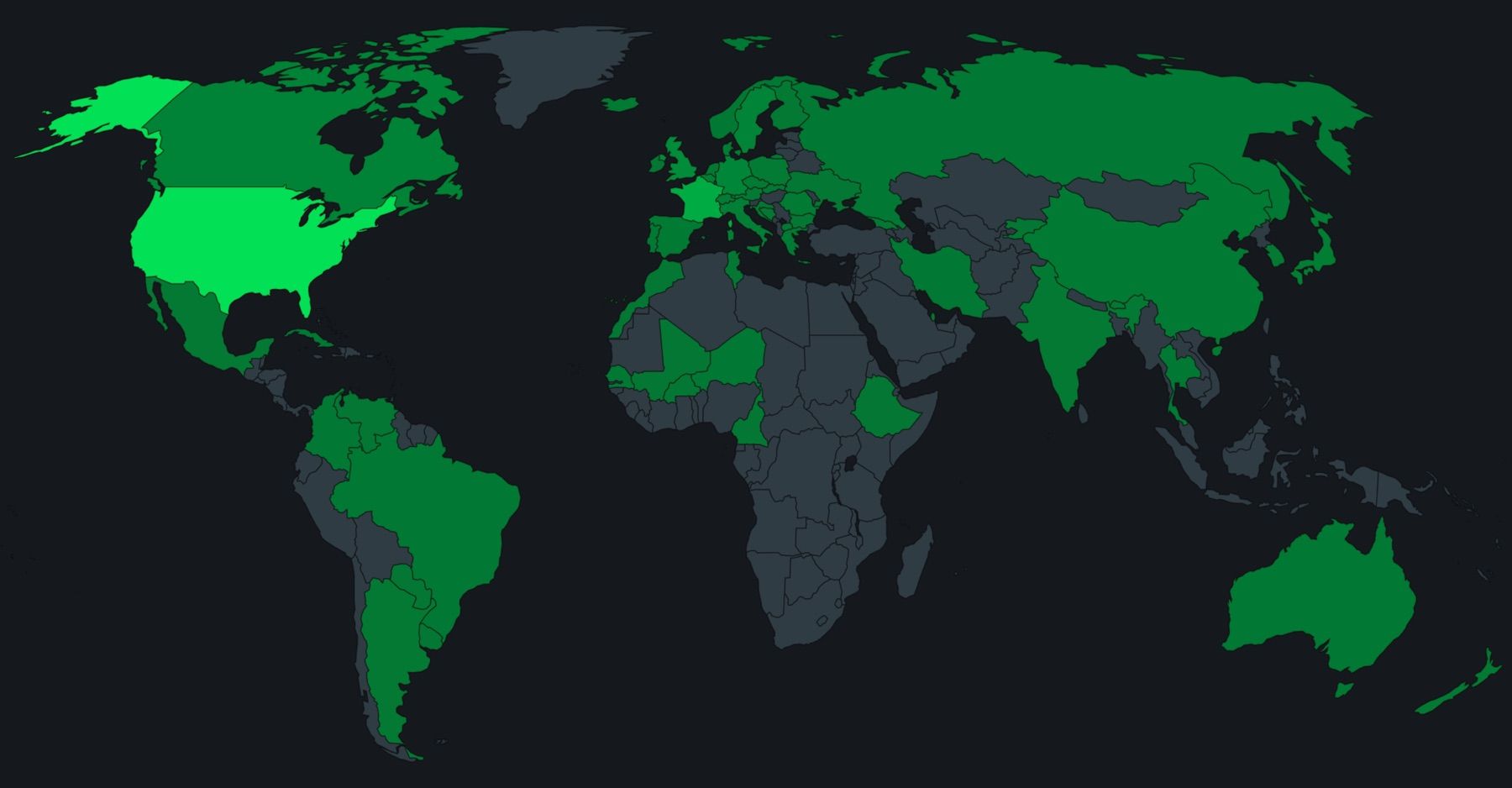 I've also been trying to see films from around the world and looking at the map, I've generally done ok by seeing films from around the world, but still need to see more films from Africa. Most of the films I've seen have been either from the USA or France. The top seven countries are USA, France, UK, Germany, Sweden, Canada, and Italy.
Services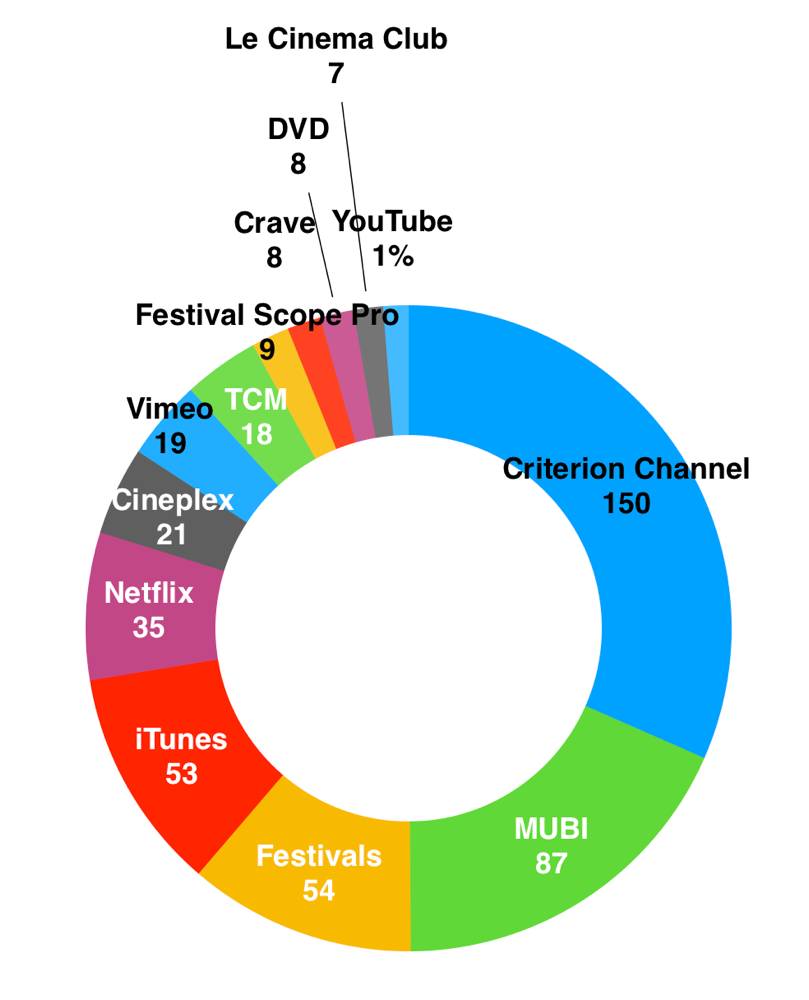 How I watched things changed a lot with the launch of The Criterion Channel as that became the primary place where I saw films with 150 films viewed there. The excellent alternative service MUBI was the second most frequently watched service at 87. Film festivals came in third with 54 films with many of the films on my list of best of the year having been programmed by the FIN Atlantic International Film Festival. Coming next were films rented or purchased through iTunes at 53. I watched 35 films on Netflix and saw 21 films in Cineplex theatres.
It was a good year and as the films of the new year start to come out I'll continue to focus on seeing more films from around the world and films directed by women. I'll continue to avoid the major franchises and try to fill in gaps in my viewing and move outside of the more traditional canon. There are so many films and different perspectives to explore.