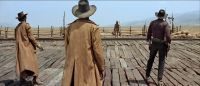 Sergio Leone knew how to use the frame. Many years ago I saw "The Good, The Bad, and the Ugly" on tv and I was mesmerized by it. Then I was lucky enough to be living in Montreal and was able to see it again in a theatre and it was amazing. I then was able to see the other films in the "Dollars" trilogy and finally I saw "Once Upon a Time in the West." It came out last year in a new DVD release and I finally picked it up. A bold film for the time and a bold film now. Leone stretches everything out with long scenes and long shots. The sound effects are stylized and the score by Ennio Morricone is odd, unmistakable and fits perfectly. All of the pieces are slowly assembled, from the opening sequence that spreads the titles out over 10 minutes to the final showdown.
The casting of Henry Fonda as a psychopathic gunfighter was deliberately perverse. Leone wanted to cast Fonda against type to enhance his first appearance in the film. Charles Bronson is perfect as a man with no name called "Harmonica" because of the harmonica that he plays. Jason Robards was also cast against type as a man framed for a massacre he wasn't responsible for. All three men are brought together by a woman played by Claudia Cardinale. While her character isn't a big step forward in terms of the portrayal of women in film, she's a strong character who takes care of herself and would have been even more surprising when the film was made in 1968.
While Leone knew and loved the Western, he rethought and recontextualized the genre with antiheroes and everything stripped down to the most basic level. The combination of the wide frame and deliberate pacing set up scenes with a visual clarity that makes dialogue almost redundant. The final showdown between Fonda and Bronson is electrifying. Leone is a masterful filmmaker who loved films and was a powerful influence on many filmmakers that followed.