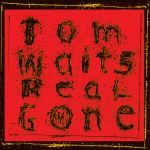 The music was like electric sugar.
The arrival of a new recording by Tom Waits is always exciting. The latest one, Real Gone, is bold and wonderful. While he could coast on his inherent coolness, he and long-time collaborator Kathleen Brennan have stayed in the same lyrical territory, but musically it's a bit more radical, but crisply produced and a joy to listen to. Waits and his musical accomplices wander through diverse musical terrain with infectious beats that get into your head and roll around in your mind and touch your soul. Tom Waits is like an old friend who you always look forward to seeing again to find out what he's been up to.
He's the type of wheel you don't fall asleep at.
The tracks are amongst some of my favourite songs and I've been listening to it almost constantly since last night. What is interesting is that many of the songs continue threads started on other albums with rhythms, sounds and noises that remind you of the ancestors. The family was involved with the production as well with son Casey providing some turntable and percussion support. A few seconds in to the first track, "Top of the Hill", he had me. It's a hypnotic mixture of rhythmic sounds with a toe-tapping beat. Listening to "Dead and Lovely" I have an image in my mind of a dance hall filled with elegantly dressed couples dancing while the dark lyrics and smoky rhythm fill the spaces between the dancers.
What's more romantic than dying in moonlight.
The meandering poem "Circus" paints the dirty picture of a circus and those who are trapped inside it and follows on from tracks like "9th and Hennepin" from Rain Dogs and "What's He Building in There?" from Mule Variations. "The Day After Tomorrow" could be the completion of a trio of tragic letters home that started with "Tom Traubert's Blues" from Small Change and continued through "Time" from Rain Dogs.
I know that rose like I know my name.
Who would have known that something with so many experimental elements could feel so familiar. But that's Tom and I'm glad that I have another glimpse of more of the musical territory that he's exploring with his friends and family.