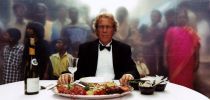 In 1967 Danish filmmaker Jørgen Leth made the short film, Det Perfekte Menneske (The Perfect Human), which is a sparse short film that shows people doing things, presented in a slightly abstract sense in black and white. 34 years later Lars von Trier proposes a set of challenges where Leth will remake the film five times and we see it all in The Five Obstructions (De Fem Benspænd.)
While remaking the film with different sets of challenges, it's really about Leth, von Trier and their filmmaking philosophies. The glue that links the film together are the documentary segments where von Trier lays out the obstructions and Leth listens and writes them down. It's a great way to see how a filmmaker works and thinks and they respond to the challenges that they face. Von Trier constantly tries to trip up Leth with various challenges and the film surprised me several times. It's beautifully constructed and moves along quickly as we watch the battle between the two filmmakers, who once were student and teacher. The roles are reversed and there is a degree of perversity that is introduced as we wonder what the point is. They laugh about destroying the original film as they set off on the first obstruction. The various films are different and have varying levels of success, but overall the two oddly distant filmmakers manage to create a film that seems to transcend them both. Filmmaking can be a magical experience and this film is a singular and fascinating look at a game that reveals the players as we examine what a film can mean and how the process can shape the product.
Afterwards I thought about the obstructions and how it was similar to some of the things on "reality" tv. The arbitrary contests and obsessive attention to "the game" and how it is played. But while the obstructions were arbitrary at times, it wasn't about the obstructions, but about people and the creativity. Both filmmakers are not only trying to battle each other, but to understand their work and themselves. Ironically they seem to understand each other better than they understand themselves. It would be fascinating to see how other filmmakers would battle each other in remaking films, but I suspect that the unique combination and chemistry of von Trier and Leth would be very difficult to achieve.