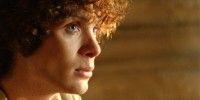 What matters is the journey.
Cillian Murphy is wonderful as Patrick "Kitten" Braden in Neil Jordan's latest film, Breakfast on Pluto. It's based on a novel by Patrick McCabe (who cowrote the screenplay with Jordan) and there is a wonderful novelistic tone to the film which is divided up with handwritten chapter titles. The story is told from Kitten's point of view which gives the events a relentlessly positive tone, no matter how horrible things become. Set in Ireland and London in the 70s as Kitten the transvestite looks for his mother against a landscape of political conflict and violence. Gorgeously shot by Declan Quinn, it manages to mirror the spirit of the main character with perfectly composed and lit frames.
While the film is over 2 hours long, I was surprised how quickly the time passed. Jordan lovingly fills the film with music of the time and frames the entire story with two Robins who provide some narration via subtitles. The subtitled birds kick off the magical tone which functions like an Irish "Candide" where Kitten's spirit overcomes all obstacles. It's the type of film that make you appreciate seeing a team of people all working at the top of their game. I loved it from start to finish and will hopefully be able to see it again in a theatre.