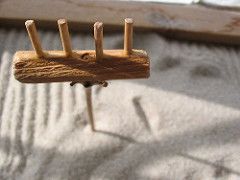 Now that I'm safely back on my MacBook Pro with just about everything set up, I have to say that it made me again realize how much of a creature of habit I am and how small changes can make a big difference. Sometimes we come to rely upon something so much that it starts to fade into the background and we don't realize what we're missing until it isn't there anymore.
While the applications that I missed the most came to mind right away, there were some things that jumped out in unexpected ways. I found myself constantly using the keyboard shortcut for the fantastic Mac utility called Quicksilver, which is an application launcher that has dramatically increased my productivity. At a basic level Quicksilver lets you use a keyboard shortcut and launch an application by starting to type the name of the application. The power of Quicksilver is that it creates a catalog of just about everything on your hard drive and you can then combine things together. You can select a file and then move it somewhere else while never touching the mouse.
Things become even more interesting when you do things like add the Social Bookmarks plugin which gives me access to all of my del.icio.us bookmarks. So I just need to start typing and Quicksilver searches through the bookmarks and then I just hit return and go to the web site. All of the files on my hard drive can be included in the index as well, so I can find a file I need and open it up (or copy it or open it with a different application). Even fancier things are possible such as starting and stopping iTunes while it's playing or playing a specific track. I can even adjust the volume on my MacBook Pro or do things like restart the computer or look a list of recent documents that I had open in Pages, for instance.
I first found out about Quicksilver thanks to Merlin Mann and his 43 Folders site. It was a bit confusing for me at first, but the more I used it, the more I came to depend on it. Quicksilver also keeps track of what you're doing, so it knows that when I start to type something and then choose what comes up that it's more likely that I'll choose that same thing again when I type the same letters. So I only have to type "f" to have Firefox come up, but "fl" will let me launch my web browser and go to Flickr. Quicksilver is incredibly configurable and simple, so you can make it look different and make it do just about anything you want in any way you want. It's been in beta for a few years and now it's probably the thing I use the most that I never think about.