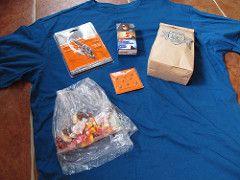 Living in Wolfville is wonderful, but every now and then it's nice to get into Halifax for some shopping and eating in a big and vibrant city. A few weeks ago I was given the opportunity to participate in a promotion for Downtown Halifax. The deal was that a number of bloggers would be given a $100 gift card and they would spend the money in downtown Halifax and share their experiences. On Wednesday, August 4, my Big Day Downtown happened and it was documented with my new iPhone 4 (with the pictures in my Big Day Downtown set on Flickr). While I could probably have stretched things out to a whole day, it turns out that one my special talents is being able to spend money rather quickly. In thinking about the day there were a few places that seemed to be good to check out along with a balance between food, drink and more tangible and permanent things. It took about four hours for my solo foray through the streets and shops on an afternoon with a little bit of rain that seemed timed just about perfectly with the times I was inside in shops.

The first stop was at the restaurant Morris East for some lunch. With a wood-fired oven, there was a high probability that one of the options for the meal would be pizza. I chose the quite reasonable lunch 1/2 pizza which gives you half a pizza and organic greens with a sherry Dijon vinaigrette. The pizza was the simple, basic and delicious tomato, fresh mozzarella and fresh basil. It was quite amazing and my plate was clean after a few minutes, which gave me the chance to accept the suggestion of the wood-fired s'more along with a coffee. The s'more was quite a lovely and perfect way to end the lunch, leaving me happy and full and ready to explore more of the downtown.

One of my favourite places to browse and find cool stuff downtown is Carbonstok on Barrington Street. Filled with quirky gadgets and things for the home and kitchen, there is a range of products for any budget or mood. Keeping the limited budget in mind, it was good to look at the small and inexpensive things. A wide range of lomographic cameras along with film and various little things for displaying images always catch my eye. I picked up a package of 3 rolls of ISO 400 colour negative film that will be used in one of my 35mm film cameras. To keep stuff on the refrigerator (or maybe on the cubicle in the office) a package of 8 small and strong magnets. They're great for holding a lot of things up and these new ones will supplement the magnets as you always need things to hold paper and postcards and notes and photos.

When the challenge of shopping downtown was first presented, one place that went on the list first was Trident Booksellers and Cafe on Hollis Street. With the motto "The Senseless Pursuit of Excellence", it's a gem of a cafe snuggled alongside a great used bookstore. The atmosphere is cool and it's a relaxed and welcoming place to shop or spend time catching up with friends. There is wi-fi and comfortable chairs and tables with a laptop-free table at the front where I sat and wrote a manual tweet to respect the more technologically free vibe at the table. Needing some coffee beans for home, I went to the back where there are containers of freshly-roasted coffee beans. The roasting is done on site and you pick out the beans and weigh them yourself before bringing them to the counter. To perk me up while there I had a cappuccino which is one of the best ones you can get anywhere. Sitting down and sipping the cappuccino while I added up what I had spent and thinking about where to go next was very nice.

When I need to get things for outdoor activities my membership in Mountain Equipment Co-op always comes in handy. The store on Granville Street is a regular stop and it is a challenge to not buy too many things when I go in. With two floors of outdoor equipment, clothing, footware, bags, tents, kayaks, tools, and gadgets it's a different experience every time. But today I was focussed and knew that I wanted to get one of the $12 cotton t-shirts that are organic, good looking and comfortable. Knowing that I had about $30 left before going in to MEC, there was the possibility of getting something $18 or less. Close to the checkout I saw a very cool Gerber Curve Mini-tool that is small with a knife, bottle-opener, file, and set of screwdrivers. A tool like that is quite useful to always have along with your keys.

Knowing that the allocated budget was just about done, a detailed calculation showed that there was about $1.86 left to spend, so I went over to Barrington to get some penny candy at Freak Lunchbox. The store is small and packed with colour, candy, and chocolate. It's a quirky place where every possible treat desire can be fulfilled. The plastic bins along with wall have a wide range of snacks that you put into a plastic bag. I choose a small amount of candy and only needed to add a little bit more to get to the total that I wanted. With a bag of candy in hand and the realization that there was a lot more that could be explored, it looked like it was time to call it a day.

But even though the budgeted money was all gone I decided to spend a bit of my own and walked over to Taz Records on Market Street to browse through the aisles of vinyl there. This was a bit of bonus downtown shopping since I don't really get to spend a lot of time in Halifax especially in the downtown area. With a wide range of music you can spend a lot of time in Taz looking for things, but after walking around for a while I settled on The Black Keys album "Attack and Release" and Regina Spektor's "Begin to Hope" (which had a bonus disc with other songs on it).
With a bag full of stuff and a couple of records I felt happy and grateful to Downtown Halifax for giving me the opportunity to explore, shop and share my adventures.