Ghosts aren't attached to places, but to people.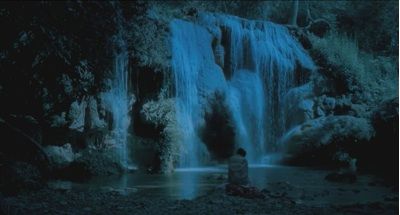 My favourite film of the year and probably one of the decade would be Uncle Boonmee Who Can Recall His Past Lives. Apichatpong Weerasethakul wrote and directed the film which is unlike anything I've ever seen. The entire film is infused with a meditative quality and has a Zen-like discipline. While it could be a pretentious art film, it combines all of the elements with a gentle joy and love of the images and sound. The title provides an overview of the plot which is really just a loose structure to build indelible images and sounds with interesting characters. The titular character  (played by Thanapat Saisaymar) is dying of kidney failure and returns to where he was born to spend time with loved ones in his last days.
It's a somewhat indescribable film in how it made me feel almost every possible emotion from elation to boredom to happiness and sadness. The tones are mixed and matched in unpredictable ways and at times it seems as if the film is inducing a trance. The film is an experience with different acting and shooting styles and moves from naturalistic styles, to magic, to horror, to humour and long, lingering shots. From families remembering their past to ghosts appearing or people having sex with fish, it's a film that creates a unique world that explores the idea of transformation and blurs all borders between categories.
The film really shouldn't work but with the characters providing a way in to the film it accepts the magic in the world as being normal. The unique and almost ecstatic part of the film is how the mundane and the magical are blended together seamlessly. When a ghost appears it is a bit shocking for those around, but then they start talking about what she's missed and then show her some pictures of her funeral. It's a very ordinary and lovely reaction to something extraordinary. This throws you off balance and the skill of the film is the way it blurs all of the lines and transports us into a different place that stays with us for days or weeks or months. If you have a chance to see this in a theatre you will not see any film like this for a long time.