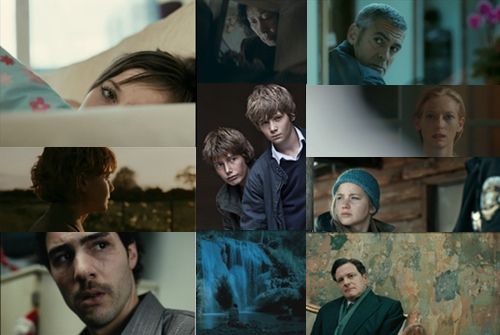 The past year was a pretty good one in film and it wasn't really that difficult to come up with a list of the ten films I enjoyed the most. It was an interesting and uneven year with solid films from great filmmakers and some neat new discoveries. I've written about the films in separate reviews on the blog, so this is a chance to make some observations about the films.
Most of the films feature strong and compelling characters with riveting performances. Some new discoveries for me with actors young and old with Katie Jarvis in Fish Tank, Jennifer Lawrence in Winter's Bone, Tahar Rahim in A Prophet, and Kim Hye-ja in Mother. Some great central performances by some of my favourite actors with George Clooney in The American and Tilda Swinton in I Am Love. At the other end of the spectrum are great established ensemble casts with Colin Firth, Geoffrey Rush and Helena Bonham-Carter in The King's Speech, Carey Mulligan, Andrew Garfield, and Keira Knightly in Never Let Me Go. Finally two films with sprawling, complex stories and great ensemble acting with In a Better World and Uncle Boonmee Who Can Recall His Past Lives.
Two films play with shooting conventions with bold, open framing by Martin Ruhe in The American and off-centre, wide-angle compositions by Danny Cohen in The King's Speech. The more intimate stories have naturalistic and intimate shooting styles by Stéphane Fontaine in A Prophet, and Robbie Ryan with Fish Tank. Moving into a sensuous and impressionistic style is Yorick Le Saux with I Am Love.
The films are diverse with half of them in languages other than English and most of them have a level of ambiguity to them, which I really like. The stories are constructed and we have to fill in many of the blanks. The most ambiguous and diverse of the films is easily Uncle Boonmee Who Can Recall His Past Lives which crammed so many different styles and tones into one film and ultimate had an amazing ending that gave me chills. I Am Love, Winter's Bone, In A Better World, Mother, The American, and Fish Tank all work slowly at first, but build to resolutions that raise the stakes are are surprising.
One of the nice things with the availability of films more quickly after their theatrical release is that you can see these films as well as other ones by the directors and actors. Some of the directors from my list this year have me looking forward to everything they do such as Andrea Arnold of Fish Tank who previously did Red Road which works in the same working-class British environment, or Anton Corbijn who followed up Control with The American. I love Jacques Audiard's compelling character studies with Read My Lips and The Beat That My Heart Skipped leading logically into A Prophet. Susanne Bier works more melodramatically with her large casts with Brothers and After the Wedding exploring similar ground as her In A Better World.
While the list has ten films here are some other films that I really enjoyed that can be honourable mentions for 2010. Ingrid Veninger wrote and directed the coming-of-age drama Modra in a documentary-style with a great cast enhancing the story. Xavier Dolan's Heartbeats was one of the most gorgeous films with lovely cinematography by Stéphanie Anne Weber Biron. Banksy's documentary (mockumentary?) Exit Through the Gift Shop was fun and provocative and made me think a lot about art and how it can be defined. One of the geekiest and funnest film from the past year was Edgar Wright's underrated Scott Pilgrim vs. the World which fused film, video game and comic book aesthetics into something that was fun and light.
The films from established directors such as Scorese's Shutter Island, Polanski's The Ghost Writer, Christopher Nolan's Inception, and the Coen's True Grit were solid genre exercises that were good to watch, but not really extraordinary compared to their other films. David Fincher and Darren Aronofsky both told stylistically interesting, but oddly misogynistic stories with The Social Network and Black Swan. While making splashes with their releases, the Fincher and Aronofsky films were a bit more interesting later to discuss than they were to watch thanks to some heavy-handed writing with both films. An action-filled pleasant surprise was seeing Angelina Jolie in Philip Noyce's Salt which was a enjoyable well-constructed thriller with a strong central female character.
So it was a good year for films with lots of solid work, but nothing really standing out too much for me with the exception of Uncle Boonmee which was a pleasure to see in the theatre.