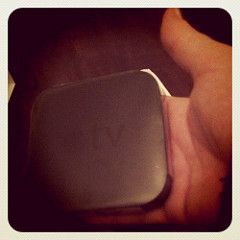 As soon as I picked up the box I thought that it seemed really small. But when I got my Apple TV out of the box it seemed almost impossibly small. While the previous model looked like a small Mac Mini, this one is very tiny. Packaged with Apple's usual style and finish it is efficient and beautiful.
After unboxing it and hooking it up to the tv (you'll need to use HDMI to connect it) it powers up (no power switch) when you use the remote. After a bit of configuration with your network it works. Log in with your Apple ID and then you have access to your iTunes account and you can rent movies.
You can also connect to your computer if it is on the home network and then it allows you to listen to or view anything that you have in iTunes as well as photos that are in iPhoto. If you have video that isn't in the right format you can use HandBrake to convert it (there is a preset for Apple TV 2). The connections can continue with your Flickr account and YouTube (to see your favourites), but the best thing for me to connect to is my Netflix account which provides a ton of movies and tv shows to watch. Each of these accounts show up in different places, but the close analogy is that they are like channels. In each of these areas there are gorgeous thumbnails that appear which is a nice touch.
The remote is quite lovely and is aluminum with a simplified set of buttons. It took a little bit of time getting used to, but it feels nice in my hand. If you have an iPhone or an iPod Touch you can use Apple's Remote app to also control the Apple TV. When you do that you can also see information about music that is playing which is a nice touch. You can dj a party and change the music from your iPhone if you want instead of going over to your computer.
One of the very neat things added with the latest updates to iOS is that you can send video or photos to the Apple TV from any iOS device that is on the network. So when you look at a video on your iPhone and want to share it with people you can just click on the AirPlay button and choose the Apple TV and it magically appears on the screen. I love it and now I wish I had this hooked up to the video projectors at work to allow for more people to share stuff on the screen.
The image quality on the tv (a 32-inch LG HDTV) is great and right now the sound just comes out of the tv speakers, but with support for 5.1 Surround Sound at some point it may be hooked up to the stereo.
There are a wide range of video and audio podcasts that you can stream through the box and with my laptop I can play any of the regular podcasts that I listen to and watch. It's a magical box that provides an easy and affordable way to get video and audio from all of the computers and iPods and iPhones in the house. Ideally it's the type of thing that would be built in to all television sets.
Most of what I watch on the Apple TV are tv shows and films on Netflix. The image quality of some of the shows is a lot better than on watching them through the Netflix channel on the Wii which is the way that I used to watch Netflix on the TV. Without the surround sound hooked up I'm not sure if the sound quality is a lot better, but I'm assuming that it would be.
It just works and I'm looking forward to seeing how it may expand with updates and new channels (the latest addition is Major League Baseball) and new capabilities. But even if it stays the way it is, I'm going to enjoy using this for a long time.