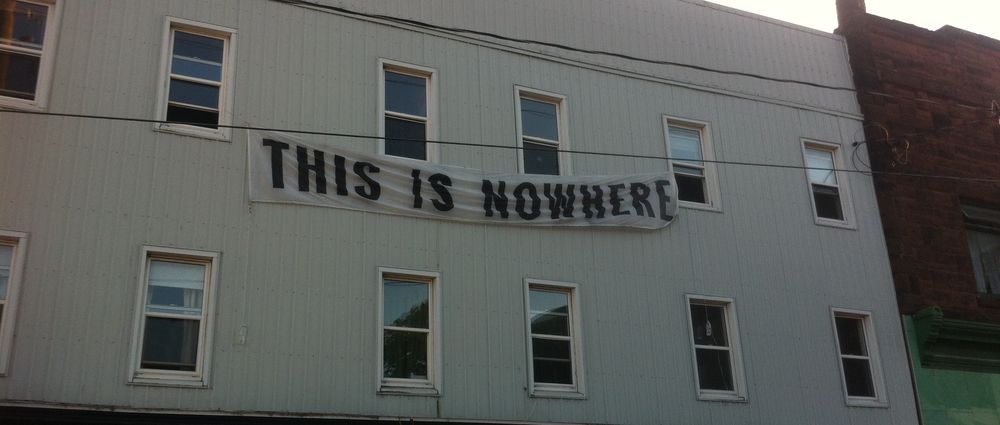 "It's nice to see you again. I like what you've done to your hair and that outfit you're wearing really makes you look taller."
— Team Sappy in the SappyFest 7 Program
The first thing is always to have a place to stay and at SappyFest that is in the Campbell Hall residence. Once I camped out for a night which was nice, but having a room and a bed and shower is something that you come to appreciate. It's less work when you are leaving and it is good to have a place to sit that is dry no matter what the weather is outside. After seven years there isn't really a question of whether I'll be at SappyFest as it's always fun. Small and beautiful with a heart filled with friendship and music, SappyFest is the place that you want to be to listen to music and mingle with friends on warm summer nights.
As soon as tickets go on sale the pass is purchased. The neat thing is that it's a leap of faith as the advance pass sale starts before there is any lineup announced. The only certain thing is that there will be a festival on the August long weekend in Sackville. It has never disappointed and there is usually a surprise or two. The strange thing that many people were talking about this time was the "secret show". While there were semi-secret shows the previous two years (with Sloan and then Arcade Fire under the name "Shark Attack"), the hallmark of SappyFest is not flashy shows, but good, intimate shows in interesting venues. It's not about big shows that attract people, but a well-curated collection of musicians you discover with friends.
"it is impossible to see everything at Sappyfest and at every given moment someone is falling in love with someone else"
— Sean Michaels - SappyTimes, Sunday, August 5, 2012
This year I saw 19 bands and one talk show which is pretty good. A lot happens at SappyFest and while it's possible to see most things, it is not possible to see all things. But it was possible to see pretty much everything I wanted to see. For a film festival (or even getting lunch or going for a walk) I usually spend a lot of time researching and planning, but with SappyFest I have faith and don't start to think about what would be great to see until a few days before. This year I was excited to see some of my favourite music live with Timber Timbre and The Blow being in the lineup with Bruce Peninsula (who I saw 2 years ago at SappyFest) being the shows I really wanted to see.
Day 1
The festival gets underway Friday afternoon in a casual way. Walking the few blocks from the residence to Bridge Street is nice as you relax and anticipate the fun you are about to have. Rounding the corner, the street is blocked and filled with tables and tents selling trinkets, clothing, and food. In one of the storefronts is the box office where I show my ticket and receive the rainbow-coloured wristband that gets me in to everything over the weekend. Wandering further down the street I walk into the bigger tent with a banner saying "This is Nowhere". There are two large tents on Bridge Street with the first having merch tables down one side, Picaroons beer on tap up against the front with some food and the table selling beer tokens on the other side. Walking out of that tent and down the street you come to an open space before the main tent with the stage. In that space are picnic tables and barbecues on the side cooking organic beef as part of the fundraising activities for Struts Gallery. The main stage has grown a bit over the years, but it still fits into the tent with fancier lights and better sound. It's just about perfect now. This is the main space where the SappyFest magic takes place.
"There is unlimited potential when shared physical space is combined with access to equipment and resources."
— Paul Henderson
The festival starts appropriately with an energetic drum circle from Brooklyn, NY called Man Forever. They are loud and fun and draw everyone into the tent. Just after they start I see Paul Henderson, the Creative Director of SappyFest and I go over to say "hi" and give him a hug. He's the main organizer and one of my favourite people. I first met Paul when he was working at Struts when he brought me in to teach a workshop about 8 years ago. Quiet and calm, he knows that they can do this and they always do so spectacularly. Earlier in an interview with CBC Radio Information Morning in Moncton he called me a "super fan" which made me blush and smile when I heard it. He also said that I was in my 50s, but that is off by a little bit since I'm still in my (mid) 40s, but the white hair and beard make me look older. The curation of SappyFest is impeccable with a delightful mixture of hard and soft music. While many think the festival is built around folk music, that really isn't the case. There is a lot of rock mixed in with quiet guitar and other instruments. It's really just great music made by great people.
Sometimes it seems like the festival is a Truman Show-style construction because everything seems so perfect for me. There are many vegetarian options for food which is good and affordable. The official beer of the festival is Picaroons from Fredericton who are are strong local supporters. Over the last few years they have had special beer on tap for the festival. This year it was called SappyFest Secret Show, which didn't help quell the rumours of a secret show. It was a tasty ale that I enjoyed. Last year to reduce waste they introduced great plastic mugs that you would reuse with your beer as you turned in your tokens to get a refill. Quite nice, really. So the food and drink are all taken care of with lots of options right along Bridge Street. One great new addition this year were Crowbar Energy Bars made by Breighan Hunsley, who I met for the first time (but I followed her on Instagram before). Having a vegan and healthy energy bar was great when I needed some food, but didn't want to leave the tent or go very far.
The neatest meal of the first day of the festival was a grilled cheese made with jalapeno peppers from Cinnabunny (who also had delicious cinnamon buns). The sandwich was tasty and really hit the spot. Then it was back into the tent for more music. The most energetic band was the Québecois band Canailles who were a lot of fun with accordians and a Cajun feel. They got everyone dancing and moving around. Then the hard-rocking METZ played a great set and the finale in the tent for the evening was the odd, almost indescribable Yamantaka//Sonic Titan, who blended j-pop, heavy metal, and all sorts of other stuff together. They began with deep and powerful drumming as a large dragon wound through the crowd and then up on to the stage to reveal two of the band members. Following their set I waited in line to get in to the Music Hall theatre to see Black Water and Hey Mother Death, but I didn't line up early enough, so wasn't able to get in. But I was tired and a quiet walk back to the residence was a nice way to end the first day.
Day 2
A tradition for me is to bring my bicycle and go for rides during SappyFest. It's beautiful around Sackville and there is a nice trail and a loop around the town that is perfect to go on in the morning. But this Saturday morning I felt more ambitious, so I went on a slightly different route. I headed towards the coast. The road could only go so far and then would probably go along the coast. After about 10 km or so I checked the map on my phone and saw that it did go along the coast and formed a nice loop that went right through Dorchester. So I continued on and over 50km later I was back at the residence after a great ride. After a shower and changing into clean clothes I walked around and down to the Presbyterian church to see Christine Fellows, who with cellists Alex McMaster and Leanne Zacharias played beautiful music in the small and warm space. That was very lovely musical beginning for day two.
It was time for a walk around Sackville to cool down and eat some food and then back into the tent for the evening which began with Marine Dreams who are a rock band that are a bit poppy and fun too. Then things got a little bit strange and a lot of fun with Tomboyfriend who brought a theatrical energy to the stage with some fun songs that mixed conceptual art with music. Everyone in the band wore things that sparkled as well. Wandering around the tent I realized that Khaela Maricich and Melissa Dyne were setting up for The Blow. Maricich is the main performer and I discovered The Blow a few years ago and have been listening to them and not thinking that I would see them. Part performance art and part musical, it was a lot of fun to see someone deconstruct the performance of pop songs while performing them and interacting with the crowd. It was fun and I loved the little awkward moments such as Maricich theatrically taking off a shirt and throwing it out to the crowd and then politely asking for it back. It was great to see how the performance, music and lighting all changed depending on the audience and it created a neat feedback loop. The other wonderful thing was to hear some new songs that they were working on for the first time. It was different and I had fun with the show.
After a couple of bands playing and with me edging out of the hot tent to listen in the open air (last year I fainted near the end of Arcade Fire playing due to not staying hydrated and eating well), I got in line outside the Vogue Theatre for The Talking Exploding Diamond Talk Show which sounded intriguing. Previous SappyFest things include a trapeze artist and bands playing during live roller derby, so I was game for this too. It was a fun, live talk show hosted by Michael Feuertack as Larry Snails and Ian Roy as Max Harvey. It was fun and eclectic with music from Shotgun Jimmie, B.A. Johnston, Calvin Johnson and performances by Misha Bower as Baby Lalonde as and Katie Ward as Cat Pontoon. There was also a wrestling match between a cougar and a sasquatch. That's the way to end a day.
Day 3
The final day was sunny again and I started by hopping on my bike and going for a shorter ride around the town. It was hot and if I had checked the temperature I probably wouldn't have gone, but once you start biking, you just have to finish, which is good. Then it was in to the Vogue Theatre to see Fiver play and they were great with Simone Schmidt's wonderful character-filled songs making us forget about the hot theatre. Julie Doiron then took the stage with Will Kidman on drums. She jumped right in with energy and did a solid set that included her gentle and self-deprecating banter with the audience. It was nice to see her again. While I wanted to stay in the theatre, it was too hot and there were folks still lined up outside, so I went for another walk and some air before the final night in the tent.
As the sun set Cousins rocked in the tent drawing people in for the final night which had a bit mellower tone. Bruce Peninsula brought their secular gospel music to Sackville for the second time and it was as amazing as always. With strong voices, energy and joy, they made the night so much fun and set the stage for Deloro who rocked as I got some air outside of the tent and enjoyed the summer evening.
After a break the stage was bathed in red light and the strange and beautiful music of Timber Timbre washed over us. I recognized the songs and it was cool to hear them play live with variations as the three performers interacted and cast a spell over everyone. It was lovely. The final band in the tent and the final show of my seventh SappyFest was Silver Mount Zion who I hadn't heard before, but did know that it would be more experimental and ambient. It was the perfect way to end the night with songs beginning slowly and evolving over time while building to cresendos with energy almost like a soundtrack to an epic film that played in our minds. At the end Efrim Menuck told us all to "take care of each other" which is the perfect sentiment for wrapping up SappyFest. Once again it was an amazing weekend that filled my ears and heart with music and friendship. I love it every time.