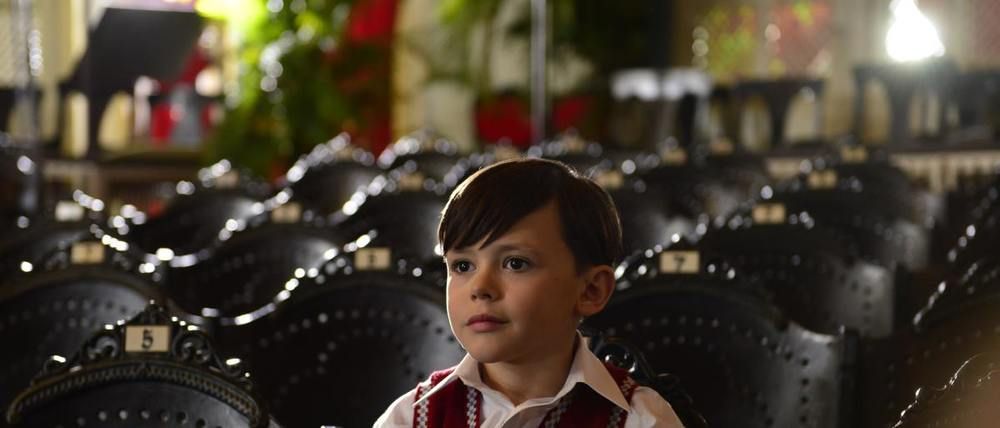 Still from Elephant Song
The full schedule of the Atlantic Film Festival for 2014 is out and it's time to start to think about what to see. There are many different ways to approach a film festival and not everyone has the ability to see a ton of films. Filmmaking is what I teach and is a deep part of my life, so for me it is a chance to immerse myself in the festival and see a wide range of films that challenge, entertain, and enlighten. It is also a great time to meet people and talk about films as well since you're surrounded by people who love cinema.
Within the festival itself there are different programming threads with a diverse set of films to choose from, so it shouldn't be that hard to find something for everyone to see. For me the preparation involves research, memories, history, and my gut. After seeing a lot of films you start to get a feeling for what you'll like or not and what will be interesting. If you don't have a pass, you'll need to make decisions a bit sooner as you'll need to get tickets early. With a pass I love that I can change my mind an hour or so before a screening as I think about what I've seen earlier that day or what I'll be seeing later. It's not a sprint, but a marathon for me, so pacing is important.
The highest profile films are the galas which also have parties connected with them, so that's a good way to have a night out with a film and a party as well. This year there are five dramatic galas and one shorts gala. Getting out to a party after a film is a good thing to do as you'll be sure to find interesting people to talk to after seeing the film. With many of the films being premieres, you won't be able to find out too much about them since so few people have seen them. It's great to be able to go in to a film without having heard about it for months.
The opening gala on Thursday, September 11 is Elephant Song, directed by Charles Binamé based on the play by Nicolas Billon. Set in 1966 and featuring Bruce Greenwood, Xavier Dolan, Catherine Keener, and Carrie-Anne Moss it looks like it will be a bit intense with a strong cast and interesting story. For the first time in a few years the gala will be happening outside of the Park Lane Cinemas with the opening at the lovely Rebecca Cohn Auditorium. It should be fun to see the red carpet and a solid psychological drama before the opening party at the Cunard Centre. The other great thing is that it's the only day of the festival where there aren't any d ifficult decisions to make about what to see as it's the only film that shows on that day.
On Friday, September 12 Andrea Dorfman's Atlantic Feature, Heartbeat is at the centre of a full day of films and it's one of the films I've been eagerly anticipating for a while. Collaborating again with Tanya Davis, Dorfman tells the story of a singer-songwriter in the North End of Halifax. Andrea Dorfman's films are hand-crafted, lovingly made collaborative films that are deeply human and beautiful in showing people and places we know. Filled with music and animation, it's sure to be one of the highlights of the festival this year.
On Saturday, September 13 there are two galas, both in French, and both playing with the cinematic frame. At 6:30 Xavier Dolan's Cannes Jury Prize winning film Mommy plays. Shot in a square, claustrophobic 1:1 aspect ratio, with a story about a single mom struggling to raise her 15 year-old son, it should be another memorable film from the Québécois writer / director / actor who doesn't seem to show any signs of slowing down. At 10pm we move from one of the youngest Cannes sensations to the oldest with Jean-Luc Godard's Goodbye to Language. Shot in 3D and probably indescribable, it's essential for those who follow Godard's work which started with 1960's Breathless with an innovative use of jump cuts. But Godard is often frustrating and oblique, but seeing him explore 3D is irresistible for me.
Sunday, September 14 is the showcase of Atlantic Shorts with the gala highlighting 8 of the best films from the region. There should be a range of dramatic and documentary approaches with Lisa Rose Snow's When Fish Fly forming the colourful heart of the program for me. The shorts gala is a good way to see a cross-section of the talent of the region and go to a party with many of the filmmakers afterwards as well.
The final night of the festival after a week of films will feature a cynical look at celebrity culture with David Cronenberg's Maps to the Stars as the closing gala. With a cast of stars including John Cusak, Julianne Moore, Robert Pattinson, and Mia Wasikowska, it's going to be cool, slightly disturbing, funny, and definitely something to talk about at the closing party at the Lord Nelson later that evening.
Those are the high-profile galas during the Atlantic Film Festival that you can choose from this year, which ones intrigue you?