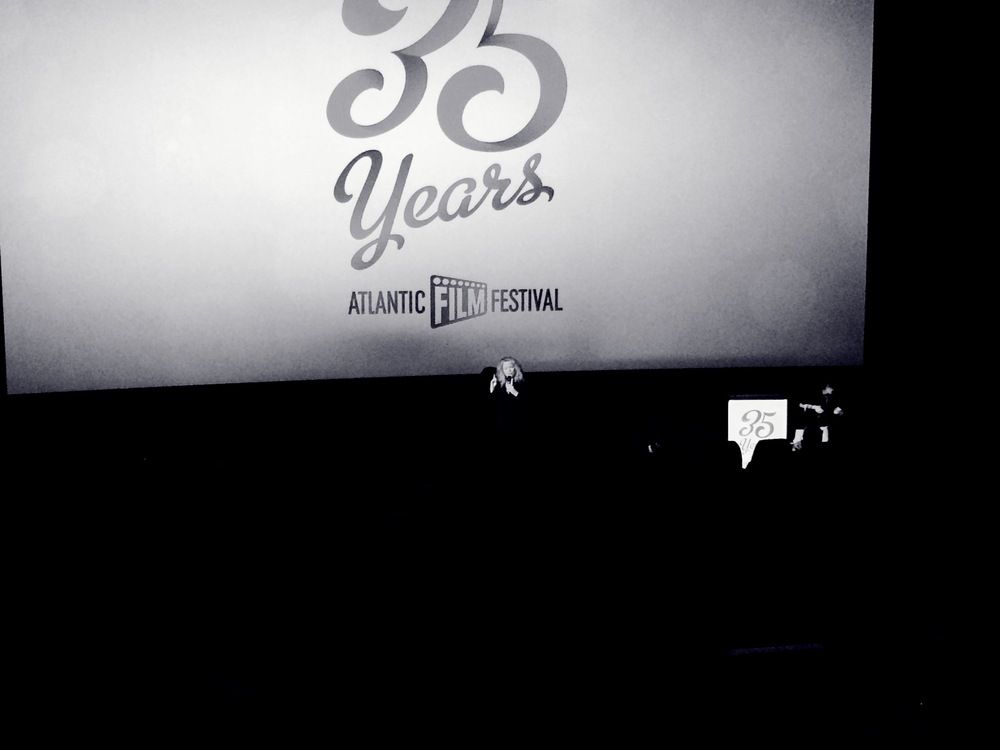 Patricia Rozema introducing Into the Forest
Day 3 of the Atlantic Film Festival was another big day filled with screenings and conversations about films. After you get a few films under your belt the great conversations start happening in the hallways and cafes as you remember what you've seen, hear about what you missed, and anticipate what is still to come. I managed to see four films that were all features with two world premieres and three of the films having the filmmakers present, so it was full of the key elements of a film festival.
Fire Song
The opening shots quietly and confidently establish the setting of the film which is a First Nations community in Ontario. The characters then appear and they are in mourning for a sister, daughter, and friend lost to suicide. A confident debut feature from Adam Garnet Smith, Fire Song tells the story of a closeted Anishnabe teenager who wants to get out of Northern Ontario to move to the city. But he has to support his family all while struggling with who he is in the community. Shot on location with a naturalistic style and some great low-light photography, it's a powerful story from a new voice in Canadian cinema.
How to Plan an Orgy in a Small Town
A comedy with a provocative name and great cast, How to Plan an Orgy in A Small Town has some jokes that work and some that don't in the broad comedy. It screened to a world premiere to an appreciative crowd at the 35th Atlantic Film Festival yesterday. Festival Program Director Jason Beaudry brought up writer / director Jeremy LaLonde to introduce the Indiegogo-funded film and Executive Producer Ryan Goldhar and charismatic and funny actor Mark O'Brien were on hand for a spirited Q&A after the film.
Into the Forest
A post-apocalyptic dramatic adaptation about two sisters who survive in the forest with only each other to rely on, Patricia Rozema's feature tries to strike a balance between the bleakness of the collapsing world outside and the world that the sisters create for each other. With some gorgeous cinematography and solid performances combined with darker subject matter in a film that I appreciated, but wasn't fully immersed in. It was only the second screening of the film after TIFF and festival Executive Director Wayne Carter provided a warm and heartfelt introduction to Patricia Rozema who introduced the film and brought greetings from Ellen Page to her home town.
Kooperman
A feature film from P.E.I. from Harmony Wagner that had the Premier of Prince Edward Island on hand as well, Kooperman played to a crowd that laughed and enjoyed the story of the misfit comic shop owner who fights to save his comic shop.
The conversations and discussions started in earnest today and it's so great to talk with fellow cinephiles about what works and what doesn't in films. It's a diverse world filled with different tastes and being part of the community that shows and makes and celebrates films is wonderful outside of the actual films that are being shown on the screen. As we get saturated with cinema the films and discussions start seeping into our dreams. I had a strange, but mundane dream about being at a party discussing the films that I had seen during the day. The line between being awake and asleep blurs after a few days of sitting in theatres. Now I have to go to dive in for another day.