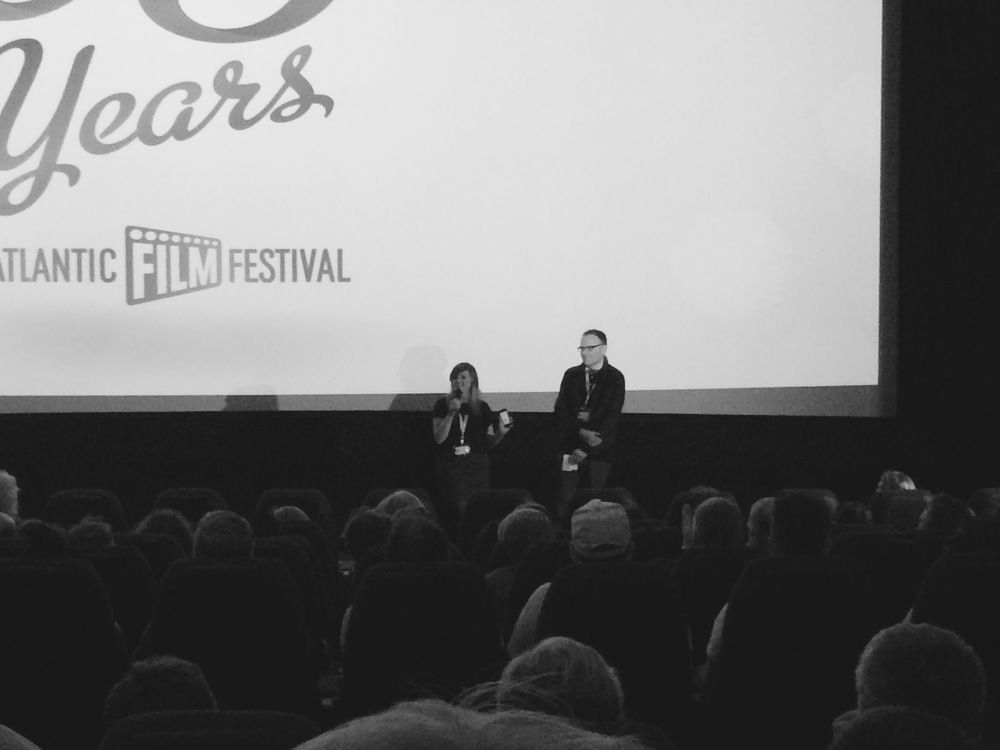 Brittany Amos and Iain MacLeod introduce Your Money or Your Wife
For me, Day 4 of the 35th Atlantic Film Festival was a perfect day. The films I saw manipulated time and space masterfully and made me laugh and cry with talented filmmakers from all around the world and right here at home. I'm surrounded with great films that made the day disappear as I sat in a dark theatre immersed in other worlds.
Victoria
Victoria is a German film that follows a woman from Spain who is in Berlin and goes from a club on a non-stop adventure around the city with people she met. By having her from Spain and the other characters from Germany, they end up speaking English for the most part, which is clever. The film and acting are great with direction by Sebastian Schipper and the story is engrossing, but to that you add that the entire film, all 2 hours and 15 minutes are one continuous shot. It's not a trick, but a challenging way of shooting using Berlin as the set and the remarkable Sturla Brandth Grøvlen deservedly receiving the first credit at the end of the film. It's breathtaking and superb cinema that almost doesn't seem possible.
One Floor Below
Another solid Romanian New Wave film from Radu Muntean, One Floor Below follows the traditional form of a slow, meditative focus on mundane details of the bureaucratic nightmare that seems to be Romanian life to create a tragedy that happens outside of the frame. The genius is in the details as the characters go about their day and things change as a woman is murdered in an apartment building and one man withholds a crucial bit of information slowly lets it eat away at him.
Your Money or Your Wife
The world premiere of Iain MacLeod's Your Money or Your Wife was a lot of fun with a fantastic script and great ensemble cast. With an introduction from producer Brittany Amos and writer/director Iain MacLeod which was also preceded by Marc Almon of Screen Nova Scotia giving a passionate call to action for our vital but shaken, industry, it added a layer of poignancy to the evening. A film that follows our hero after a drunken binge that results in him waking up in a garage that accidentally gets him heading up a home invasion and robbery, it moves briskly along. The film is smart and self-aware with one of the best jokes related to the Bechdel-Wallace Test that received spontaneous applause from the audience. I'm so glad that I got to see it with an audience and can't wait to see it again.
Room
One of my favourite films of the past few years is Lenny Abrahamson's Frank, which deals with the difficult subject matter of depression and creativity in a transcendent way. When I heard that he was directing the adaptation of the novel Room, I was excited as I thought that he could bring sensitivity and genius to the challenging source material which is about a woman and her son confined to a garden shed for 7 years. Room is quite a remarkable film in how it manipulates time and perspective. The film zipped by and I was totally immersed in it with all the other films and conversations of the day melting away. There are so many emotional moments in the film which create a strange sense of wonder and beauty that grows out of the fantastic chemistry between Brie Larson as Ma and Jacob Tremblay as Jack.
A fantastic fourth day of the Atlantic Film Festival that filled my soul and my brain with wonder with more great films still to come. What's not to love about this?