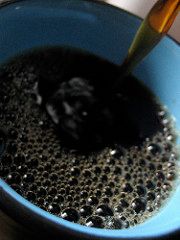 Things seemed to be good for me, coffee-wise. I had just replaced the drip coffee maker with a glass carafe and heating element with one that I found on sale that had a thermal carafe. It's a lot more efficient and it only uses electricity while it's brewing the coffee and the coffee stays warm in the carafe for hours. It's stainless steel and worked great.
But (you knew there had to be a "but", didn't you), yesterday morning the a tiny bit of plastic fell off and the "pause and serve" function didn't work. That would be a bit of pain, but I could always wait a few minutes to get my coffee. I checked out the coffee maker and how the carafe and filter basket fit together and I realized that it wouldn't work at all. It was permanently paused, so there would be no serving of coffee. So I had to take it back and I figured out why I was able to get such a good deal on it since I think that it probably happened before. So then I started to look for another coffee maker with a thermal carafe and couldn't find anything.
Yesterday morning I made coffee with a drip coffee maker that I've had for a while that doesn't boil the water, but it just holds a filter over a carafe and you boil the water and pour it in the basket. It worked fine and I started thinking that maybe another coffee maker that may stop working soon after I bought it may not be the best way to go. I stopped into the Just Us! Cafe to get a coffee (since I hadn't had enough without a large carafe filled with coffee) and I saw a selection of French press coffee makers and I started to think that maybe simpler was better. So for half the cost of the coffee maker that I returned, I picked up a French press (I actually have one that is about 15 years old, I think, but the filter needs to be replaced) and now I'm boiling water to pour into the French press. Instead of making a big pot full of coffee, I'll make a smaller pot (or two if I need more) and fill my travel mug and thermos for the day. That's what I did over a decade ago, and that's what I'll be doing again. I guess I don't need a coffee maker that I can control over the web with a cell phone or a higher-tech solution. Hot water, coffee grounds, glass and patience work just fine.