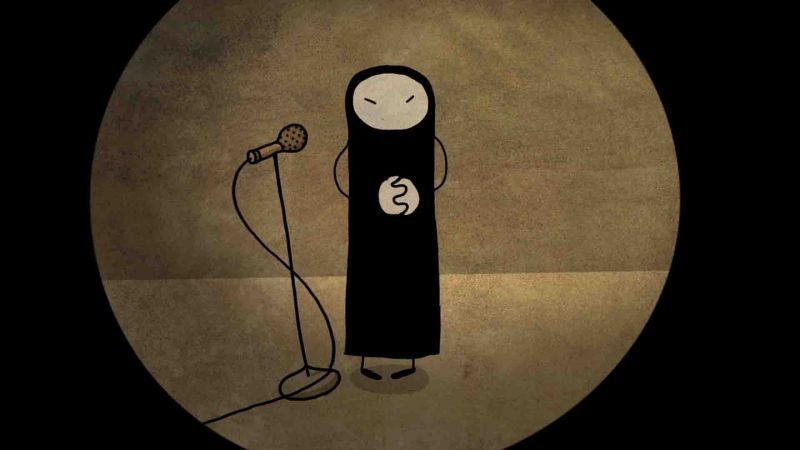 Day 3 of the Atlantic Film Festival this year was another great one filled with films and conversations. The images and sounds and conversations start to blend together in your mind as you settle in to the routine of watching so many films in a concentrated period of time. There were great moments all through the day as the screens were with images and the theatres filled with people who came to immerse themselves in these worlds.
First up for me was the shorts program Courts Métrages which had a range of great films from Québec. In an eclectic collection of shorts that had some drama, some comedy, animation of various types, and even a film set in industrial Québec that was also a musical featuring wrestling the range of talent was the perfect way to begin the day.
The Tibetan film Tharlo was the next film on my schedule. A black and white film from Tibet about sheep herder who needs to come to town for an ID photo, it's slow, deliberate, and beautiful. With static frames carefully composed by director Pema Tseden the structure slowly begins to emerge. The particular context of life in contemporary Tibet is established as the scenes progress. Above all it's a character study as we watch the characters move and interact in the scenes that are sometimes shot directly but more often captured from a distance or within mirrors or through windows. There are some truly stunning images and compositions that seem accidental suddenly reveal careful planning as a character comes to rest. It's a demanding film that operates as a meditation that ended as being rewarding for me as we follow the story that provided a small perspective into a different culture.
In sharp contrast to the black and white of the Tharlo, Ann Marie Fleming's colourful animated film Window Horses was the next film I saw. With a simple animation style providing a delightful contrast to an intricately constructed story with many other stories embedded within it, Window Horses was is a gentle delight to see on the big screen. The story moves along briskly while the characters are quickly established and details about their lives and journeys begin to fill in the spaces on the screen. With different animation styles from guest directors seamlessly blended in, the film takes our poet heroine from her fast food day job to a poetry festival in Iran where she encounters fascinating people along the way. The lovely images are combined with the distinctive voices of a cast that includes Sandra Oh as Rosie along with the great Shohreh Aghdashloo to name but two, it's a journey of discovery and identity that warmed my heart.
My final film of the day was the gala screening at the Oxford of Andrea Arnold's American Honey. With elements of her previous films appearing from time to time, American Honey is more of an improvisational experiment with Andrea Arnold assembling a young cast who go on a road trip. At the centre of the film is Sasha Lane as Star, a young woman figuring out who she is. It's familiar territory for Arnold that she explored remarkably in Fish Tank, but this time it's set within an American context. It's the process that is interesting with the film as it takes on a bit of ambient quality as I felt I could have left the film at several points and it would have worked. Unlike Red Road or Fish Tank, things don't build to a much of a conclusion, but maintain a level of uncertainty and slight dread throughout which made it feel a bit long. Beautifully shot by Robbie Ryan who also shot Arnold's other features, it's stunning to look at and interesting to watch, but the echoes of her earlier, more bracing films made me miss the stakes and control that she had with those films.