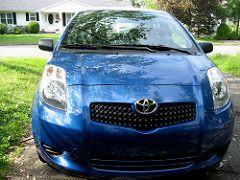 Last week I got the new car. As expected, it's a Toyota Yaris hatchback (which is called a 5-door). It's a bit shorter than the Echo was, but inside it feels like there is more space. In the back (in the hatch part) there is less storage space than the trunk of the old car, but I think that it will be ok, since there is a bit of hidden space under the doors covering the spare tire. I've read through the manual and have taken the car on a few trips, so it's quickly become familiar to me and I really, really like it.
Toyota has the design thing down cold and it's a beautiful and functional design. One of the things that I've noticed is that Toyota often is ahead of the other carmakers in terms of design. With the Echo 8 years ago, many people commented on the way the car looked as it was taller and angled differently than most of the other cars around. Now it fits right in and most other sedans have a similar look. The Yaris is wider and shorter in the front. It's great since when you're driving you don't see the hood, but the road in front of you. The instrument panel (like the Echo) is not in front of the steering wheel, but in the centre of the dashboard, which I really like, since you don't have to look through the steering wheel to see the information.
The fuel economy is fantastic and I've only filled it up a couple of times, but it looks as though I'll be able to go about 700 kms on a 42 litre tank of gas. That means I'll probably save about $100 - $150 a month during the school year when I'm commuting in to the city every day. Even though the federal government has decided not to continue the program, the 2008 fuel-efficient cars are still eligible for the $1000 ecoAUTO rebate, which helps a lot.
One option that I'm excited about, but it isn't installed yet, is the iPod connection, which will let me control my iPod from the steering wheel. So it's not completely set up yet, but I'm very happy to have the Yaris and it's going to be a great car that I think will probably take me another 400,000 kms or so.