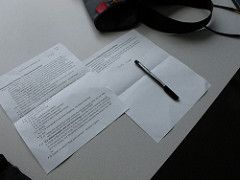 In the final concurrent workshop slot I was part of the panel for Effective Communication Strategies for Disarmament and Peace. The session was moderated by Bobbi Dunham-Carter of Organizational Learning at NSCC as well as the holder of fellowship with the United States Partnership for Education and Sustainable Development. The focus of the session was on a critique of the mainstream media and how both traditional and new media can be used by activists to make their voices heard.
The first presenter was Richard Zurawski, documentary filmmaker (with a focus on science, weather, and history), writer, meteorologist, public speaker and member of the media for a number of years. He gave a perspective on the way stories are constructed in the media along with advice for cultivating relationships with the media and how the mainstream media probably will not change, which is why you need to try to work within the system to get your message out.
Next up was Bruce Wark, Inglis Professor of Journalism, University of King's College, and a former CBC Radio journalist and producer who also writes a regular column for The Coast. He wrote about how "Peace Works" in a recent column for The Coast and expanded on those ideas drawing on some of the thoughts of Ursula Franklin in his presentation which also drew out the idea of directed listening as a better way for journalists to work on their craft.
Finally it was my turn and my presentation (connect, share, be yourself) was about new media with blogging and Twitter. I drew inspiration from my late dear friend Errol Williams who had me edit his documentary film "When Voices Rise…" which told the story of the non-violent movement in Bermuda in the 1950s that ended segregation through a boycott of the movie theatres. The world now is a much different place with tools such as blogs and Twitter providing a platform for people to connect with each other in new ways. These new technologies and social media can be used to build your network of connections with people who have similar interests.
Not being intimidated by the technology is critical. You need to start making and sharing stuff an not lose focus on what is important. It's about people and not technology and the most important network is made of flesh and blood. The media that connect us are only as strong as the people at both ends. The focus doesn't need to be on the tin cans and the strings, but the people holding the cans and the people they talk to. Having followers on Twitter or fans on Facebook doesn't translate into action. It's quality, not quantity and connecting with people in meaningful ways will translate into action.