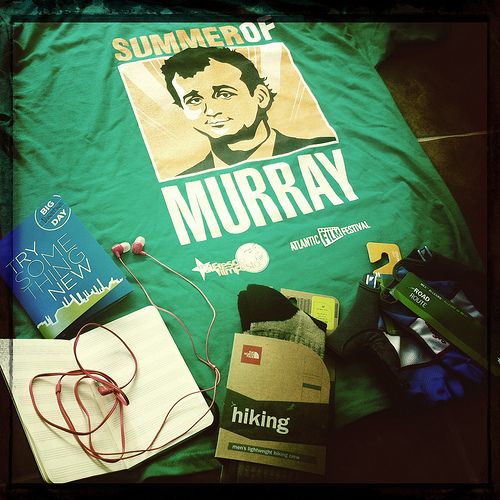 Last year I was lucky to be one of the bloggers chosen by the Downtown Halifax for Big Day Downtown where people were given $100 to spend and write about the experience. My first Big Day Downtown was a lot of fun and this year the twist is that you need to try something new. They kicked things off with a packed reception at the newly opened dessert bar The Middle Spoon on Barrington with lots of local bloggers enjoying the sweets and fancy drinks. Halifax and the surrounding region has quite an interesting blogosphere.
Not wanting to wait very long with a $100 card burning a hole in my pocket, I asked my son John if he would like to come to downtown Halifax to try some new things. So on the afternoon of Friday, August 19 we got in the car and left Wolfville for Downtown Halifax.
Just Us! Coffee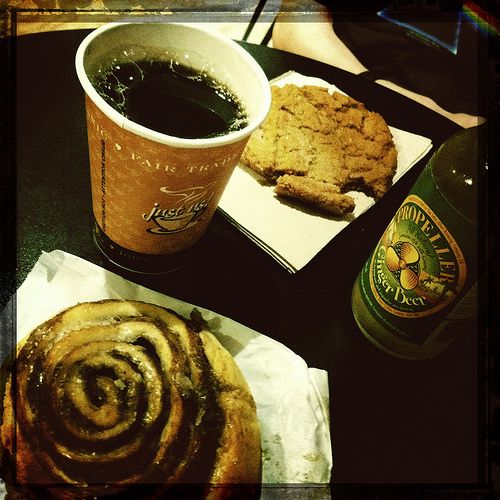 Our first stop was at the Just Us! Cafe on Barrington to have a bit of a snack and plan the day. The something new part was having John with me since it wasn't my first time at the cafe. But I did try a cinnamon bun there for the first time (it was delicious) and had a cup of strong, dark coffee to go. John had a Propeller Ginger Beer along with a ginger cookie. All this cost just $10.58 including the tip, which left $89.42 to spend.
Wandering down Barrington scouting out other places to go in the afternoon sun it made me realize that there are a lot of business in the downtown area. While Freak Lunchbox is quite tempting and there would definitely be candy that was new to both of us, it's a relatively familiar place, so we decided to pass by. We sat down outside in the sun and John suggested going to the Discovery Centre to check out the exhibits there, but since we came in to the city late in the afternoon there wouldn't really be enough time to do it justice. One thing that John did want to get were some new headphones which lead us to Scotia Square.
---
The Source
Looking in the guide to downtown shops we saw that there was a Source on Duke Street, but it didn't seem familiar. Wandering over it became obvious that it was in Scotia Square, where I've enjoyed a few suprisingly affordable meals in the excellent food court (the highlight is Ray's Lebanese Cuisine). So in we went to The Source and looked at headphones which just happened to be on sale. After some thought and comparisons John decided that he wanted some new earbud-style headphones. He chose ones that were hot pink so they'd stand out. With the tax the heaphones were $11.95. Now the remaining funds were $77.47 as we went back out into the sunny afternoon and walked back up Barrington in search of stuff for me.
---
The North Face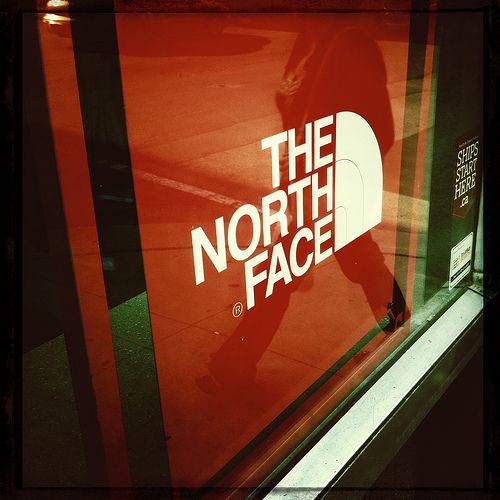 One of the shops that opened recently downtown is The North Face, which sells clothing and outdoor equipment. I've liked their clothes and bags and was keen on seeing the store. It was compact with friendly and helpful employees. There were some great clothes and neat bags (but I probably have too many bags for different things, so that wasn't really an option) as well as a comprehensive range of colourful sleeping bags as well as tents. Maybe some footware? I'm ok for outdoor shoes and sandals, but new socks would be perfect. Looking through the different styles some solid hiking socks stood out which cost $20.50 after tax (leaving $56.97). Then it was time to go to another outdoor store on the same block in Mountain Equipment Co-op.
---
Mountain Equipment Co-op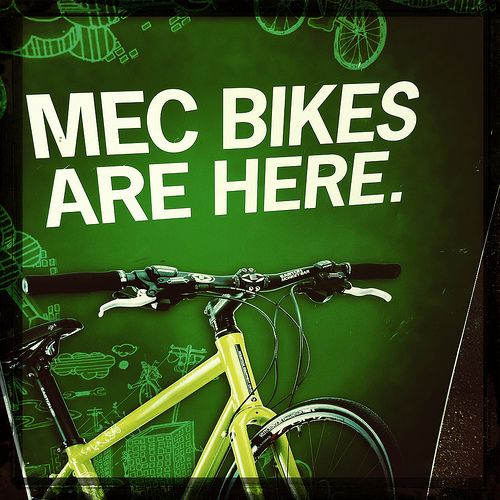 Last time for Big Day Downtown one of the stops was Mountain Equipment Co-op, so there needed to be some justification for returning. The big change in the store is a renovation and the expansion of the bike section which includes selling bicycles in addition to the parts, accessories and clothing. The staff are serious outdoor adventurers and have solid, practical advice that helps you make the right choice for any activity. While I very much want to get a new bike from MEC, that would go over budget, but there are many affordable things related to biking in the store. One thing that I've never used while biking are gloves. After a few recent long bike rides I noticed that my hands were sore, so perhaps gloves would solve this problem. There are a range of gloves available, so I tried a lot of them on and eventually settled on some fingerless gloves made of a light and comfortable material. The cost of the gloves came to $21.85 which brough my remaining funds to $35.12.
---
DeSerres
I lack drawing ability, so I don't usually go in to DeSerres on Barrington to buy art supplies. But I remembered that they did have a range of Moleskine notebooks which I love. Maybe there would be a notebook that would be good for John? We went in to the clourful store and looked around at notebooks and found a small music notebook. Since John is writing music and practicing playing the piano, it seemed a logical choice to buy a Moleskine Pocket Music Notebook. It's the standard small notebook Moleskine with 8 staves ready for music to be composed within. After paying $19.55 for the notebook we were left with $15.57 on the card.
---
Burrito Jax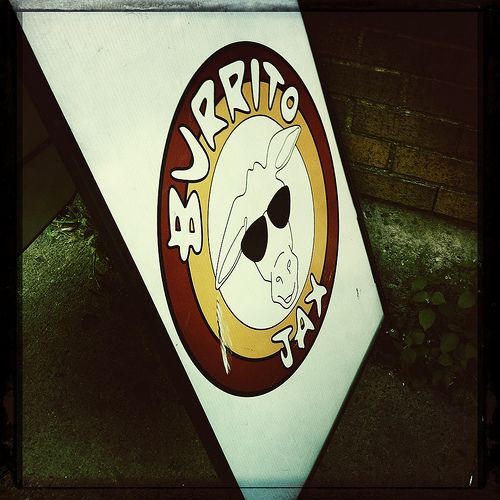 By now we both were hungry and one place that we haven't tried, but heard nice things about was Burrito Jax. Would I be able to find good veggie options there? The answer was an emphatic "yes"! The restaurant is compact with music playing and limited seating, but burritos are designed to be mobile and with the lovely weather it was nice to walk around outside with a delicious meal in my hand. I had a veggie burrito stuffed with just about everything (when presented with options I just kept saying "yes") and John had the pulled beef burrito. Our meal ended up costing just $14.59 which brought the remaining money down to just 98 cents, so it was very close to meeting the goal. Burrito Jax doesn't take credit cards, so I couldn't use the card to pay for it, which meant that there was some money still left on it for a future, bonus adventure.
---
AlFresco FilmFesto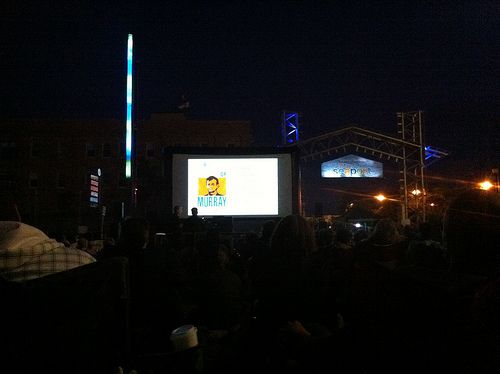 The final thing for this Big Day Downtown was always going to be seeing Groundhog Day as part of the Summer of Murray program of the AlFresco FilmFesto (organized by the Atlantic Film Festival). It's a wonderful outdoor screening of films during the summer. This year they're celebrating their 11th year with 5 films all featuring Bill Murray. We arrived early on the Waterfront beside the Seaport Farmers Market and set up our chairs as the space in front of the inflatable screen filled with people. I'd been to AlFresco before, but on this day I was sharing John's first screening of one of his (and my) favourite films with Groundhog Day. For all of the AlFresco screenings the weather was amazing and it was no exception for this screening. It got a little cool, but with the right clothes and some fresh popcorn it made for a perfect end to the day. I picked up a t-shirt for John and me and paid the suggested donation of $5 for admission for a great night of entertainment with hundreds of other people outside.
---
Discovery Centre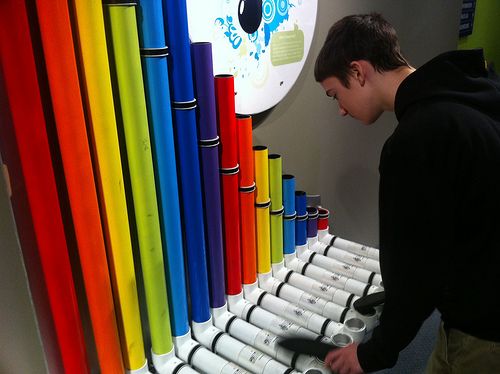 The $15.57 remaining on the card needed to be spent, so a week later on Friday, August 26th John and I went to the city again to learn and have science-based adventures at the Discovery Centre. The admission for John and I was just perfect for using up the remaining money on the card, and we went in to explore the exhibits with the new theme of Too Small to See. We looked at carbon nanotubes, assembled a molecule by working together, and magnified all sorts of things to see what they looked like up very close. In addition to the exhibits that change, there are a range of permanent activities that are a lot of fun. We made giant bubbles, went in to the Ames Room to have some optical illusion fun and John played the Slap Organ. It was fun to go around and learn about science in a interactive way in the heart of downtown Halifax.
---
AlFresco FilmFesto 2 - Rushmore
Since we were already in the city, we couldn't pass up the opportunity to see another film outside, so we set up our chairs again for the final AlFresco Summer of Murray screening and watched Rushmore. We were hoping that Bill Murray would show up to sit in his reserved chair, but it remained empty. Seeing Bill Murray would have definitely been something new. It was the first time that John had seen Rushmore and he really liked it. It's one of my favourite films and seeing it on a big screen outside with a appreciative audience was quite amazing and a perfect end to the summer and my second Big Day Downtown.
John and I thank Downtown Halifax for the opportunity to explore and enjoy the downtown and to share it with you. We'll definitely be back for more fun.
What adventures have you had downtown in Halifax?
---