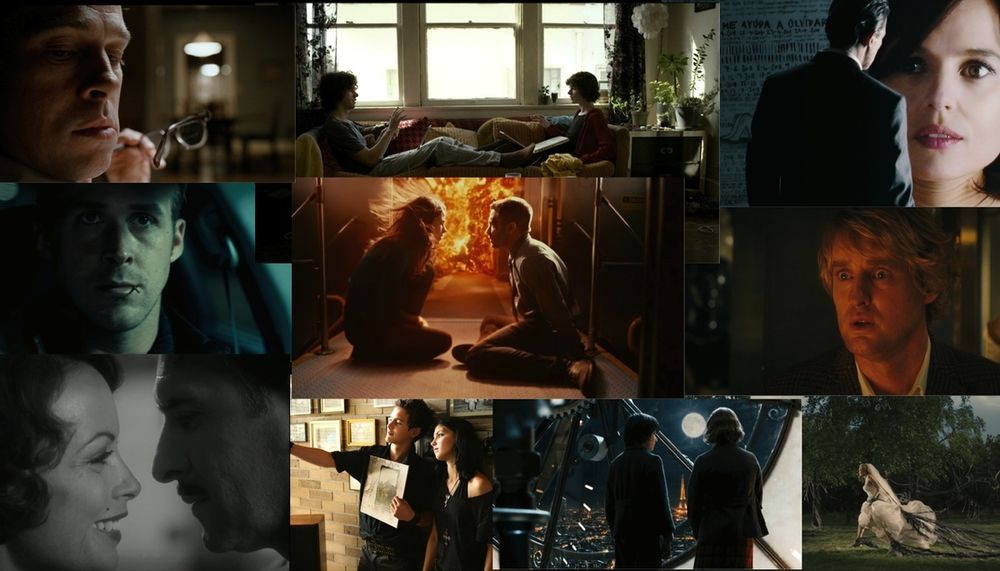 While it seemed like a slow year for films (part way through the year I was wondering when the really great films were going to show up), as summer gave way to fall there were a lot of really great films that showed up. Usually there are a cluster of amazing films at the Atlantic Film Festival and that happened and then there were some very cinematic and beautiful films that had some limited theatrical releases. For some reason many of the films that I loved in 2011 were a bit more challenging and poetic than in previous years and I also had the chance to see a few of my favourites more than once in the theatre.
Here are the films roughly in the order that I enjoyed them:
Café de Flore
One of the most intriguing films of the year was the ambitious Café de Flore which combines stunning cinematography with a great soundtrack that weaves together stories of characters separated in time and space. Music provides the impressionistic connection between them all and it really is about love. The director Jean-Marc Vallée previously made the wonderful C.R.A.Z.Y. which was a coming-of-age story set in early 1970s Québec. Café de Flore is set in Montreal in the 1980s and the present day with another parallel story set in Paris in the 1960s. Magically, Vallée manages to make it all fit together beautifully with dense visual and sonic textures that surround the interesting characters.
Melancholia
I've written about Melancholia before and it remains one of my favourite films of the past few years. It's an odd combinations of disasters and strange perspectives when you try to balance personal conflict with the end of the world, but somehow it works wonderfully. Part spectacle and part intimate drama, it works on a metaphorical and personal level and is best seen on a large screen as an experience.
Hugo
Martin Scorsese makes films that are always interesting to watch and with Hugo he experiments with 3D and managed to create a story that combines diverse elements together with a nice dollop of cinema history. While I'm not a fan of 3D, in the hands of Scorsese it becomes quite a wonderful part of the film and it actually makes a lot of sense to use it. With great performances from the whole cast, it was a wonderful time at the movies and I went to see it a couple of times because of that.
The Tree of Life
While it can be uneven and frustrating at times, it's undeniable that there are transcendent moments throughout The Tree of Life. Going from the history of the universe and the earth to the personal history of a family, it blends it all together into a poetic, impressionistic film that is beautiful to see. Malick strips away exposition and focusses on moments that provide tiny bits of insight into the lives of the characters in an exquisite portrait of growing up in the 1950s in Texas.
Drive
Drive feels like it was made in the 1980s with the synthesizer soundtrack and hot pink font for the titles and the shallow characters who reveal their feelings (or don't) through slightly cheesy dialogue. But it's very much aware that it isn't from the 80s and Nicholas Winding Refn builds the film around Ryan Gosling's quiet performance as a driver with a shady past. Deliberately-paced with a few explosions of rather brutal violence, it's a minimalist meditation on the choices that a character makes. Gosling is surrounded with a solid supporting cast who commit to the film and the tone without ever winking at the audience.
The Future
One theme that runs through many of my favourite films from the past year is that when describing them it could be easy to think that they may not be the best ideas for a film. But often it's what the filmmaker brings to the idea that makes it much more interesting and Miranda July walks a fine line in The Future. The film is about an artist who is worried about her life and how time seems to be slipping away from her. July combines the odd and quirky elements of her writing and art together into a film that becomes much more profound than the sum of the parts and explores similar territory to her first feature, Me and You and Everyone We Know.
Source Code
I loved Duncan Jones' first feature Moon and was eagerly anticipating his followup, Source Code. The concept is simple, a soldier wakes up inside the body of someone else and his mission (to be completed within 8 minutes) is to find out who planted a bomb on a train. Taking elements of Groundhog Day and Run Lola Run within a science fiction / thriller context may not seem compelling at first, but Jones manages to construct a film that is filled with clues and wonderful moments with a relentless pace that makes the time zip by. I loved it and saw it twice in the theatre and enjoyed it even more the second time.
Midnight in Paris
It seems like getting out of New York is pretty good for Woody Allen and seeing Midnight in Paris was a lot of fun. With Owen Wilson taking on the Woody Allen role perfectly, it's great to see a simple and slight story about nostagia and how we imagine how the past is always much better than our present. Peppered with great lines and quirky performances (which I don't want to spoil), it's classic Woody Allen that sprang from his early standup mixed with some gorgeous Paris locations.
The Skin I Live In
I'm willing to jump in and go on any ride that Pedro Almodovar wants to take me on, so when I saw that The Skin I Live In was playing at the 2011 Atlantic Film Festival I knew that I had to go. I'd seen his previous two films there as well, so this is a bit of a tradition for me. As with pretty much all of Almodovar's films a description of the plot is somewhat beside the point as he usually circles around the same themes about identity, gender and obsession and this time he throws in a bit of science in a shaggy dog story that goes to extraordinary lengths to makes points. It's beautiful to look at, funny and a bit disturbing at times, but I really enjoyed it a lot.
The Artist
The Artist was the film that went in to the Academy Awards with a lot of buzz which paid off with a number of awards was also an enjoyable film. Cleverly constructed as a silent film in black and white, it followed the conceit all the way through and in a similar way to a great 3D film like Hugo, you forget that it's silent and get drawn in to the story. Overall the film had a darker theme than I thought it was going to have and that made it work a lot better for me. Another love letter to a bygone era, it's definitely worth seeing as an example of what can be done with a solid cast and a good story regardless of the technologies or techniques used.