One of the wonderful things about living close to Halifax is that the city doesn't become too familiar. At various times of the year I'll spend more time in the city, but most of the time my visits are focussed and relatively quick. Working in Dartmouth, but living in Wolfville means that I spend a lot of time on the road. By the time the end of the day rolls around I usually won't hang around in the city. But at certain times of the year or for certain people or events, I spend more time getting to know the place where I work and the place that I see across the harbour.
Luckily I was chosen to be part of Big Day Downtown again by the Downtown Halifax Business Commission and it's a great opportunity to think about downtown Halifax and what I can do there. Working within constraints is a good thing and the basic rules are that you're given $100 you can spend however you want in downtown businesses. Being the third time poses some challenges as you don't want to repeat yourself and want to do things that are interesting. The twist this time was randomly pairing the bloggers up and getting us to share our adventures.
So often with social media and the various ways that we share words and images online we construct imaginary people in our minds. It's similar to how we visualize radio or podcast hosts or musicians whose voices we hear. Real people are complex and wonderful and any chance to meet them in person is good. To be able to socialize and laugh in person can be even better. The online scene in Halifax is active and strong with a diverse range of voices and people who share what they love in interesting ways. Sometimes we forget how special this is and projects like this that remind us of the community and the people who are part of it.
The kickoff event was at Morris East, which is one of my favourite restaurants and one of the places where I went for my first Big Day Downtown. The assembled bloggers mingled and socialized. It was nice to see familiar faces and catch up with people in a socially unmediated way. Being able to connect and share with people electronically is good, but it's nice to be a room with people (along with food and drinks). When the names were drawn from the bowl I wondered who I'd be teamed up with. Would it be someone I knew? Would it be someone who shared interests with me, or would it be a surprise?
My partner for the Big Day was prolific blogger Jill Mader, who I knew from Couchtime With Jill. It seemed as if the choice was almost too perfect with Jill's focus on tv and my focus on films. The rough outline for the day was worked out at the opening event with the discussion swirling around favourite tv shows and celebrities. A couple of weeks later we met up again to start our Big Day.
Jill figured out some of the places where celebrities had been in downtown Halifax, so that provided choices for where to go. I'm sure that we just scratched the surface, but I was happy with the list since it gave me the chance to combine old and new places. She wrote about her Halifamous tour over on her blog.
Two if By Sea
Our day was a Thursday after work, so before I met up with Jill I made a quick stop at Two if By Sea cafe to get a coffee. TiBS is one of my favourite places to get coffee and their new location in the Historic Properties is great. A simple counter that wraps around a corner holds everything that you could want if you love coffee and pastries. There are coffee beans to take home, along with cookies, croissants and mini croissants. Their slogan is "Drink drip, eat butter" which really sums it up. The menu is written on chalkboards on the walls and hanging from the ceiling and the coffee is fresh and strong. Knowing that I'd have a meal shortly the choice that I made was to have a cappuccino which, as usual, was just right. Sipping the coffee I walked through the Historic Properties and outside on my way to the first stop and meeting up with Jill.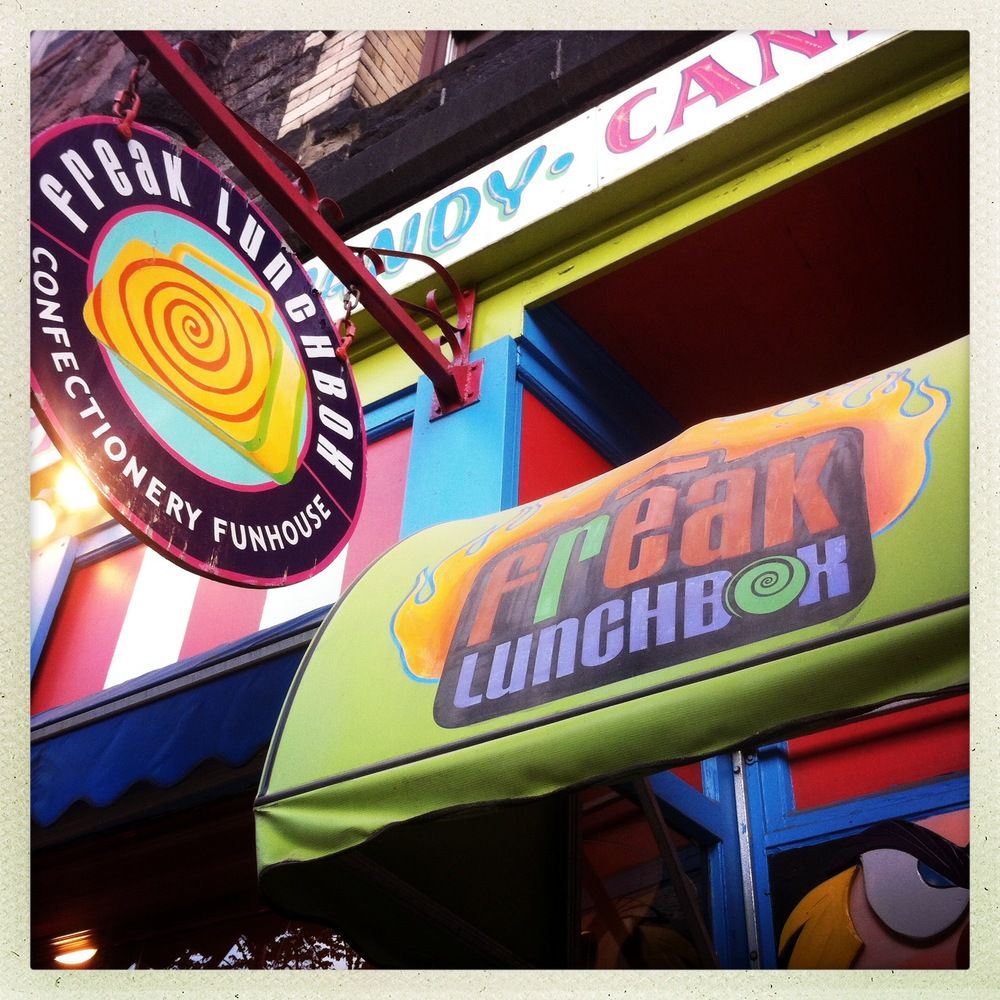 Freak Lunchbox
This was a repeat visit (both in general and in the Big Day Downtown context) to Freak Lunchbox. The reason for going here again was that it apparently was visited by Rob Lowe (who crosses over both into film and television). Other celebrity visitors have been Tom Selleck, Julianne Moore, Lucy Liu, Gabriel Byrne, and Gene Wilder. Freak Lunchbox is a relatively small candy store packed with all sorts of tasty treats and novelties. The back of the store is lined with bins filled with the most amazing range of candies. You pick a bag or box and start to fill it up. Near the front of the store are boxes of candies, chocolates and a whole wall of novelty items. I looked and looked and looked, but decided to take the plunge and get a takeout box and start to fill it up with candy. The other thing that intrigued me was a Pac Man arcade console holding candy (not to scale, it's a lot smaller than an actual Pac Man machine). With a bunch of candy in our hands, Jill and I walked down the street to our next stop.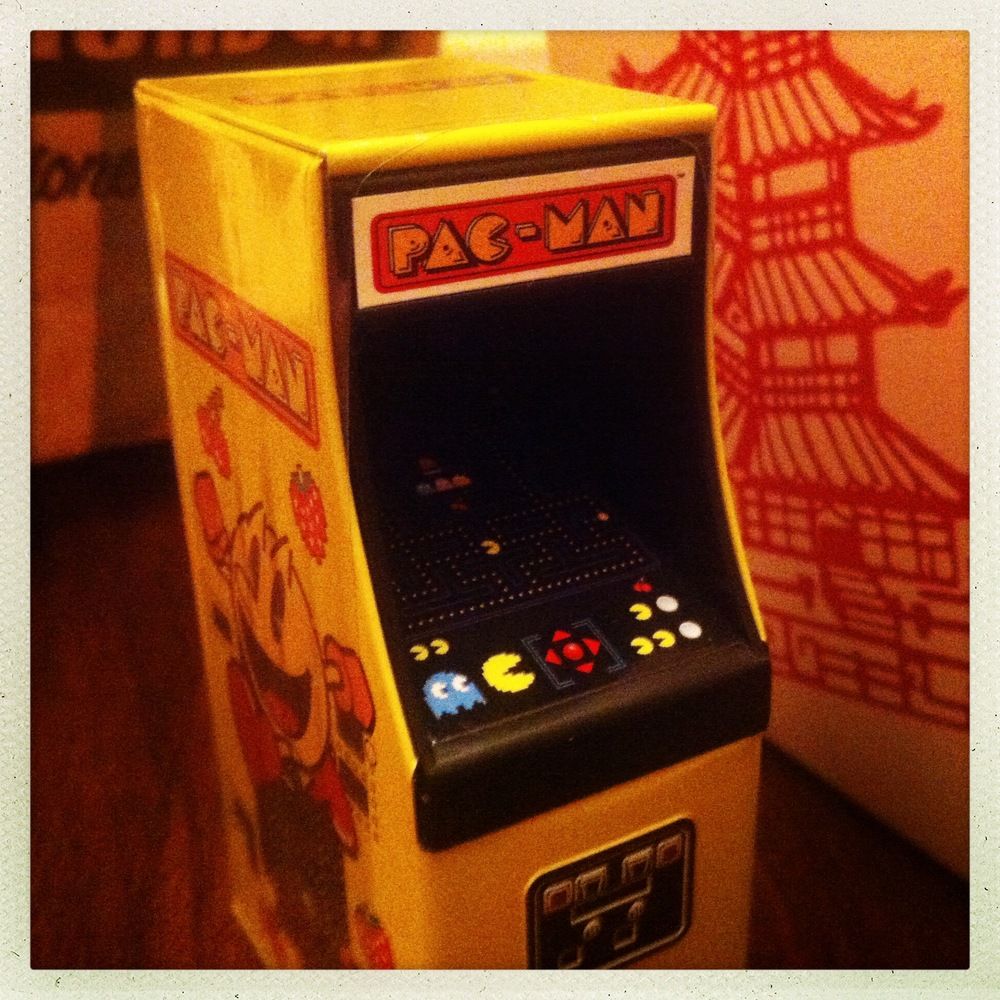 The Bicycle Thief
There are a few reasons that I wanted to go to The Bicycle Thief and the primary one was that I had heard great things about it, but hadn't ever managed to go. The other reasons are that Pierce Brosnan ate there and it's a restaurant that is named after the great Italian Neorealist film. So this was the core of my big day.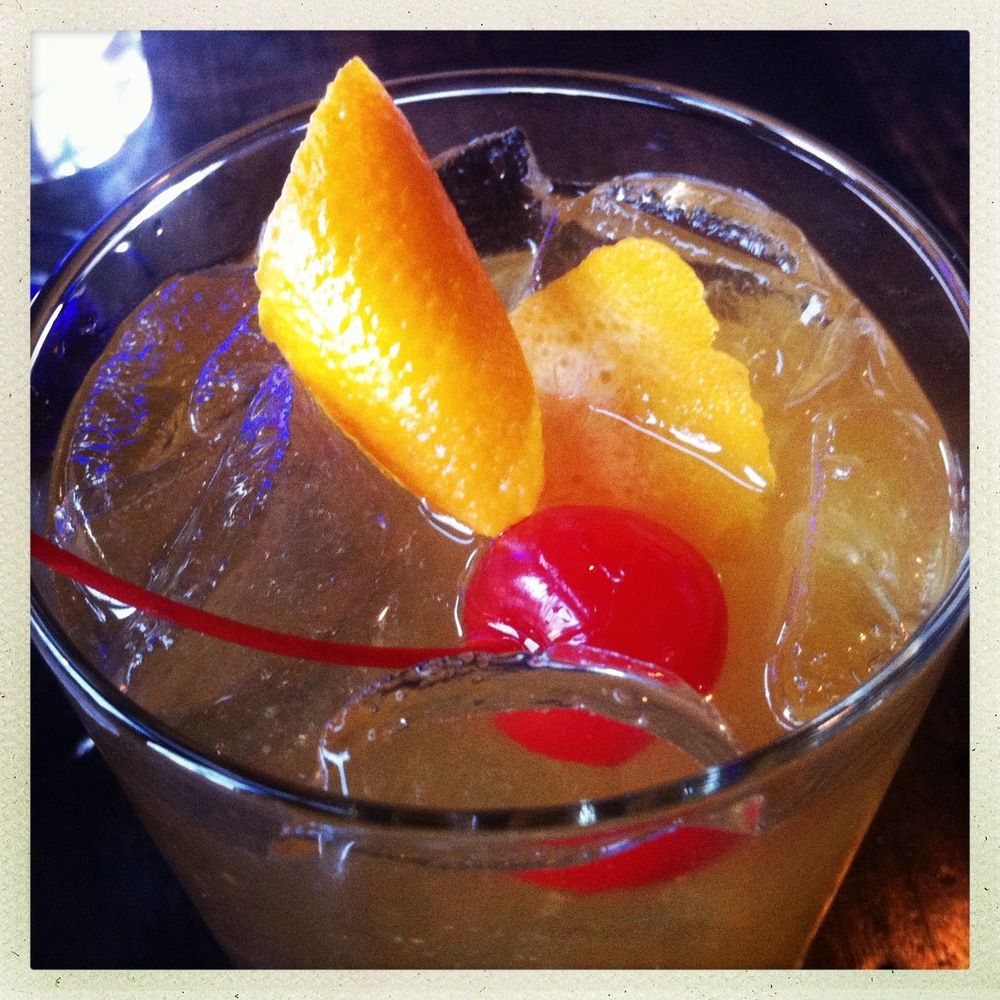 We started off by looking through the large menu and ordered some drinks. Having a favourite television show in mind, I ordered an Old Fashioned (the drink of Mad Men's Don Draper). It looked great and tasted great as well. Jill got a newer raspberry fizz which she enjoyed. Well-made cocktails are a perfect way to start off a dinner at the end of a long day.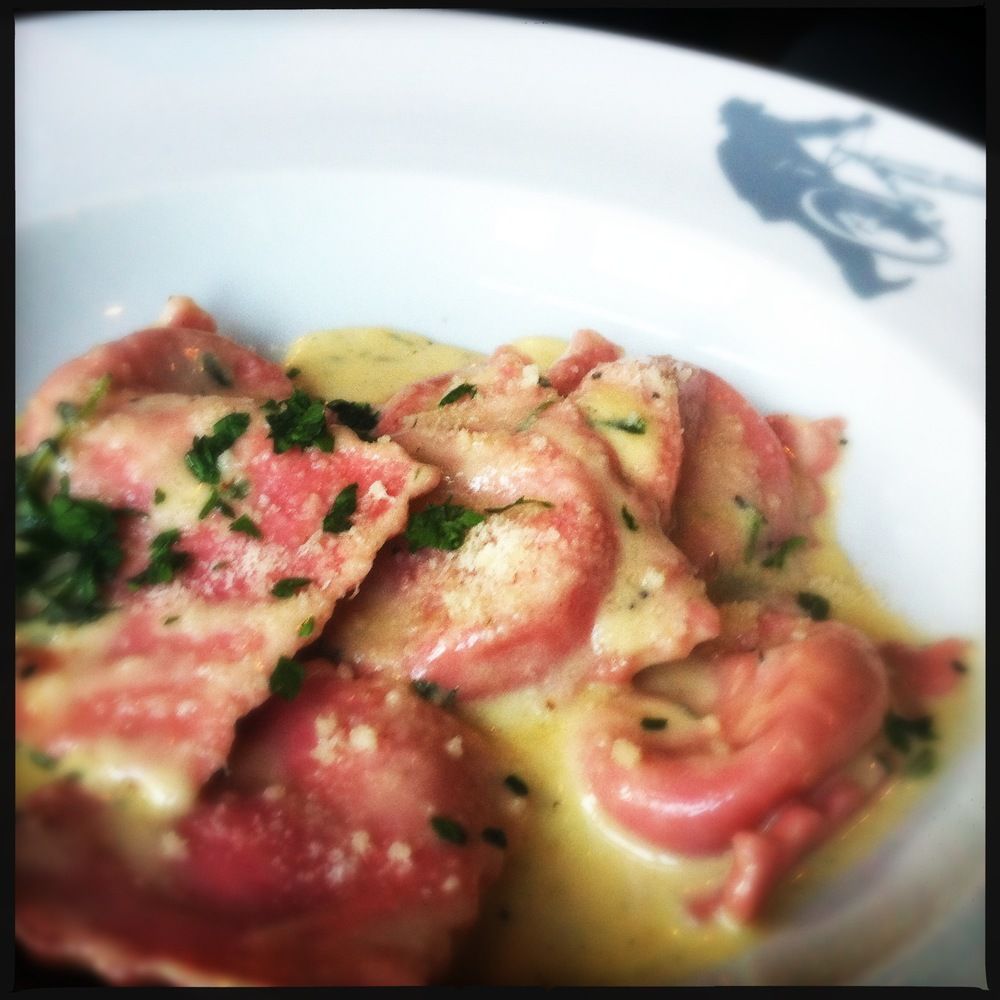 Would it be possible for me to find good vegetarian options? The menu has a strong selection of meat-based dishes, but there are some quite great-looking options for vegetarians aside from the salads. I'm not vegan, so that opens up a few more choices for me. The menu is divided into 1st Gear, 2nd Gear, and High Gear. It was in 2nd Gear where I made my decision. The Red Ravioli filled with ricotta, Mascarpone, spinach, fresh herbs, light cream sauce looked amazing and was so good. The right thing to have while you talk about films and tv with someone who also enjoys those things too.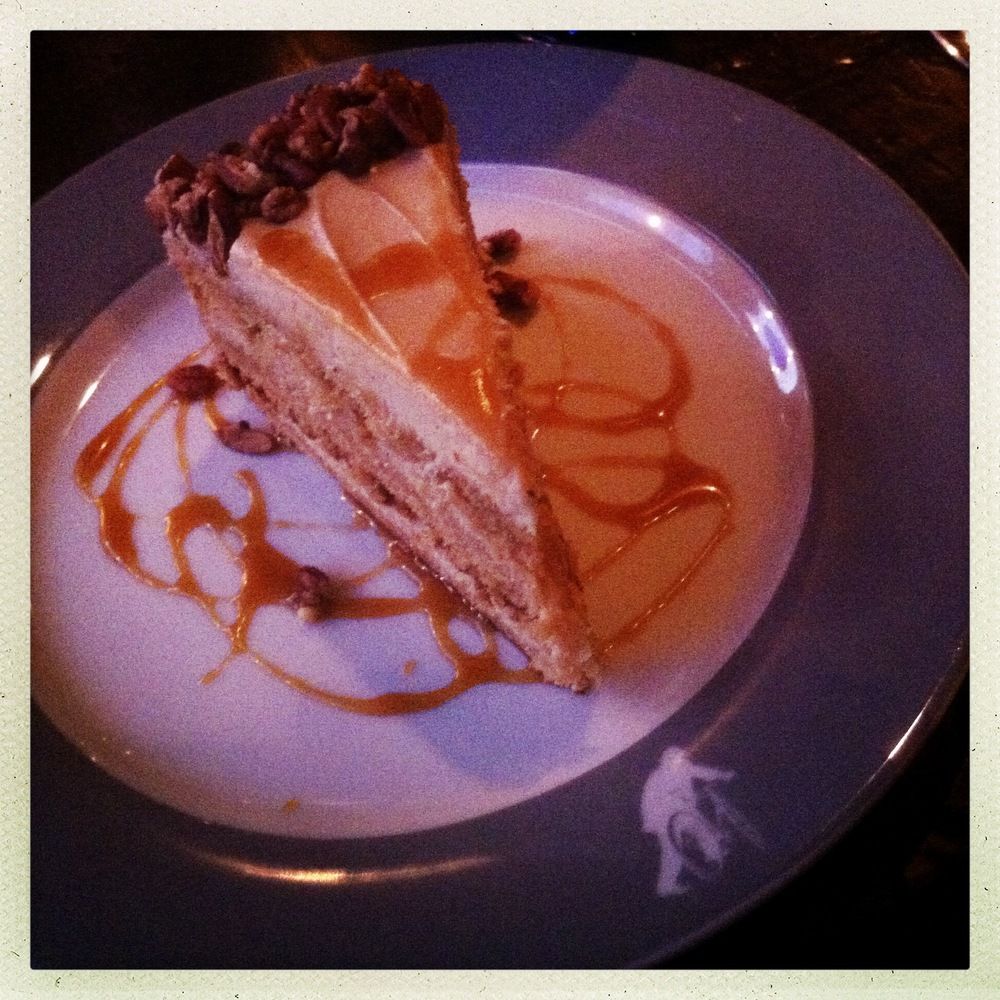 Having something a bit smaller was good as it gave me the chance to try something from the desert menu, which was also extensive. It all looked really good and I picked from the top of the list with the Triple layered Butterscotch Caramel cake, with crushed toasted Pecans on top. The balance of sweet and salty was just right and I savoured it. With the sun having set and the day being long, we wrapped up our day and on my drive home I thought of how I could spend the rest of money in the coming days.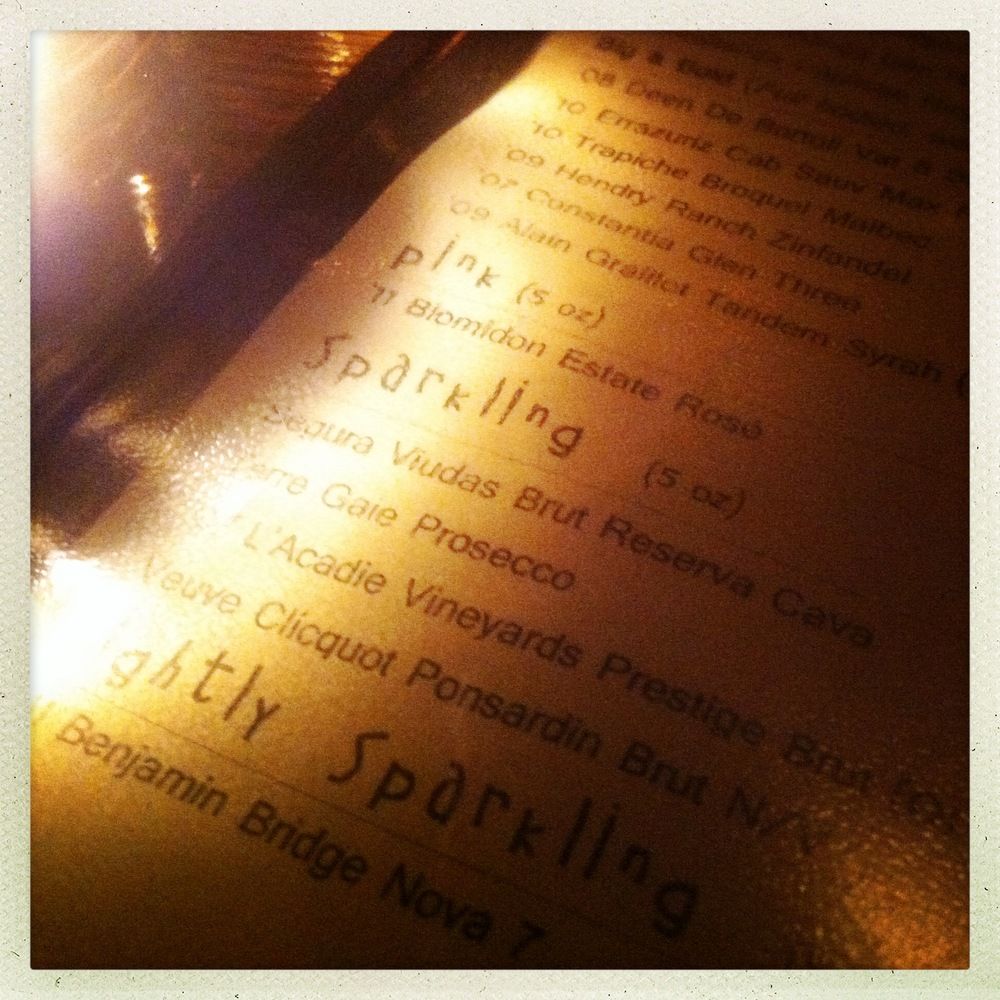 Obladee Wine Bar
It didn't take too long to figure out a place to go as the next day I was downtown again, this time as guest of Kendra (@halifaxfilmgal on Twitter) who was participating in the HPX Digital conference. She invited me to the closing party of HPX Digital which was happening at Pacifico Dancebar. I met up with Kendra earlier and we went to Obladee Wine Bar which just happened to be celebrating their 2nd anniversary. Walking in I saw some familiar Halifax social media types including fellow Big Day Downtown participant Cheryl of Wry and Ginger fame.
After catching up a bit with Cheryl on what she had done with her Big Day, Kendra and I took advantage of the special on sparking wines and had a couple, along with some of the tiny birthday cake that was offered to us. We talked mainly about films (as usual) as the Epiphonics provided a jazz soundtrack to the evening. It was quite nice and I really need to get to Obladee more to enjoy the wine, the food and the comfortable and classy atmosphere there. It's a real treasure to have a place like that downtown.
Saint Lou's Gentlemen's Barber Shop
The final stop in my multi-day Big Day Downtown was a place that I'd wanted to go to for a while. I walked by it after getting my coffee at Two if By Sea at the beginning of this story (but you probably didn't notice since you only really are seeing the things that I describe here with my words). My hair and beard were getting a bit long, so when I first heard about the new Big Day Downtown the very first place that I thought of was Saint Lou's Gentlemen's Barber Shop. Nestled in to a small space in the Historic Properties with a glowing barber pole beside the door, Saint Lou's has one barber chair, one barber, and three chairs to wait in. There is music playing, a guitar on the wall and a friendly barber named Rob, who greeted me as I entered the shop and he cut the hair of a man sitting in the chair. There are no appointments, you just show up. As I sat down he asked if I'd like a beer or a coffee while I waited. This is a choice that I hadn't had when getting a haircut before. I chose the coffee and was able to have another delicious cup of coffee from Two if By Sea. Even before the haircut started I knew that I made the right choice coming here.
In the chair the haircut began and Rob skillfully trimmed up my hair and beard. We chatted a bit and I found out that his brother was a student of mine and that he got his barber training initially at NSCC at the very campus where I started with the college on Bell Road. He worked in Halifax and Australia and then returned back to Nova Scotia and opened the shop with a casual vibe and high-quality haircuts at reasonable prices. It's great to have places like Saint Lou's and people like Rob downtown. It's the heart of a city and the simplest business model there is - provide a service that people need, in a personal way that makes you happy. That's how you end a Big Day Downtown - looking a bit better than you began as you drive home thinking about things that you want to do the next time that you come back.