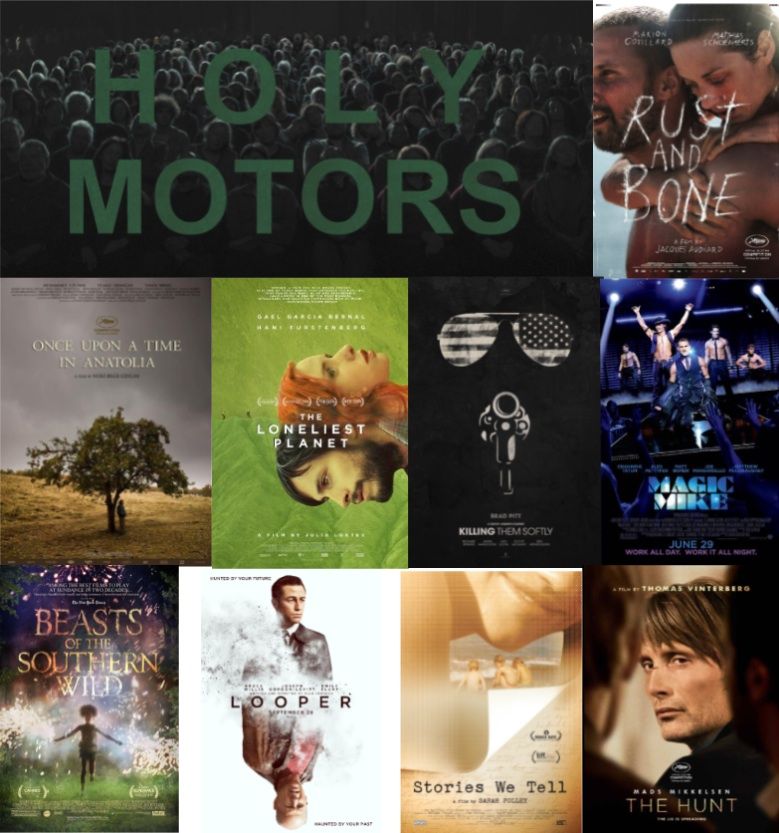 Every year there are a lot of great films and it is good to make up a list of the films that I really enjoyed. It's funny, but over time it seems that it has become a bit easier in making up the list. The number of films is kind of arbitrary. There is no reason to limit it to ten films, but that seems to be the general rule. It's really not about making up a list, but sharing your love of films with people, so in that spirit here are some of the films that really made me think and moved me and made me laugh.
Holy Motors
I was looking forward to Leos Carax' Holy Motors for a long time. I wasn't sure what it would be like or even if it would work. His previous films have all be interesting, but flawed, but they were always magnificent failures that had utterly transcendent moments. With Holy Motors, his first film in over a decade it seems that he worked quickly and came up with something that is lighter and more fun than anything I've seen in a long, long time. It's episodic and a bit rambling, but in a strange way it is the most focussed of his films. It is about filmmaking and acting and it is so much fun that I can't wait to see it again.
Rust and Bone
Every one of Jacques Audiard's films that I've seen have resonated with me on one level or another. They take people from the margins and put them through harrowing situations. The premises are always fascinating and really close to melodrama, but somehow through the writing, acting, and direction he manages to make them utterly compelling. So when I heard that with his latest film, Rust and Bone was about a street fighter and a killer whale trainer, I knew that it was probably going to be a lot more than the premise would suggest. It gripped me right from the beginning and completely devastated me by the end. Powerful, beautiful, and remarkable, it was amazing and unexpected.
Once Upon a Time in Anatolia
Quiet spaces and indirect narratives are something that I like and with Once Upon a Time in Anatolia, directed by Nuri Bilge Ceylan it is a film that I didn't know much about and was fascinated by as it slowly emerged before me. Mostly set at night with people driving through the countryside it is about a murder and finding a body, but that's not really what it is about. I wasn't sure who the main characters were, but gradually it became clear and emotionally powerful. It works slowly and deliberately and it stuck with me for days.
The Loneliest Planet
A few years ago I saw the film Day Night Day Night, directed by Julia Loktev and set in New York with a young woman who is preparing to detonate a suicide bomb. Frustratingly oblique with little dialogue and information, it kept me transfixed throughout. Then I heard about her latest film, The Loneliest Planet with different subject matter, but it has the same naturalistic style and control. The smallest detail can become significant and this time the story focusses on a couple hiking through the mountains in the country of Georgia with a guide. Most of the film consists of them walking and we see the evolution of the relationship as they hike. It's slow and beautiful and haunting.
Killing Them Softly
After seeing that the director of The Assassination of Jesse James by the Coward Robert Ford had another film coming out with Brad Pitt, I was anticipating it eagerly. But this time Andrew Dominik changes things up and while it is visually interesting, there is a tightness and focus to Killing Them Softly that was unexpected. It's built around a series of scenes with characters mainly talking about their lives, but it is punctuated through bursts of violence. A different character study that is challenging, but rewarding.
Magic Mike
While the film was marketed as being about strippers (and there is a bunch about strippers), Magic Mike is part of Steven Soderberg's ongoing series of films that work in a naturalistic way within genre conventions that feel like they are from the 70s. With Magic Mike Soderberg begins the film with the old Warner Brothers logo and he shoots it in a controlled style with the actors being loose and improvisational. It's a character drama disguised as a film about strippers and it's yet another confident film from Soderberg.
Beasts of the Southern Wild
There were rumblings about Beasts of the Southern Wild from the festival circuit and I was very glad when it showed up and it surprised with in the understated tone and magical realism of the story. Much more moving that I thought it would be it was a unique look at an isolated community with an inventive approach to cinematic storytelling with an ensemble cast and confident direction by Benh Zeitlin. Quite magical.
Looper
My most-anticipated film of last year had to be Looper with Rian Johnson teaming up again with Joseph Gordon-Levitt for their second film since Brick (one of my favourites). With Looper Johnson was telling a time-travel story with film noir elements, so it looked as though it would be good and it was. Very good in fact, so I went to see it a couple of times in the theatre and kept enjoying it more each time. Crafting good science fiction that makes you think and forms a compelling thriller is a challenge and Johnson rises to it.
Stories We Tell
Sarah Polley is intriguing and challenging as a filmmaker. Choosing diverse projects to direct she had Take This Waltz which I really liked for the complicated portrait of Michelle Williams, but with her documentary Stories We Tell it was an emotional and beautiful look at her mother and how her family related to her. A dazzlingly complex and personal image emerges as it shifts and changes over time and filtered through the memories and experiences of everyone who surrounded her. It's an amazing documentary that manages to tell a great story and make a statement about the nature of truth.
The Hunt
There is something about Scandinavian cinema and the combination of melodrama and naturalism that seems to work really well for me. This year I was glad to see The Hunt from Thomas Vinterberg who created the truly stunning The Celebration which kicked off the Dogme 95 movement. While The Hunt doesn't work within the Dogme restrictions, it's a carefully constructed story about a man in a small town wrongly accused of a crime and how that completely disrupts his life. At the centre of the film is an amazing Mads Mikkelsen with a great supporting cast. It's a great drama that is subtle and challenging.
I'd been working on this list for a while and in 2 sessions I sat down and wrote about these films without looking at my list to see what stood out for me and it came out to ten. But looking at the full list there are a few other films that were great and deserve honourable mention. My honourable mentions would be the odd comedy Wrong, the Pixar drama Brave, the fun Scottish whisky heist film The Angel's Share, Xavier Dolan's Laurence Anyways, and Steve McQueen's Shame. In the strange gap between festival screenings and release there are some films that were on lists last year, but they didn't get widely distributed until this year. So in that category I would include Béla Tarr's The Turin Horse, Lynne Ramsay's We Need to Talk About Kevin, and Steven Soderberg's Haywire.
Hopefully I'll write bigger reviews of some of these films, but let me know what you saw and loved last year.