"I'm trying out 43 Things and it's very addictive. It's a great way to keep track of and share things that you want to do. What adds to the stickiness of the whole thing is that you're sharing your list. Making a goal public is a way to increase the pressure (and support) to get things done. It's helped me already as I'm starting to blog more. One thing that will be interesting to see is how much I continue to use it and if I spend more time looking at other people's goals which can take away from completing my goals. But if spending time on 43 Things helps other people meet their goals, then it's time that I've spent very well."
— January 2, 2005 post on 43 Things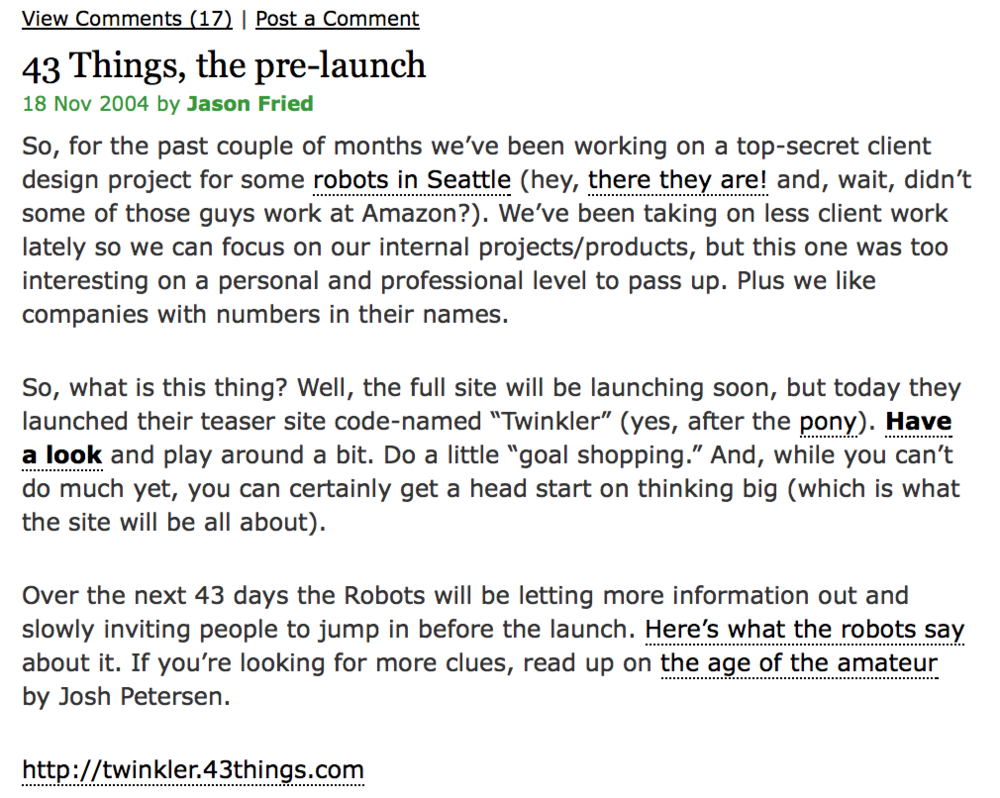 Signal vs. Noise blog post.
Almost ten years ago I discovered a site called 43 Things (from Jason Fried's Signal vs. Noise post) that drew me in and shaped my idea of what an online community could be. "What do you want to do with your life?" was the question with a box to enter something. It was simple and powerful, using solid web design and tools in a way that prompted you to explore and share with other people. I joined up on December 31, 2004 and it broadened my world, expanded my connections, and formed positive routines that continue to this day.
But now it's closing down, so I've downloaded all my content from the site and it will be going away. It was one of my all-time favourite sites because of the people. For many it seems to have been the same experience with me as a way to engage more with other people online and I've stayed in touch with many of them as the web evolved and the community dispersed. There were two amazing things going on with 43 Things with the first being the people and the second how they used the technology.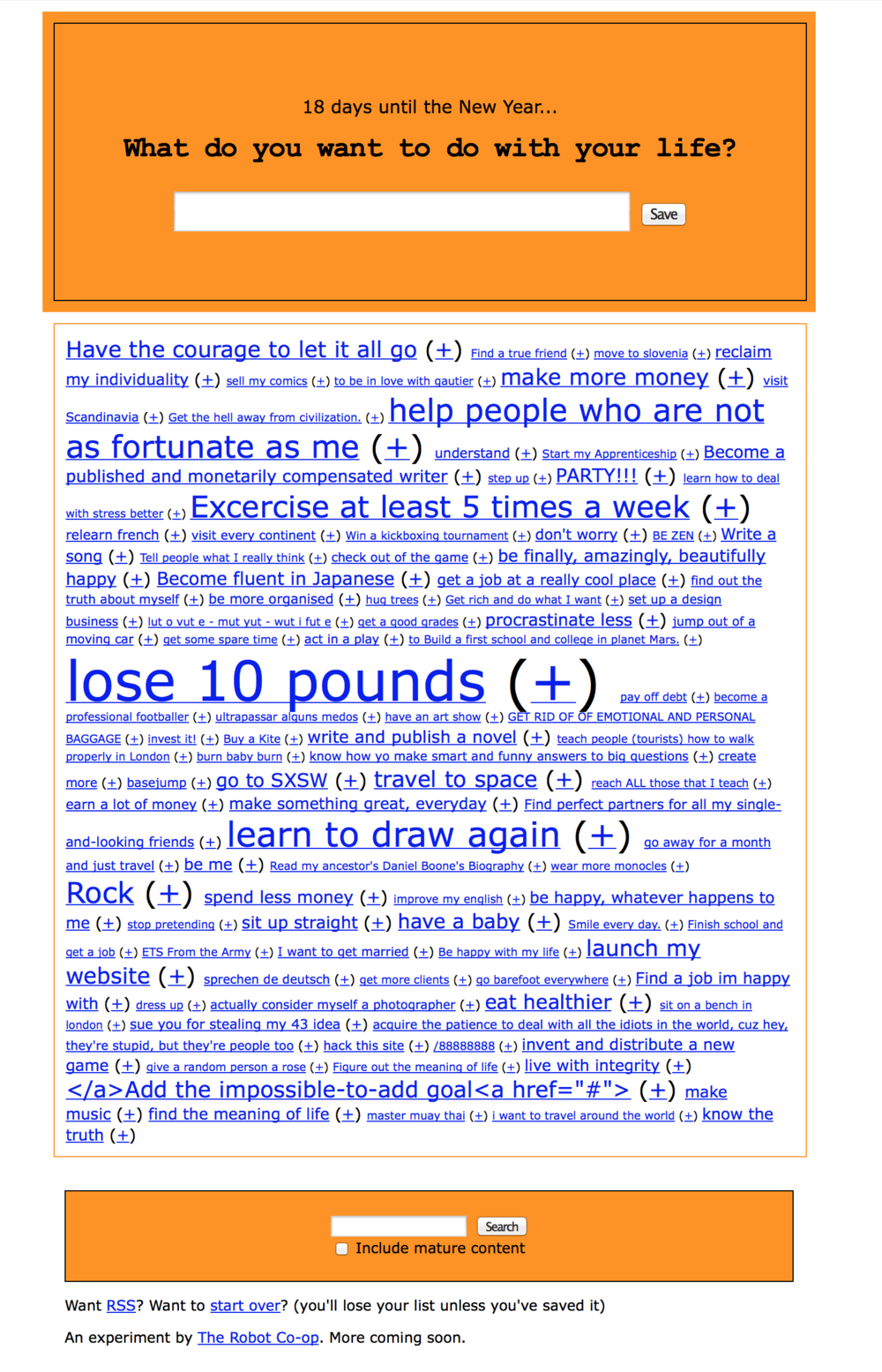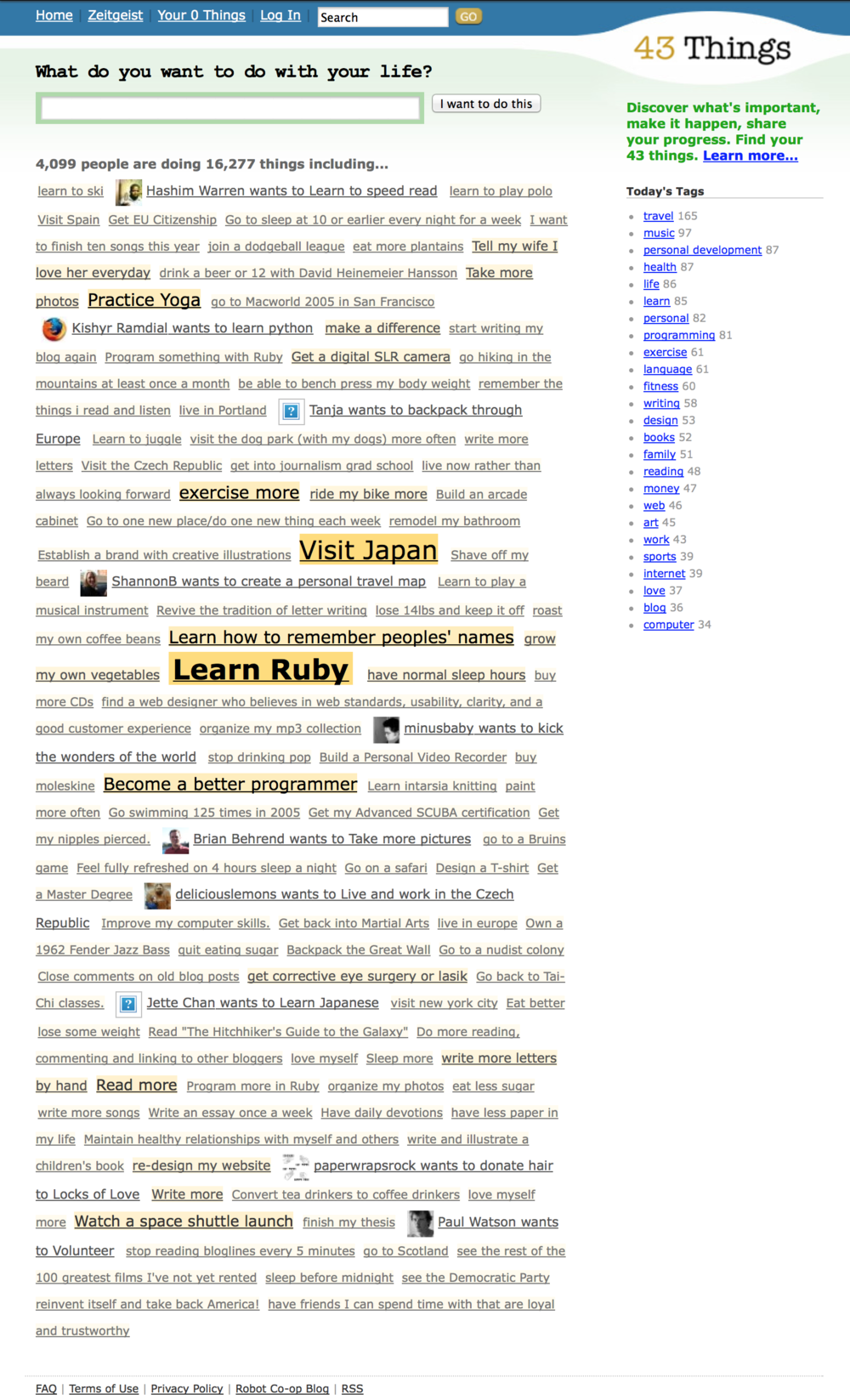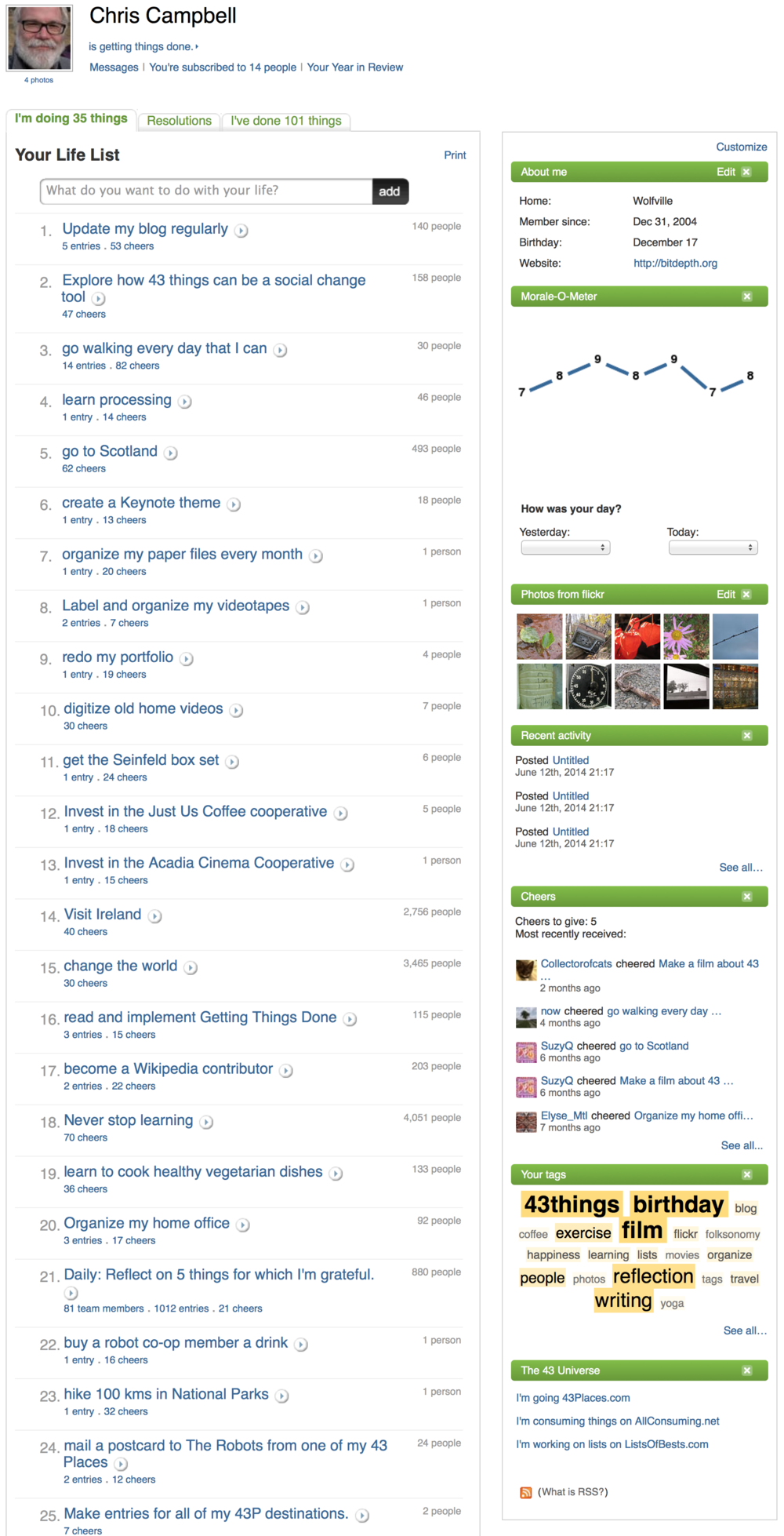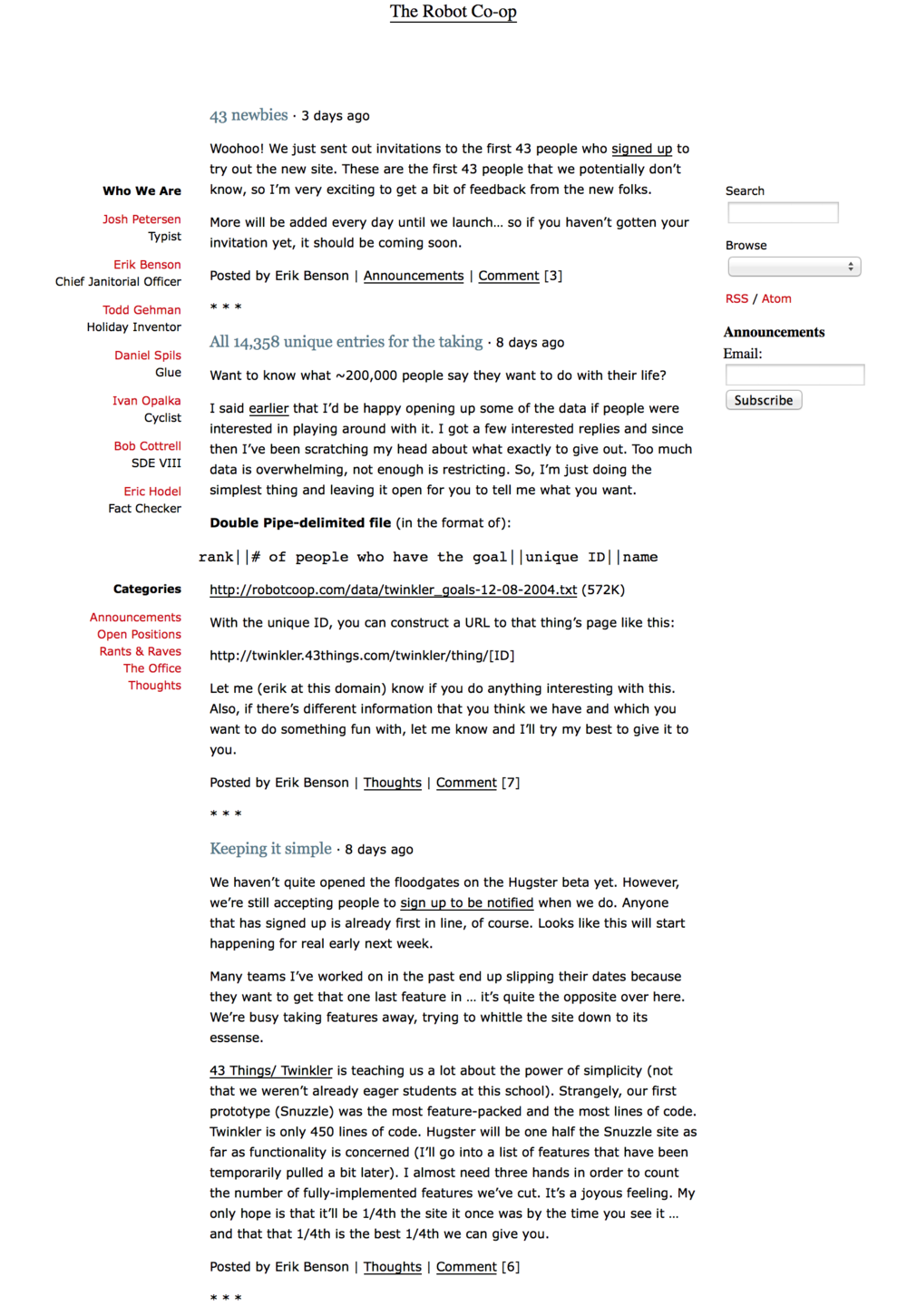 Early Robot Co-op blog post.
One of the great things about being part of something at the beginning is the rules are simpler and people are trying out all sorts of different ways of doing stuff. 43 Things was built by a group of folks calling themselves The Robot Co-op which is intriguing. They were using the brand-new Ruby on Rails framework for the site which had a newer look and all sorts of cutting-edge features like bringing in data from other sites, sophisticated RSS feeds, and tags. This was possible because of the extensive use of APIs on many sites which made working together and sharing on the back end relatively easy. The newer and cutting-edge sites of the time were using similar features and new stuff was added all the time.
It was personal and new releases of 43 Things were named after My Little Pony characters and you got a sense of the love and attention to detail that was part of the whole experience. One time something wasn't working so I sent an email to support and Buster emailed back and said that he was trying something and it broke that feature, but he was fixing it. I'd never received a personal support email like that before and it made me realize on a deep level that there were people in a place that made this thing. That was part of the magic and it's what I continue to look for on other sites. I want a sense of the people who are making things and it's great when they have opinions about how a site should be.
"I wore my 43 Things t-shirt today and when I was getting coffee I was asked, "what are the other 42 things that you're doing". It was kind of neat. While 43 Things is public, there is a level of anonymity that is connected with the sharing. I'm glad that I'm sharing the 43 Things vibe with the world outside of my keyboard and screen."
— July 25, 2005 post on 43 Things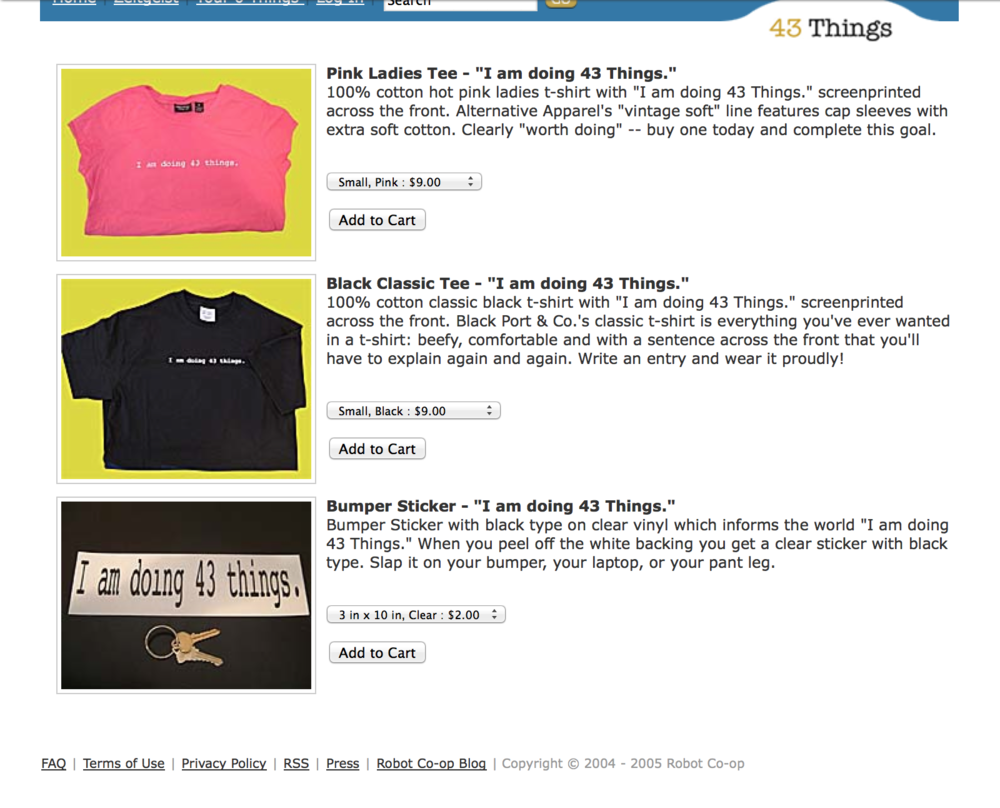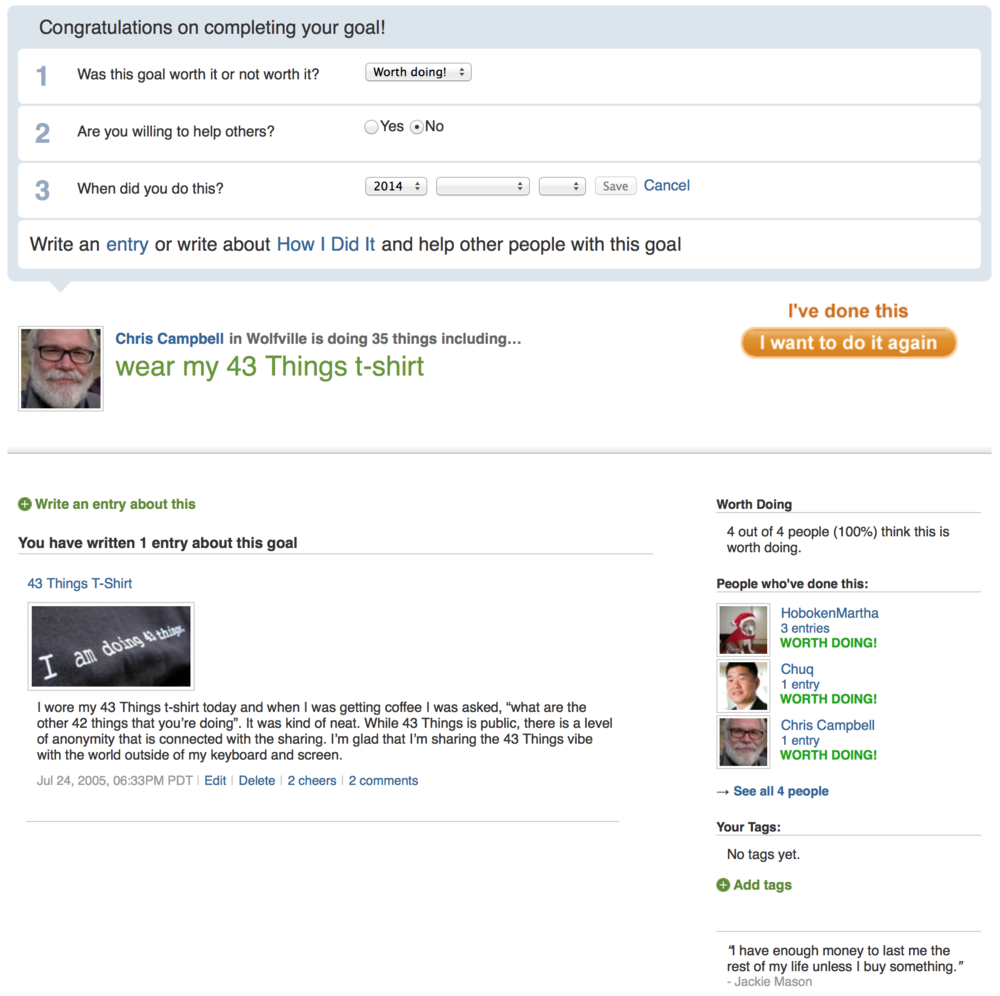 There was a secret store on the site. There was no link to it, but it was implied. If you added /store to the site address it would take you there and you could order a t-shirt there. I did that and wore it proudly. The design of the site encouraged you to explore and connect and find things in different ways. Starting in the same year as Facebook, it was a different approach in how you interacted with other people and it's probably one of the reasons that I joined Facebook later than many other people.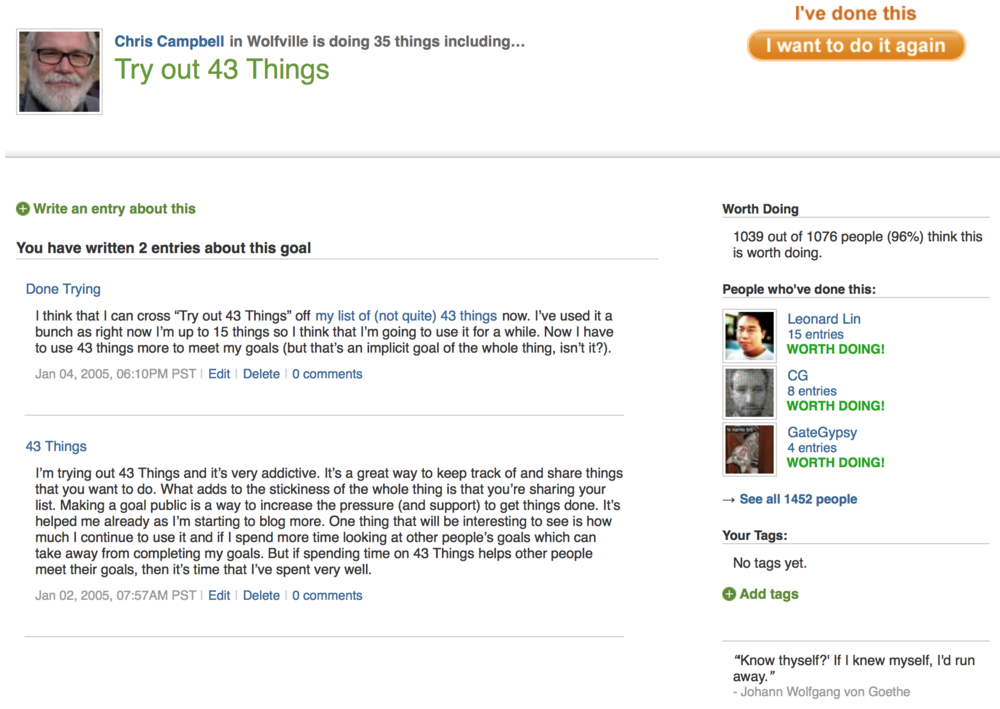 "I think that I can cross "Try out 43 Things" off my list of (not quite) 43 things now. I've used it a bunch as right now I'm up to 15 things so I think that I'm going to use it for a while. Now I have to use 43 things more to meet my goals (but that's an implicit goal of the whole thing, isn't it?)."
— January 1, 2005 post on 43 Things
What distinguished 43 Things and many of the other great sites of the time is that there was a solid sense of community and how to nourish that. Responsibility given to the community to manage how it all worked and how the interaction happened. A key aspect of the site was in creating a sense of safety. You didn't have to reveal your real location or identity and that is important and powerful. Nurturing the right environment is what makes it possible to be honest and not fear judgment and it creates a supportive and powerful community.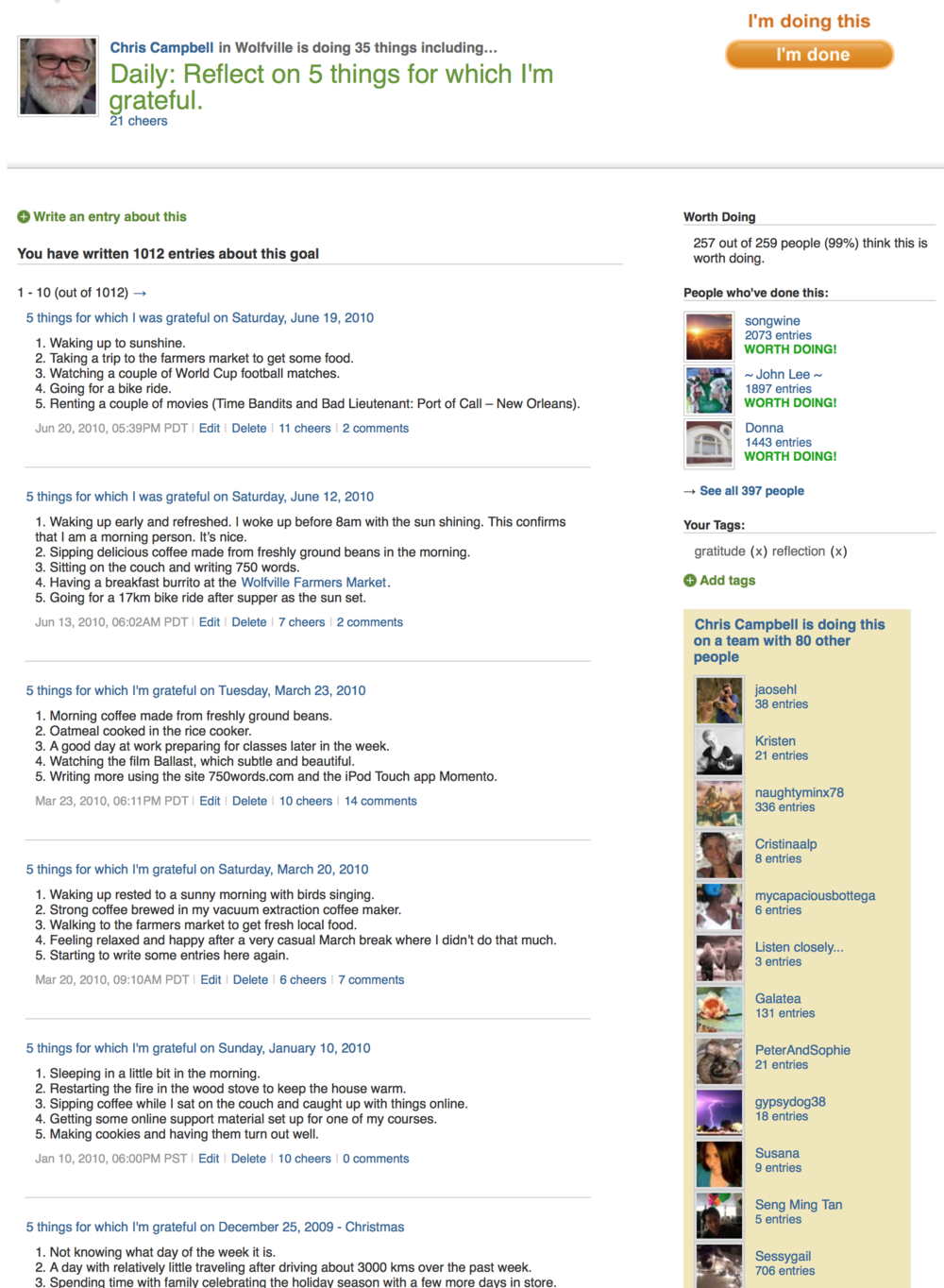 Gratitude goal.
The goal that made the biggest difference for me and one of the most popular goals on the site was listing five things that you are grateful for each day. I did that for years (with over 1000 entries written) and having that positive mindset made a huge difference. Looking back through some of the entries I made on that goal formed a snapshot of positive aspects of my day. It's amazing to see the little things captured there. It's a journal that I am glad that I kept and that positive morning mindset is something that continues on today with morning tweets that I share where the goal is always to be positive. It makes a difference and creates a little ripple of positivity that spreads out through the world.
It was a regular routine for years and when I started participating less in the site and doing more writing on Twitter and 750 Words they started fulfilling the same function. There were interesting people doing interesting things on 43 Things and as they grew they started companion sites with the same ideas behind them with 43 Places (for travel), 43 People (for people), and they took over All Consuming (for films and music and books). So many of the ideas were ahead of their time with location checkins predating Foursquare as one small example. You could also cross-post to other sites and I connected with Blogger which is where there is an archive of many of my posts from All Consuming.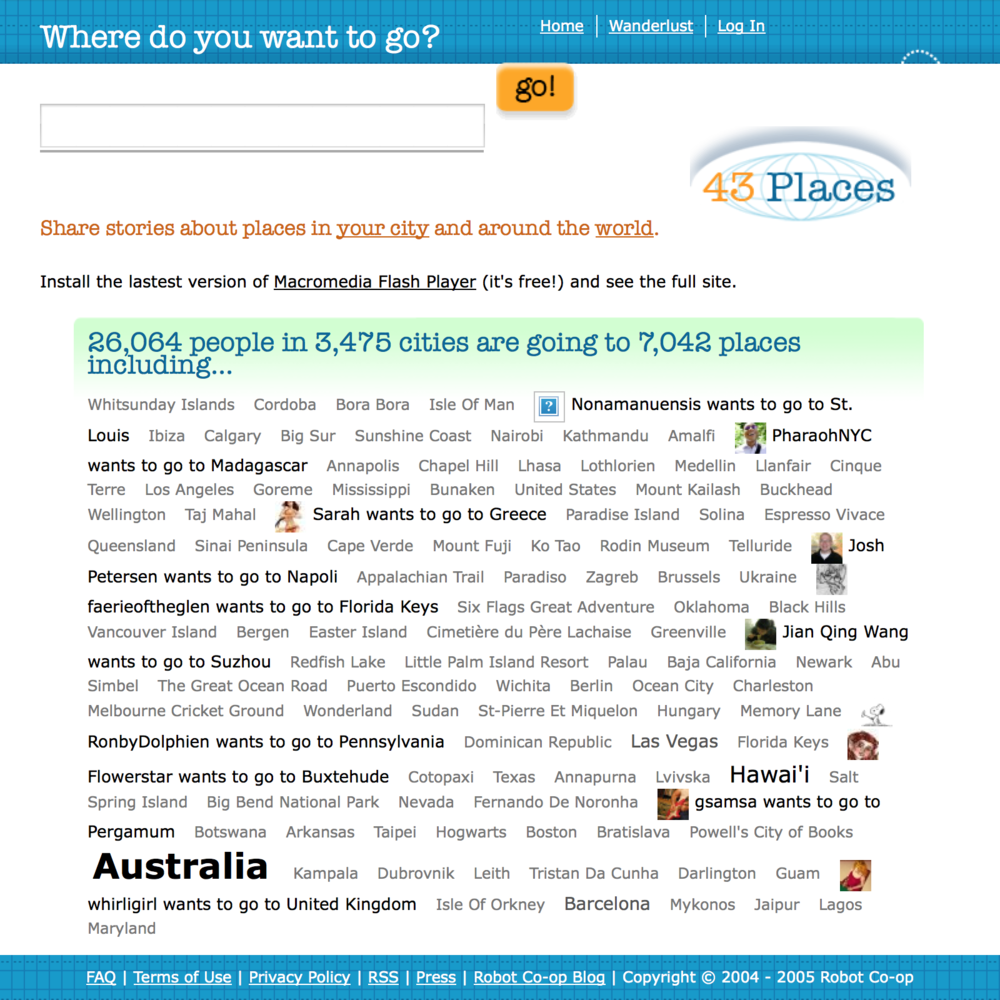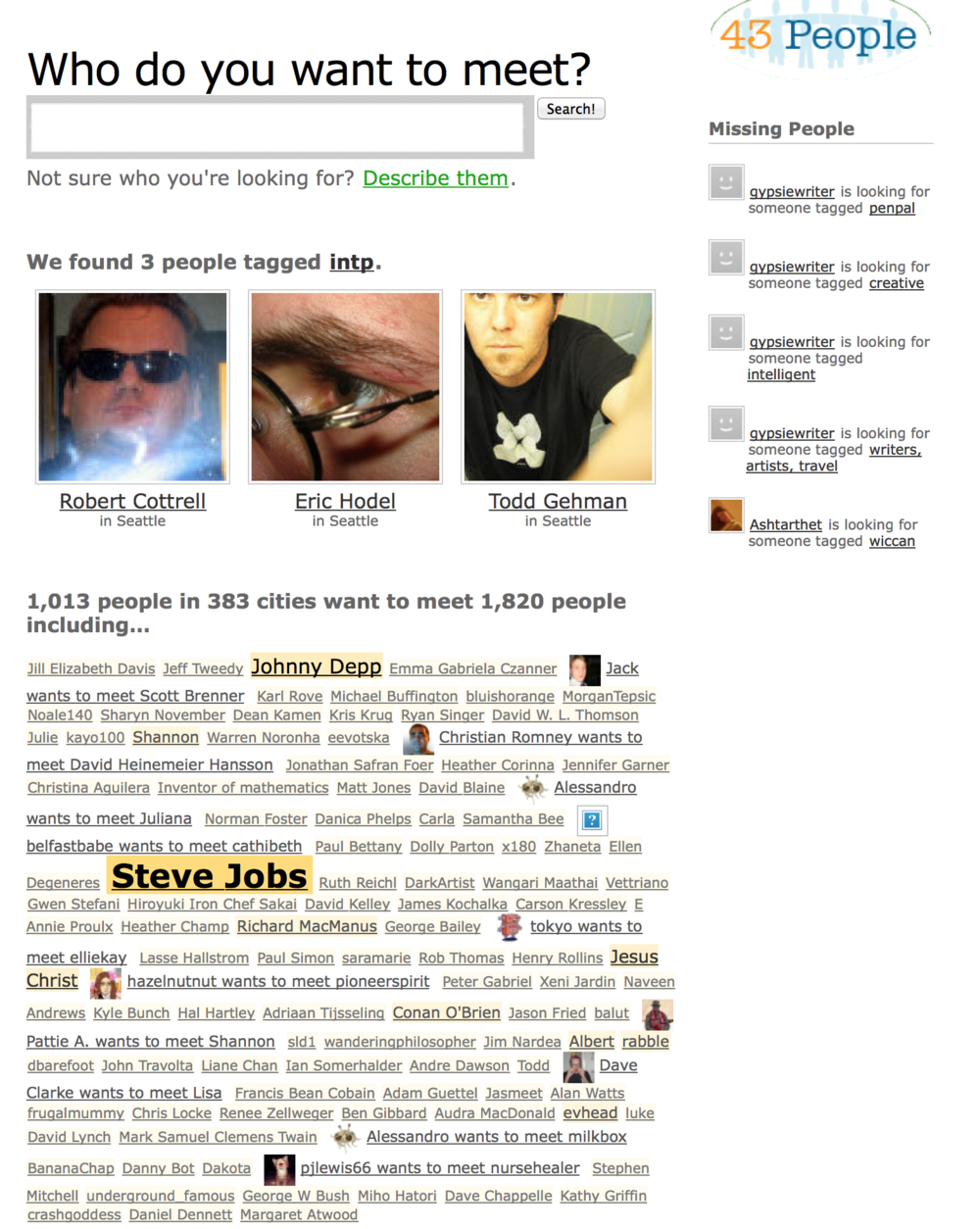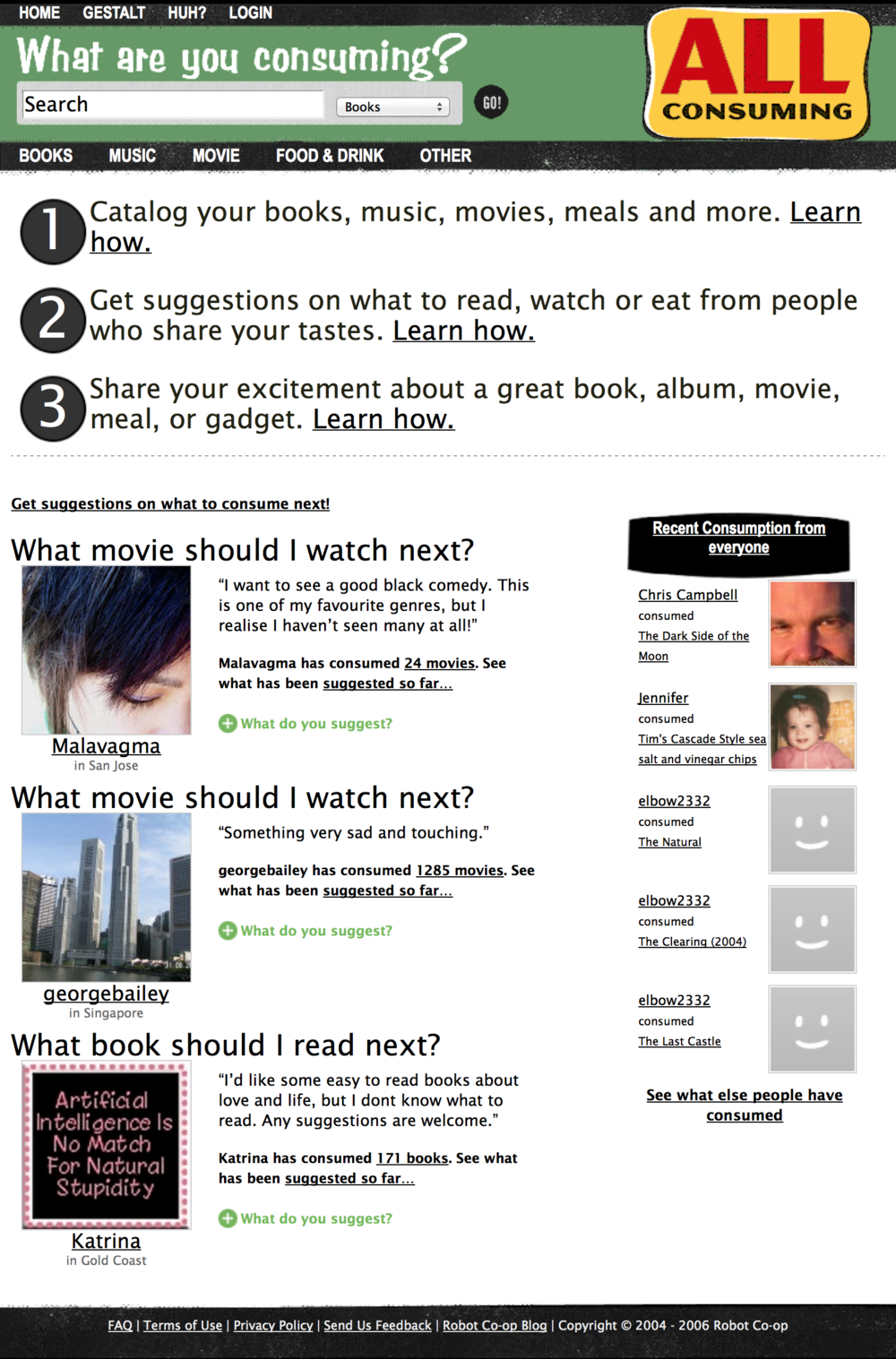 The social networking was powerful as it connected you with people doing things so finding people with similar interests seemed almost magical. It encouraged activity and the members of the community were supportive. Growing out of the gratitude goal, it got me started doing yoga and it also was where smaller, more ephemeral updates appeared. Looking through my archive is fascinating as I see so many little details about my life in this online diary. I need to keep preserving what I write as it gives great insight into who you are and what you are doing.
"I completed the May Challenge at 750Words.com and made it to the Wall of Awesomeness. Getting into the daily writing routine was a lot of fun and I think that it helps to put things into context. I still love writing here on 43 Things, but having a private space is nice too as it provides a different space for reflection that can be more personal. It's part of my routine now. I also took the June challenge, but missed a day quite early! But I did complete it for May and it's going to be something I do for a while."
— June 13, 2010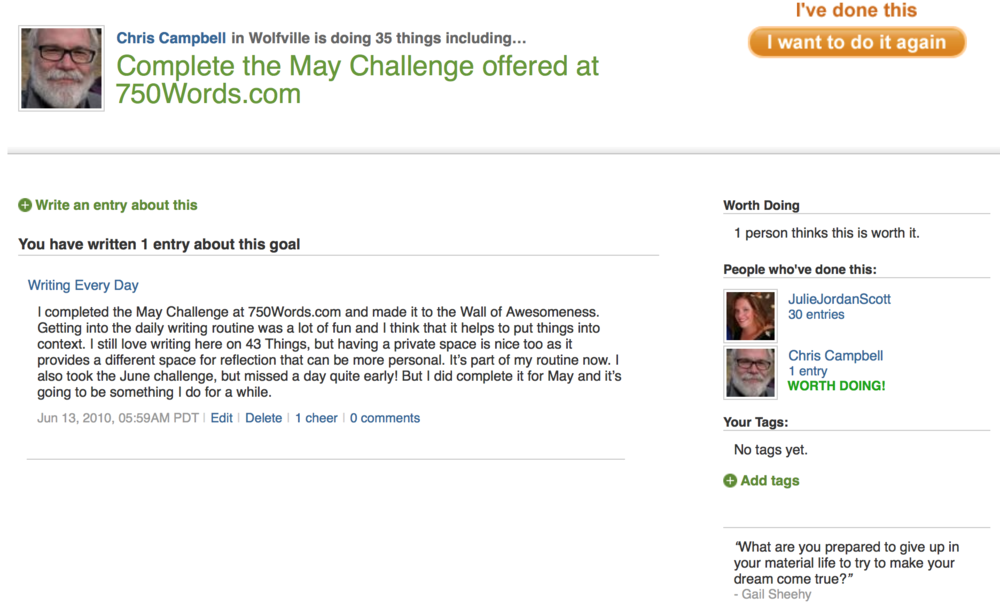 My 750 Words goal on 43 Things.
As the site grew and the other sites were added, things like All Consuming, Twitter, and 750 Words became where I wrote. They predated Last.fm, Goodreads, and Letterboxd for tracking that stuff. It's great to look back at the archive to see how much I was writing about what I was listening to, reading, and watching. I'm so happy that the Internet Archive preserves much of this as I didn't notice that the site had closed earlier in the year. It's good to revisit and highlight what you have done before. The past can help you remember who you are and 43 Things was a great community to share and connect with other people.
It's sad to see it go, but things change and evolve and one thing leads to another. I'm so glad that I found the site and for everyone who made it, helped it grow, and shaped the online world to make it friendlier and more powerful.