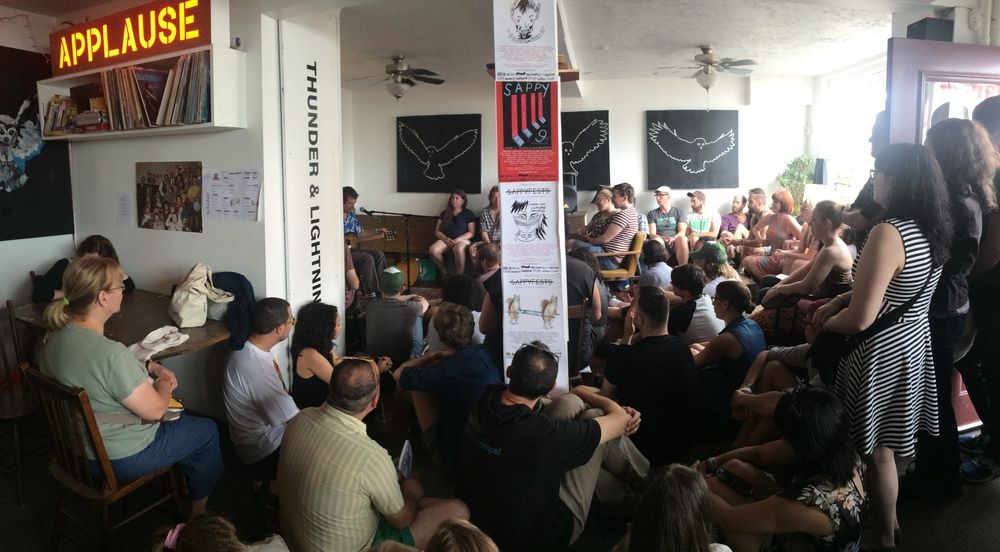 Shotgun Jimmie performs in Thunder & Lightning
It's the final day of Sappyfest as I write this and it's been a lot of fun. Overall it feels a little bit smaller, but all of the elements are there. Some things that are strange, some things that are sweet, and always things that are honest and true. Sappyfest is a collection of people who love what they do and love other people.
Yesterday, Saturday, was a packed day in the Sappyfest way which starts around noon. Bridge Street starts filling up as the sun wakes people up (or reminds those who haven't slept that it is time to get some coffee or food). This year I brought a little French press and pre-ground coffee so I'd be able to have coffee close to the time I woke up in the residence. On Saturday I took advantage of that. Breakfast was a takeout wrap from The Cackling Goose and it was very tasty.
Feeling a bit tired, I later got a macchiato from The Black Duck who make some very amazing coffee. Then the first show of the day was in Paul and Jon's lovely little pub Thunder & Lightning which is on Bridge Street, right beside the Sappyfest tent. This was the first time I was in there and we squeezed in and saw a great set from Shotgun Jimmie as I sipped some Picaroons beer. It was warm and intimate and fun and I am so lucky to have been one of the people who was able to get in and see one of the treasures of Sappyfest bring it on home.
After Jimmie in Thunder & Lightning it was nice to get outside and wander around a bit before going in to the tent to see JOYFULTALK and their great, synthesizer-based rhythmic music with hypnotic beats and mysterious samples. It was nice to sit down and let the music wash over me. Feeling hungry, it was time to visit Sackville institution Mel's Tea Room for a veggie burger and fries before an afternoon of more music.
The Vogue Theatre is a solid venue for music and it started with Nick Ferrio & His Feelings playing. It was a gentle and funny set and in addition to his feelings, he had some help from Steve Lambke, Julie Doiron, and Misha Bower. The second act in the theatre was EONS which is made up of Matt Cully and Misha Bower with Matt writing the songs (he was co-creator and songwriter of Bruce Penninsula, so I had a suspicion that I'd like the music and I did). Then it was time to get out and get some air and food and beer.
Ducky's Bar has an amazing selection of craft beer on tap. With food from Pickles (and good vegetarian options too) and lots of local beer that I hadn't tried, it was a good place to eat and have a drink. Who knew that there were craft brewers in Riverview, NB as well as Nackawic? I really loved the Hopicide IPA from Celtic Knot Brewing in Riverview and want to have some more. The beer on tap of Ducky's is diverse and the staff is knowledgeable, so it's a great place to discover some great regional beer.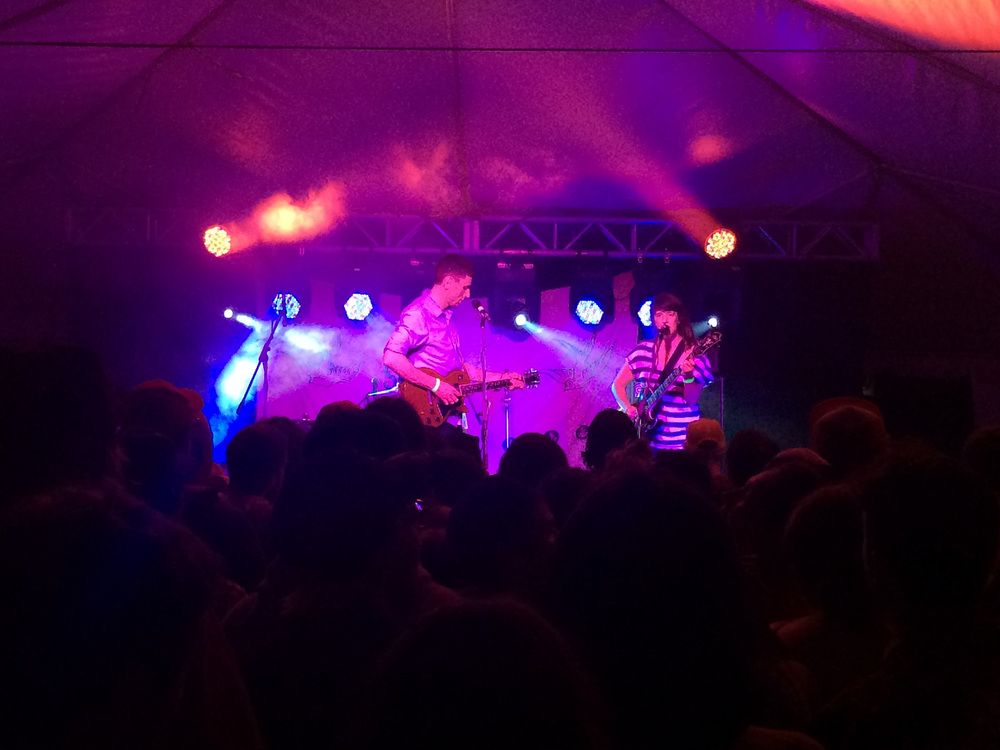 Will Kidman and Julie Doiron
It was into the tent again for the final sets of the night and Julie Doiron (with Will Kidman) played an amazing set that went from big and high-energy to small and quiet. She had the tent captivated and singing along and had her wonderful banter and self-deprecating style. A great performer and wonderful person, her honesty comes through in her songs and her voice. It was another perfect Sappyfest moment to see her on the stage again.
The final set of the night was an energetic one from Cousins with the duo rocking the tent and ending a great day of music. Near the end of the their set it was time to slip over to Thunder & Lightning again to bring the day full circle and have one last beer before sleep. It was perfect to see Jon and Paul and then relax and reflect on a day filled with swamp magic as the next iteration of Sappyfest grows and fills the town with music and love.