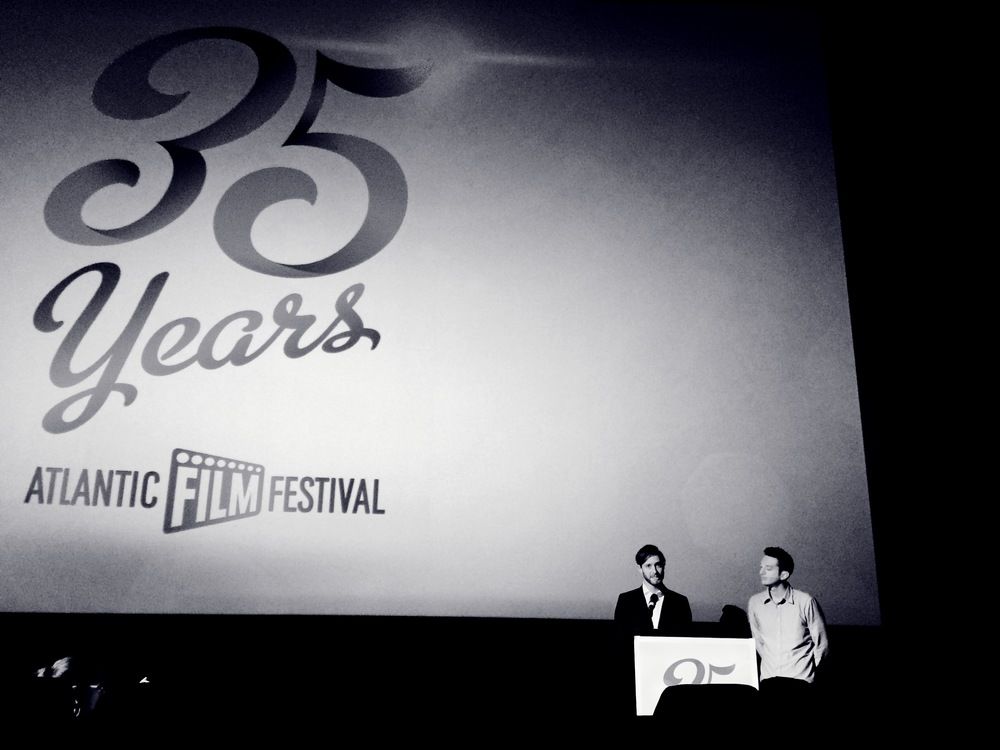 Stephen Dunn and Fraser Ash introduce Closet Monster
Day 2 of the 35th Atlantic Film Festival had some great films and conversations about those films. I was able to get to three feature-length films and one shorts program with a nice blend of drama and documentary. It's been a great festival so far with some nice surprises and many more to come. Here's what I saw on Friday, September 18.
Entertainment
I enjoyed and appreciated The Comedy, so I had a pretty good idea of what to expect with Entertainment, but it exceeded my expectations. Shot precisely with gorgeous open frames and a pervasive existential dread, it's an anti-comedic masterpiece infused with the spirit of Stanley Kubrick and Bela Tarr. Following Gregg Turkington's Neil Hamburger character on a depressing desert tour is mesmerizing and horrifying at times and I admire the boldness of the approach and the fearlessness of the commitment.
Reel East Coast Showcase 1
The first of the Reel East Coast shorts showcase was a collection of documentaries all about people from Atlantic Canada and it was fantastic with a diverse range of approaches to the subjects and interesting characters. Megan Wennberg's elegiac Take Your Bow took on an added poignancy as I recognized many people from the film industry who had already left (and Megan herself is leaving for Montreal next week). Ben Proudfoot's two films in the program Stone and Rust were beautiful and personal portraits of artists who have mastered their materials and create distinctive and beautiful work. The Weir gave me look at an old and beautiful way of fishing that happens right in the ocean close to where I live. Nor'Easter Swell was a visually-stunning look at the brave souls who surf in the big waves during winter in Nova Scotia. Little Bay Islands showed us the complicated history and battle to relocate a town in Newfoundland. A Fisherman's Gotta Fish was a delightful look at a family who fishes in P.E.I. Rachel Bower's Singing Lumberjack was a warm and beautiful homage to Charlie Chamberlain, with a great score and amazing multi-plane animation bringing the footage and stills to life.
Closet Monster
An impressive and confident feature debut from Newfoundland, Stephen Dunn's Closet Monster held the audience mesmerized the whole time. Introduced by Dunn and producer Fraser Ash (who is from Wolfville!), it was a lovely gala screening to a packed house. A coming of age story with some traumatic events and a thread of magic realism running through it, it's a different sort of film from a unique voice. With a perfect performance from Connor Jessup as Oscar Madly and an inspired vocal cameo from Isabella Rossellini as Oscar's hamster Buffy, it creates a singular world that is at times magical and at times horrifying. This is the type of film that we need more of.
Fanarchy
Donna Davies has a gift for blending lots of detail with interesting characters to provide insight into a topic and her last few films have been explorations of aspects of popular culture. With Fanarchy she looks at the phenomenon of fan films and fiction and how films and tv shows take on new and vital life in the work that fans create because of their love for the work. Filled with great clips and interviews, it's a comprehensive and fun introduction to this world and for those who are familiar with the world it's a great way to see the breadth of talent and the complexity of the issues raised by what they do.
Two days in and with twelve films seen, I'm settling in to the routine of spending 10 to 12 hours a day in a theatre and ready for another day.