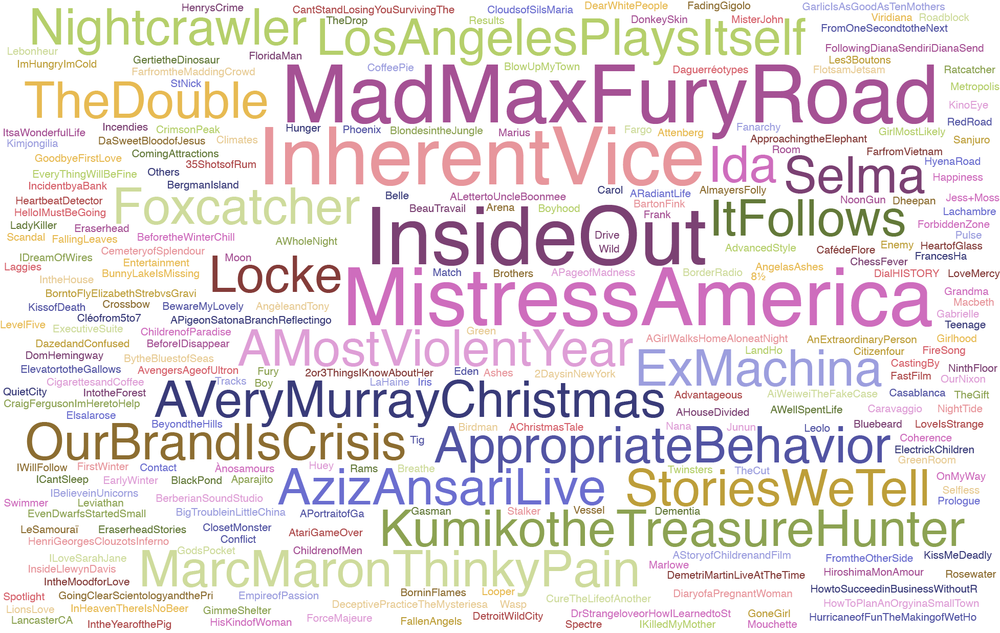 Films watched grouped in a word cloud generated from Jason Davies' site .
The days of physical media are going away. As I look through the data of how I watched films over the past few years it's clear that the future is digital and streaming. I buy hardly any DVDs now and my preferred way of owning films is now through iTunes. Most films that I watched last year were on Netflix with iTunes second. DVDs were the fifth most popular way I watched films last year, after streaming service MUBI and Turner Classic Movies on TV.
Source
Atlantic Film Festival
23
Carbon Arc
1
Cineplex Rental
3
Crave TV
2
Download
5
Drive-in
1
DVD
52
iTunes
88
MUBI
82
Netflix
112
NFB
2
No Budge
1
Reelhouse
1
Shout Factory TV
3
Silver Wave Film Festival
2
Turner Classic Movies
62
Theatre
35
Vimeo
24
YouTube
13
Last year I watched more films than I ever had in one year (512 films up from 438 the year before). The most popular screen for viewing things in the past year was my TV (with the Apple TV, a DVD player, and DVR hooked up to it), then my MacBook Pro followed by a big screen in a theatre or at a film festival. I used my iPad less for watching films (in 2014 I watched 96 films on it and in 2015 watched 51) and my MacBook Pro more (in 2014 I watched 18 films on it and in 2015 watched 148) probably due to the fact that my iPad (which I got in 2012) is older and a bit slower now (mainly for iTunes stuff since it's only a 16 GB iPad).
Screens
TV
178
MacBook Pro
148
Theatre or Festival
62
iPad
51
The data for this comes from Letterboxd and Your Flowing Data. With Letterboxd I log every film and try to write at least a short review for each film as well as tagging the films with where I got them from. With Your Flowing Data I also record the film along with a few more tags with the screens. I'm thinking that maybe I should simplify things a bit more and start adding more tags to my Letterboxd diary so I can crunch all the data there.
In terms of content my top five genres (according to Letterboxd) were Drama (266 films), Comedy (127 films), Thriller (84 films), Documentary (74 films), and Romance (58 films). This is mostly the same as last year with Documentary ahead of Thriller in 2014. In terms of the split between new films and rewatching films most of the films I watched were new with 64% of them films I hadn't seen before. My most watched director was Agnes Varda with 17 films, followed by Chantal Akerman with 10 films, and Claire Denis with 9.
The other effort I made in 2015 was to watch more films directed by women which resulted in me watching 143 different films by women (I watched some of them more than once). Late in the year I joined the 52 Films by Women project and starting picking a film a week to highlight (and I have a Letterboxd list of my 52 Films by Women). This is probably why the top three directors from last year are all women and I hope that I continue the trend into this year. As I write this I've watched 164 films with 59 of the films directed by women, so the pace is better than last year, but it would be good to keep going with the project. It's resulted in me watching better films which is a good thing as well as making me aware of directors who I hadn't watched before too.
In thinking about the data that I collect one of the other things that becomes interesting to me are the other patterns that can emerge if you dig a bit deeper in the data. Films directed by women is one part of that. Other things could be to look at the people who write the films, which films had the same cinematographer or editor. I'm hoping that Letterboxd publicly releases their API soon or makes other tools available to examine those data points with the films watched. I check my Year In Review page to see what patterns are there (and I added historical data from other sites and notebooks to have nine years of film logging on the site) and that is an influence on what I watch as well.
By thinking about the quantity and quality of what we watch, it can help to expand what we see and how we view things. There are so many films and so little time that it can help to have a method in diving in to the world of cinema to make the journey more enjoyable.