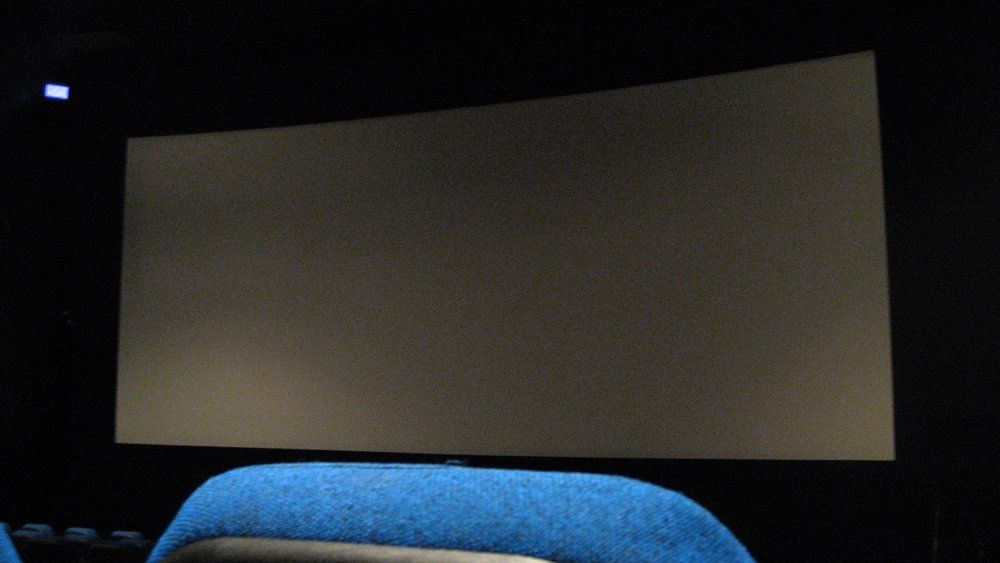 Each year I watch a lot of films and to keep track of them can be a challenge, so the primary way that I log and remember films is through the wonderful service Letterboxd. It's an easy way that I can record what I see along with tags. One of the great things is that the data from each film allows you to see the directors and actors whose films you are watching, along with the countries that the films are from. When I watch a film I record it right away and then usually the next day I will add a review to the film. My goal for the last couple of years is to write at least a short review of each film.
52 Films by Women
The overarching goal of the year growing out of the challenge to watch more films by women is that instead of just watching a film a week as part of the 52 Films by Women Challenge I thought that maybe I could watch 50% films directed by women. It was a great experience, and I'm continuing it as the range and breadth of stories and filmmakers is a better way to watch films. In 2017 I logged 469 films on Letterboxd. I watched 3 of the films 3 times (Lady Bird, Logan Lucky, and Paterson) and watched 14 films twice, so that means I watched 449 different films last year. 235 of those films were directed by women, which is about 52% of the films I watched, so I met my goal and changed the challenge from 52 films to 52% of the films I watched.
In watching more films by women it's resulted in me seeing more new films and more new directors. I've watched and logged more short films as there is a much bigger pool of films directed by men than by women. It's great to see more diverse visions and stories and the challenge has changed my viewing habits now, so seeking out work directed by women is part of how I watch films now.
Places, People, and Directors
Letterboxd also breaks down stats by country, director, actor, and even the percentage of films that you've seen for the first time.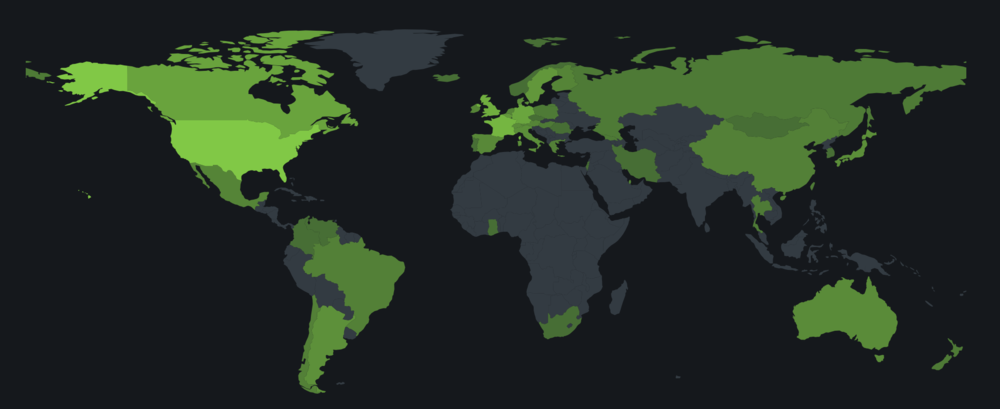 My top 5 countries are USA (228 films), France (80), UK (48), Germany (27), and Canada (24). Looking at the map is a great way to visualize where you are viewing things from. It makes it obvious that I didn't watch much at all from Africa, but generally had the other continents covered well. So this year I've been making more of an effort to see things from Africa.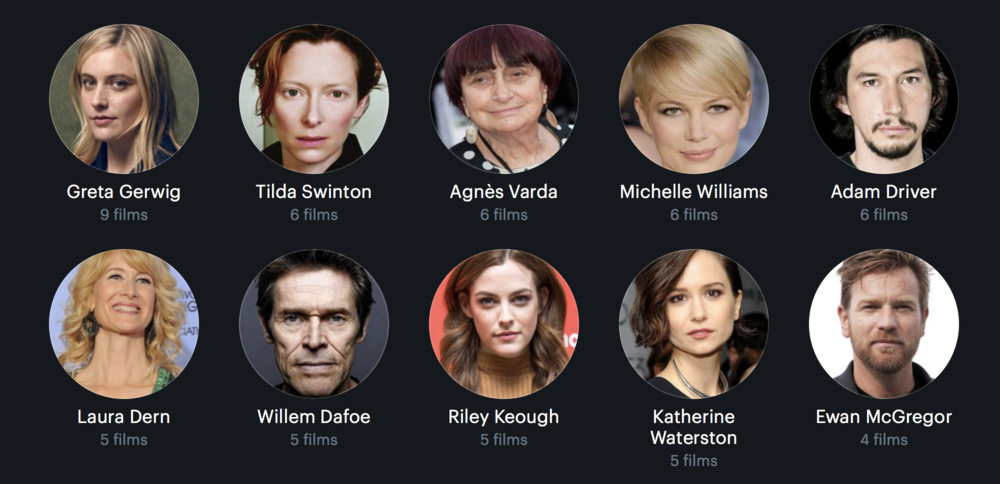 My top 10 actors are Greta Gerwig (9 films), Tilda Swinton (6), Agnès Varda (6), Michelle Williams (6), Adam Driver (6), Laura Dern (5), Willem Dafoe (5), Riley Keough (5), Katherine Waterston (5), and Ewan McGregor (4).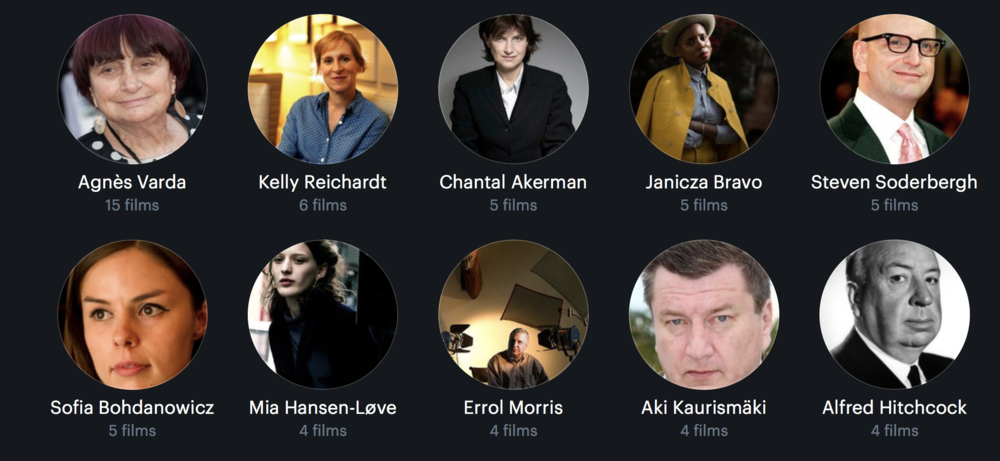 For directors I watched 15 directed by Agnès Varda, 6 by Kelly Reichardt, 5 by Chantal Akerman, 5 by Janicza Bravo, 5 by Steven Soderbergh, 5 by Sofia Bohdanowicz, 4 by Mia Hansen-Løve, 4 by Errol Morris, 4 by Aki Kaurismäki, and 4 by Alfred Hitchcock. Agnès Varda is one of my favourite directors, and she ends up at the top of the list just about every year. Chantal Akerman is also usually in the top five as well as I continue to rewatch and enjoy her films.
Old and New
Of the films watched in 2017 there were 23.7% of them that were from 2017 with the other 76.3% of them from earlier years. Films that were new to me made up 71.6% of what I saw with 28.4% of the films ones that I had watched before. That is a good sign as it's nice to discover new things.
Screens
My preferred way of seeing films is in a theatre on a big screen and for mainstream releases the only option are the theatres of Cineplex and I'll see a film in their theatres a few times every month. I'll also see films screened by the great film societies Carbon Arc in Halifax and Fundy Cinema in Wolfville. Right now I subscribe to a few services to watch films — Netflix, MUBI, Crave TV, Turner Classic Movies, Sundance Now, Hollywood Suite, and most recently Festival Scope Pro. In addition to these services I rent and purchase films from Apple's iTunes Store. So I have a lot of ways to watch films. I watch through my Apple TV 4K (and a new 4K TV which is fantastic), my iPad, and my 13-inch MacBook Pro.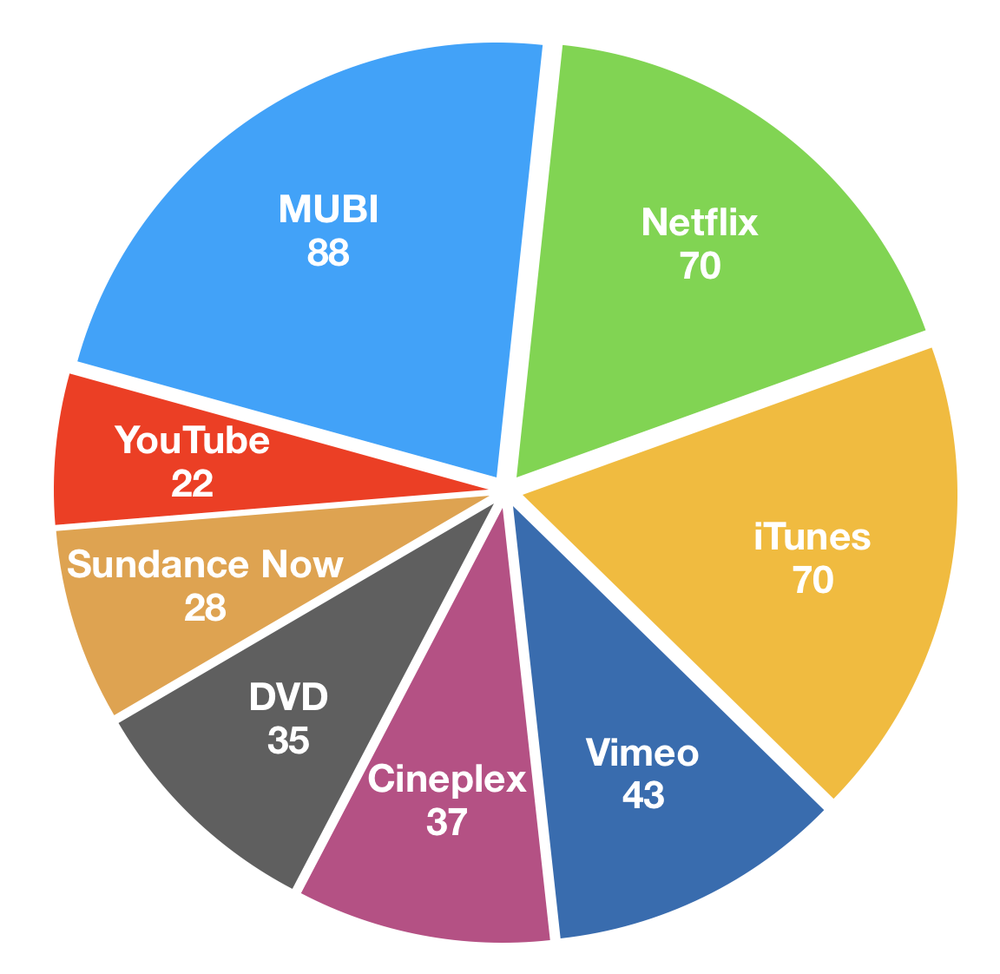 The majority of films I saw last year were on smaller screens at home divided between my Apple TV, iPad, and MacBook Pro. There were 37 films watched in Cineplex theatres and 30 films watched on the big screen of film festivals. I only got to Carbon Arc once and Fundy Cinema once last year.
There were 393 films that I watched via streaming services with MUBI the most popular with 88 films. iTunes and Netflix are tied at 70 films (with some of the iTunes films as rentals and some as purchases). There were 43 films watched on Vimeo, 28 on Sundance Now, 22 on YouTube, and 10 on Le Cinéma Club, with the rest on a handful of other services. I watched 14 films on Turner Classic Movies, which are the only films that I watched on a TV channel.
It was the beginning of the end of the DVD for me as I only watched 35 films on DVD. With the recent purchase of a 4K TV I only have an Apple TV 4K and the cable box hooked up to it, and I'm not sure if I will attach a DVD player. One of the projects I have to start is to rip the DVDs in my collection to make them easier to watch and future-proof.
Watching films is one of the things that I enjoy the most and being able to look and think about what you've watched is a great way to shape what to see next. While awards are nice to highlight and recognize work, there are so many films and so little time, so it's good to seek out things that broaden your cinematic experience and open up new areas to explore in what you see.