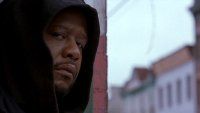 I don't know how to describe the film other than to say that Ghost Dog: The Way of the Samurai is a film that Jim Jarmusch in 1999. Like many of the films by Jarmusch, it's a fascinating mix of well-crafted filmmaking with a diverse range of talents combining together to create something unique. While overall there are some parts that may not completely work, it has a remarkable range from broad comedy to scenes that are surprisingly moving as well.
Ghost Dog is built around the character played by Forrest Whitaker and he holds the entire thing together. He's a hit man who lives his life according to the Samurai code. All of the characters in the film seem to be slightly out of place in varying degrees. The ice cream man who speaks no English, the mobster who loves hip-hop music, everyone who watches tv seems to watch cartoons, and the little girl who carries around books in her lunch box, and Ghost Dog himself who communicates with his contact via homing pidgeon.
The film is lovingly constructed and like a great song you can get something different out of it every time you experience it. Everything fits together and I watched it twice in one day and saw different things. What does the colour red mean? What do the quotations from Samurai code mean? How does it all fit together? Why does Ghost Dog always set the volume of music to 21? The mixture of styles, characters, tone and technique combine to create something unique that sticks with you as you roll things around in your head.