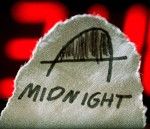 Brendan: I won't waste your time: you don't know me.
Laura: I know everyone, and I have all the time in the world.
Film noir is an inferred genre, born out of the combination of French film criticism and pulp detective novels. The films considered to be classic film noir (from about 1941-1958) were never made as film noir, but as thrillers with low budgets and european directors. The conventions of film noir emerged from the constraints and sensibilities of post-war America with an existential dread casting dark shadows over it all. It's a purely cinematic genre that draws you in with stories of passion, lust, greed and murder.
With film noir as an inspiration, several generations of filmmakers have either copied or modified the genre to tell their stories. Some of my favourite noir-inspired films come from Joel and Ethan Coen, who have used the ideas, themes and looks in many of their films, but most notably in Blood Simple (revisionist noir), Millers Crossing (classic noir), The Big Lebowski (parodic noir), and The Man Who Wasn't There (revisionist in content, but classic in style).
Great films come from a love of cinema and a respect and admiration for the craft of making a film. It was a pleasant surprise when I found out that the path that led Rian Johnson to write his film Brick began with Millers Crossing. What elevates Millers Crossing (and Brick) above an exercise or homage is the respect and love for the source material. It's simultaneously serious and a bit funny, just like the best noir. Millers Crossing is probably my favourite film and it's one of those films that is perfect with not a frame out of place. A well-crafted film is a joy to watch again and again as you can get a bit more out of it every time.
Johnson went back to the novels of Dashiell Hammett and started the journey back to "Brick" there. He changed the seedy underworld of Hammett to the similarly closed and somewhat strange world of high school. Both have the sense of doom and existential dread and both are filled with competing interests that force you to make choices. It's filled with wonderful shooting, performances, sound design, editing and dialogue. The plot is twisted and hard to keep up with, but the pacing of the film gives you chances to breathe with more visual or sonic breaks.
The language is stylized and follows the classic noir conventions and it works very well. Maybe a new frontier to explore in film is language, speech and dialogue. Sally Potter's iambic pentameter in Yes raised what could have been melodrama into something more. Rian Johnson's Brick similarly uses a peculiar way of speaking to merge noir and teen drama into something more than an homage. The best films come from those who love cinema and want to share that love by telling a story through images and sound. Johnson finds the heart of noir and lovingly shares that world with us, making it new again.