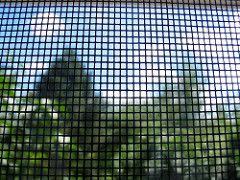 While OS X and most Apple stuff is well-designed and simple, there has always been a bit of room between the smooth lines for utilities and software that make it just a bit better. Fascinating little economies and ecosystems spring up around things like the iPod or Dashboard or the iPhone and the indie Mac developers are there making their stuff and being part of the community. It really hit home with me as I listened to the first Core Intuition podcast with Daniel Jalkut and Manton Reece.
I found out about podcast through Daniel's Red Sweater Blog, which I found out about because I use (and bought) MarsEdit (which I'm writing these very words with). My using MarsEdit for writing blog posts came about because it was originally developed by Brent Simmons, who also writes NetNewsWire, but Red Sweater took it over. It was originally included with NNW and then became separate and I bought both because they're useful and I like supporting the little guys in the same way that I like supporting indie bands.
In the Core Intuition podcast it is just two indie Mac software developers talking about developing software and the world that they live and work within. Not overly geeky (a bit geeky, I guess) or technical, but very real and human, which I like. (Cyborgs generally aren't interesting in a podcast.) So much of the software and films and music that we use now is made by large groups of people with massive amounts of money, and I realized how the Long Tail really applies to the small Mac developer who isn't developing things for the biggest market. For me it's the same as buying food and produce at the farmers market as you're a lot more connected with what you're getting. It's about the people and the connections.
Manton's shareware product is Wii Transfer, which I'd thought of trying out (it lets you listen to music, view photos and move video to your Wii), and now I took the plunge and bought it before I tried it. Luckily I like it and I've no regrets. While I don't think that the intention behind the podcast is to drive a massive amount of sales, it does show how having a voice and a presence can have indirect benefits. It's nice to be connected a bit more to the people who make things that I use and I think that it's great both ways as you'll make better stuff if you know your customers by name.
Even though they're both relatively far away geographically, it feels like I'm buying locally as they're members of my community in terms of software and what they do. That's why I also love being able to buy from indie developers and keep their virtual factories running.