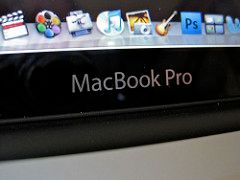 I've had a lot of Mac laptops (actually every laptop I've had since the first has been a Mac) and I can say for myself that the new 15-inch MacBook Pro that I have is great.
Best. Laptop. Ever.
The only other laptop where I've felt this sort of love for was my "Pismo" G3 PowerBook that just felt right and was powerful and beautiful. With the G3 PowerBook it was the balance of speed and power and features that made it work. The slightly curving case was comfortable and fit easily into the carrying case. It was fast to set up and very flexible with 2 FireWire 400 ports, USB, s-video out as well as VGA out. There was AirPort too… and this was 8 years ago. I haven't plugged in a laptop to go online at home for 8 years!
Over the past near-decade things have changed a lot with technology and with the new MacBook Pro Apple strikes the balance just right again. There are 2 USB-2 ports, one FireWire 800 port (which is a bit of a pain, but with an adapter cord, all of the FW400 things work with it), ethernet, a different Mini DisplayPort plug for external video (which means you need to get adapters for VGI or DVI out), and an SD card slot. I initially thought that the SD card slot was kind of strange, but I find that it's great for getting pictures from the SD card in my digital camera. It is very fast and I don't need any cables as I just pop in the card and the transfer speed is a lot faster than through the camera with cables. While I haven't tried it yet, it will also work great with digital audio files that I record with my Zoom H2 recorder, which also uses SD cards.
The battery life is amazing. While the official story is that it will last up to 7 hours, in reality, it's still pretty amazing, and I've been able to get more than 6 hours out of it and I haven't had the battery die on me yet. It runs very quiet and doesn't seem to get very warm. I'm using the lower capacity video card as it takes less power. With the video card with twice the RAM (512 MB), it apparently eats more power. For video editing that's the one that will get used, but for surfing and writing and other non-video tasks, the display is fine.
The screen is absolutely gorgeous with the best colour and contrast that I've ever seen on a laptop. In working with photographs there is a lot more detail and the colours just seem to pop. I don't know about using it for serious colour-correction, but it's dramatically better than anything I've seen before.
Some unique changes that are part of Apple's zen-like design ethos is the new, buttonless trackpad. The trackpad is much larger and the whole thing is a button. Initially I didn't even notice the change, since the larger area works perfectly with my thumb where the button would have been. The trackpad is made from a similar glass to the surface of the iPod touch and there are all sorts of cool multi-touch features. Two fingers to scroll, three fingers to page around, and four fingers up and down for Expose (for hiding things and showing all active windows) and finally four fingers left and right to switch between applications. In the System Preferences there are great little videos demonstrating all of the multi-touch mouse action, which makes it much easier to understand.
The new 15-inch MacBook Pro is a simply beautiful and powerful laptop that makes me fall in love with design and laptop computing all over again.