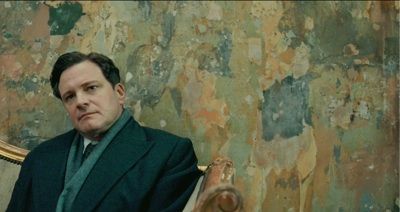 In the modern world the idea of a monarch who has supreme power over people is a bit of an anachronism, but with the prospect of an upcoming royal wedding, it appears that there still remans a bit of interest in that type of thing. I've never been much of a fan of the Merchant-Ivory school of historical dramas. Too much rich person angst for me. The dynamic, self-effacing, anarchic UK of Monty Python, Billy Bragg and Russell Brand appeal to me more than the dry lamentations for a lost empire. That could be why I'm not so keen on Harry Potter, so while I was anticipating The King's Speech, I knew that there was the chance that it would go down the road of the safe historical drama.
But it wasn't that at all. From the very first shots it had me. Using wide lenses, shallow depth-of-field and off kilter framing, the film provides a very human and accessible version of history and historical figures. At times I was surprised as I recognized historical figures. I hadn't seen them as future kings or queens, but as people, which is a testament to the filmmaking skills of Tom Hooper.
There is an amazing chemistry between Colin Firth (as King George VI) and Geoffrey Rush (as his speech therapist) and the entire film subverts expectations with scenes that cut just before what we expect to see and focusses on the very human aspects of the characters. It's a lot of fun and also moving as we watch someone struggle with a personal challenge. Even with a more conventional treatment the story itself would be interesting, but with a bold approach it transcends the genre and makes for a memorable film that is fun and moving at the same time.