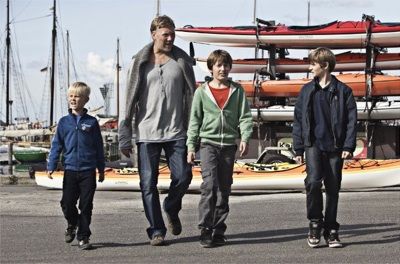 In Susanne Bier's film In a Better World she examines male responsibility through the interlocking stories of two disrupted families and two young boys who become friends. With multiple stories and parallels between what is happening in a refugee camp in Africa and a small Danish town, it's a complex and moving story that never takes the easy way out. It's rare to see a film about interesting characters and moral choices that is told in a naturalistic way with an intimate style of shooting.
Bier excels with slightly unusual personal melodramas with her previous films Brothers (remade in an American version), and After the Wedding (one of my favourite films of 2006) she told complex stories about interesting characters in different parts of the world. She made an impressive leap to Hollywood with the underrated and beautiful Things We Lost in the Fire (featuring Halle Barry and Benicio del Toro). After seeing her previous films I was keen to see her latest effort.
With In a Better World, there is no easy way out as all of the characters try to figure out the right thing to do in the face of violence and bullying. The consequences of actions are followed and we see that things aren't as simple as they are presented in films. While the film has a deliberate pace, it builds as the events escalate and the stakes become higher and higher. It's a compelling drama with great performances and it will hopefully receive a wider release.