Walking in to The Middle Spoon I looked around and said a cryptic password to a server there and she led me down the stairs and past tables to an ordinary looking door. Going through a series of winding hallways we arrived behind an unmarked door and in the secret bar called Noble underneath the streets of downtown Halifax. This was the place for the launch of Big Day Downtown by the Downtown Halifax Business Commission where a group of bloggers were gather to meet each other and find out what the theme was for this year. Each blogger drew three cards from a bowl and with $150 we had to go and explore and write about our experiences.
Going to downtown Halifax is always a choice for me. Living in Wolfville and working in Dartmouth means that most days I am close to the downtown, but not actually there. So the step of visiting downtown pretty much always has a purpose. One of the things that is most fun is being able to be part of Big Day Downtown which I've been lucky to do for the last few years. A group of bloggers are given a prepaid credit card and the task is to spend the money at downtown businesses. Every year there is a theme and this year with the three theme cards that we chose, we had to seek out experiences that fit within those themes.
The cards that I drew were Fun, Happy, and Authentic which seemed perfect to me. Should I try to go to all-new places, or maybe go to old favourites. Would it be better to spread out the money to many shops with small purchases, or maybe splurge a bit at a few restaurants. So with a rough idea of where I wanted to go and a few hours to spend on a Thursday afternoon I ventured in to the city to get started.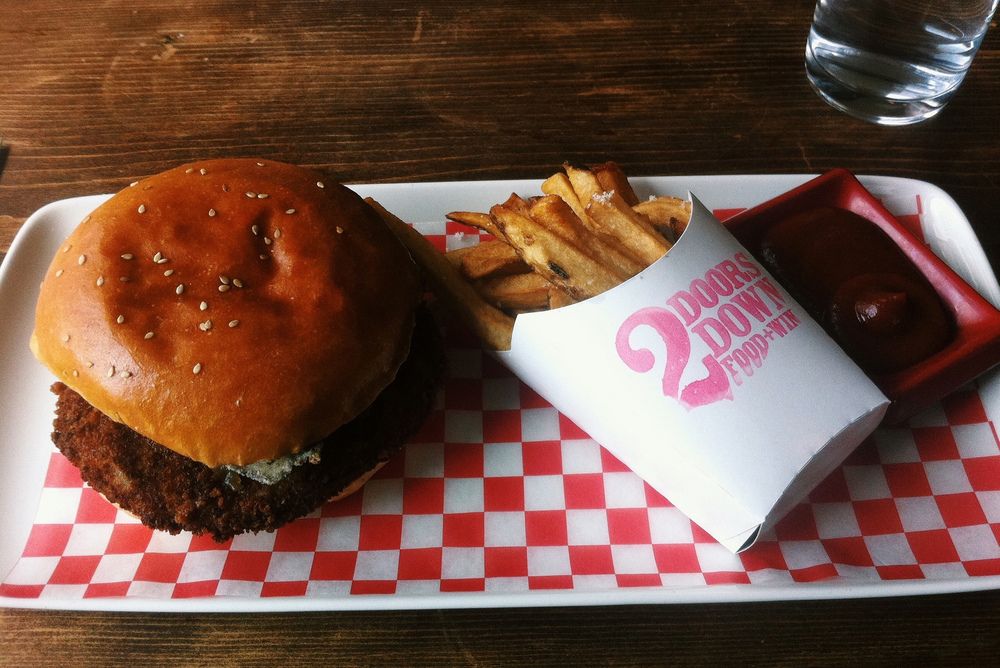 Meaty Meatless Burger
There are lots of great restaurants in downtown Halifax and it is always good to try something new, so the first stop on my Big Day was 2 Doors Down, which would be a fun way to start things off. It's a great location on the corner of Barrington and Salter Street with a warm and inviting environment. With my youngest daughter joining me for lunch, we were seated by the window and started to look through the beautifully designed menu. Being a vegetarian means that finding things to eat can sometimes be a challenge, but at 2 Doors Down there were some really amazing choices for me to make. With an emphasis on local ingredients and a fun approach to the dishes, the menu combines comfortable and recognizable ingredients in different ways. I choose to have the veggie burger and it was delicious. It's called the Meaty Meatless Burger and it was a breaded veggie burger with a caramelized onion balsamic jam, grilled portabello mushrooms, and blue cheese whiz. It was served with some delicious french fries and some of their own home-made ketchup. My daughter had the "Kale, Caesar" Salad which she devoured and enjoyed. For desert the gingerbread beckoned and it was a tasty and not too sweet with everything balanced just right.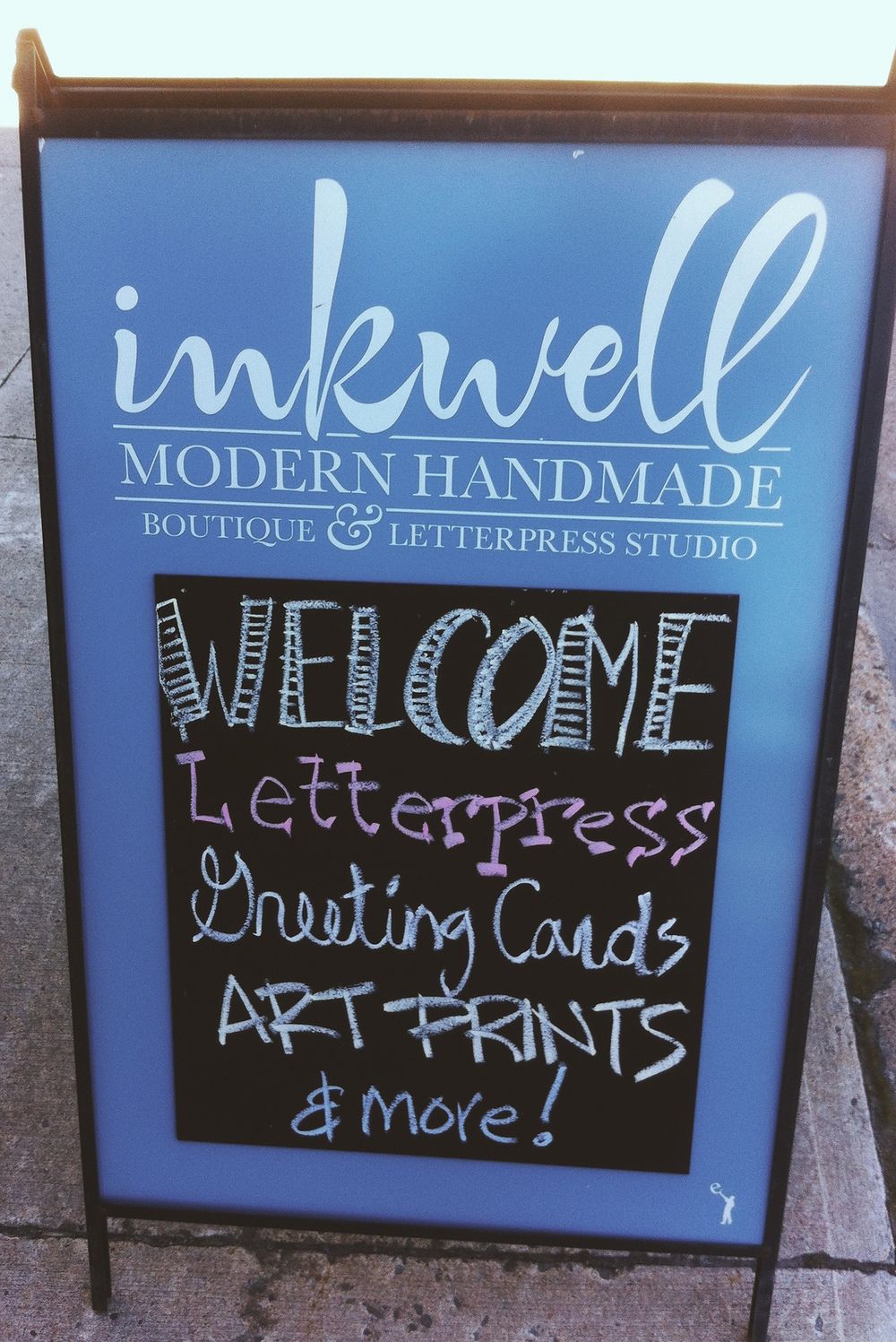 Inkwell Sign
At this point I was joined by my friend Kendra (known on Twitter as @halifaxfilmgal) and while there weren't any films to see, I figured it would be good to have some help as I went around the downtown on a sunny summer afternoon. We went in to Inkwell to look at some of the lovingly printed letterpress cards, posters, and notebooks on their shelves. Lots of local stuff, stamps, and cards for all occasions are around the shop as well. After looking through lots of cards and notebooks I settled on a clever notebook with "My Analog Blog" on the cover. When I want to use my fountain pen to write a blog entry, this is the notebook for it.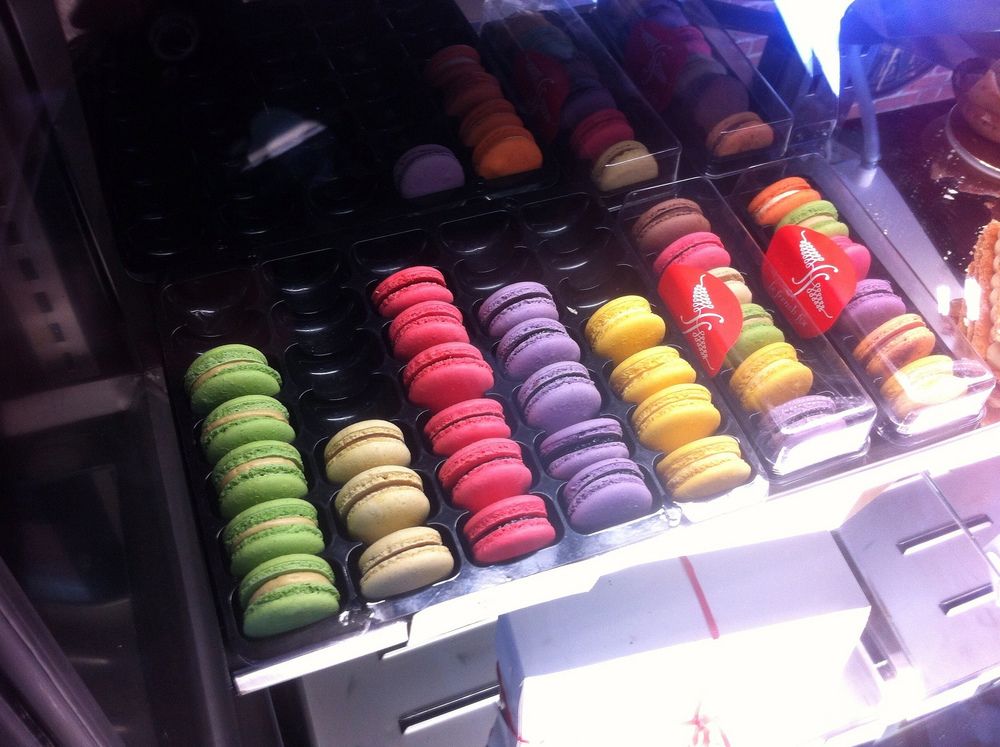 Macarons at Le French Fix
Leaving Inkwell and going around the corner Kendra asked if I had been to Le French Fix, and I hadn't but had always wanted too and this would fit into the authentic category. One of the best times to visit a patisserie is in the morning so you can get your day started with some well-crafted pastry, but this being late afternoon meant that there wasn't as much in the store. Luckily there were colourful macarons in the case and I bought a couple of them (I had pistachio) and noticed the Pig Iron Coffee on the counter. Always on the lookout for good coffee, I tried a sample and bought a bag of the beans which were a good medium roast.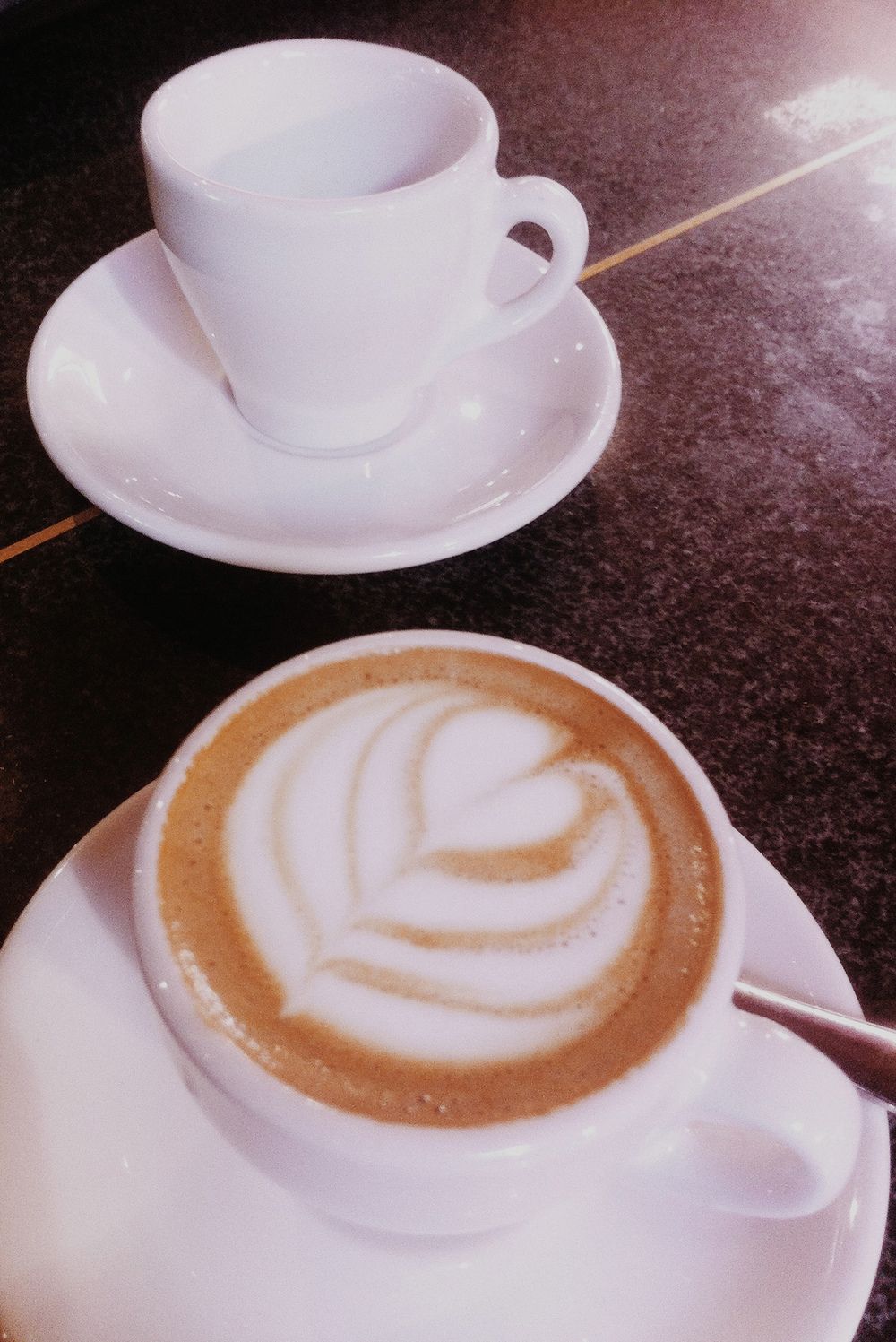 Zane's Macchiato Special at Two if by Sea
Now with coffee on the brain and with gravity helping it was down towards the harbour and the Historic Properties where Two if by Sea are in downtown Halifax. One of my regular stops for a croissant and coffee, the late afternoon and good weather meant that there was no food left, but as always there is the best coffee in the city. My regular coffee at home now is usually extracted from Two if by Sea's Anchored Coffee beans, so I replenished my stock with a bag of La Azacualpa from Honduras.
Since there was time I ordered my favourite, which is Zane's Macchiato Special — espresso in one cup, a single macchiato in the other cup. The combination is always good and is a great little jolt of caffeine in the afternoon which is just what is needed to restore your energy. If it was warmer I would have had their cold brew coffee which is gently extracted over 18 hours. If you haven't had a chance to try it, you're missing out on some delicious iced coffee. This isn't the sugary simulation of other places, but a robust drink that lets you taste the subtleties of good beans.
Wired and ready for the final push we took a walk along the Halifax Waterfront filled with smiling tourists. Kendra hadn't been to the new location of Strange Adventures, so we went up to the comic shop on Prince Street to look around. It's compact and bright with big windows looking out on Lower Water Street with shelves of all sorts of amazing stuff to read. Not having much time, I didn't get anything as it would have been way too easy to spend the remaining money there and there were still a couple of other stops to make before the day was done.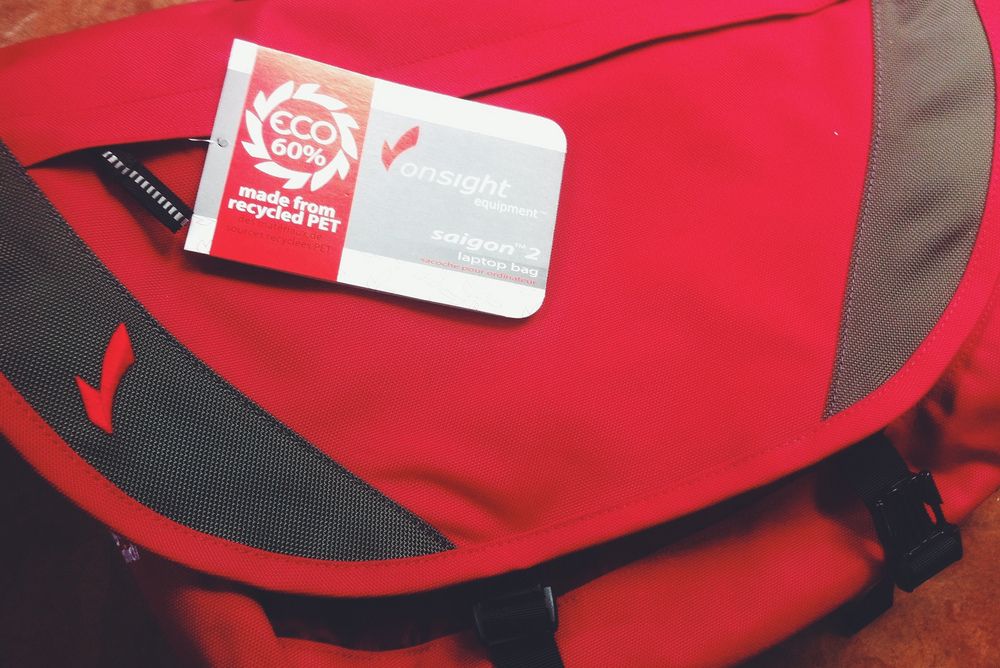 Saigon 2 Laptop Bag from MEC
One of the most fun places for me downtown is MEC and exploring the outdoors on my bike makes me very happy, so a stop into the store was next on the agenda. The gear and clothing all through the store is organized by activity. I went to the bikes and looked at the accessories and attachments trying to think of what would be good to get. Maybe some clothes, or biking shorts? A light?
I have a lot of different bags. While it's good to have the right one for taking stuff with you, it can also be a bit of a problem if you have too many bags. So I'll admit right up front that I have a bit of a problem with searching for a better bag but here right in front of me (in bright red) was a bag that on sale. It looked as though it would be great to have for my laptop. My regular laptop bag is good, but a bit small. This was a chance to have something a bit better and it was a messenger bag, so that would work for biking too. After pacing around and looking at it and being told by Kendra that I should publicly admit that I have a problem, I decided to take the plunge and get it.
The Saigon 2 Laptop Bag is from Vancouver's Onsight Equipment and it's big and roomy enough for my 15-inch MacBook Pro along with all sorts of accessories and lunch. The straps are comfortable and it can be more secure with a reflective belt to keep it from moving around and to make you more visible at night. There are also a couple of reflective strip spinners that attach to the bag for even more safety. While I don't think that I'll have the bag on a lot while I'm riding my bike, it's good to have that option and even though I didn't really need it, having a good bag makes me very happy.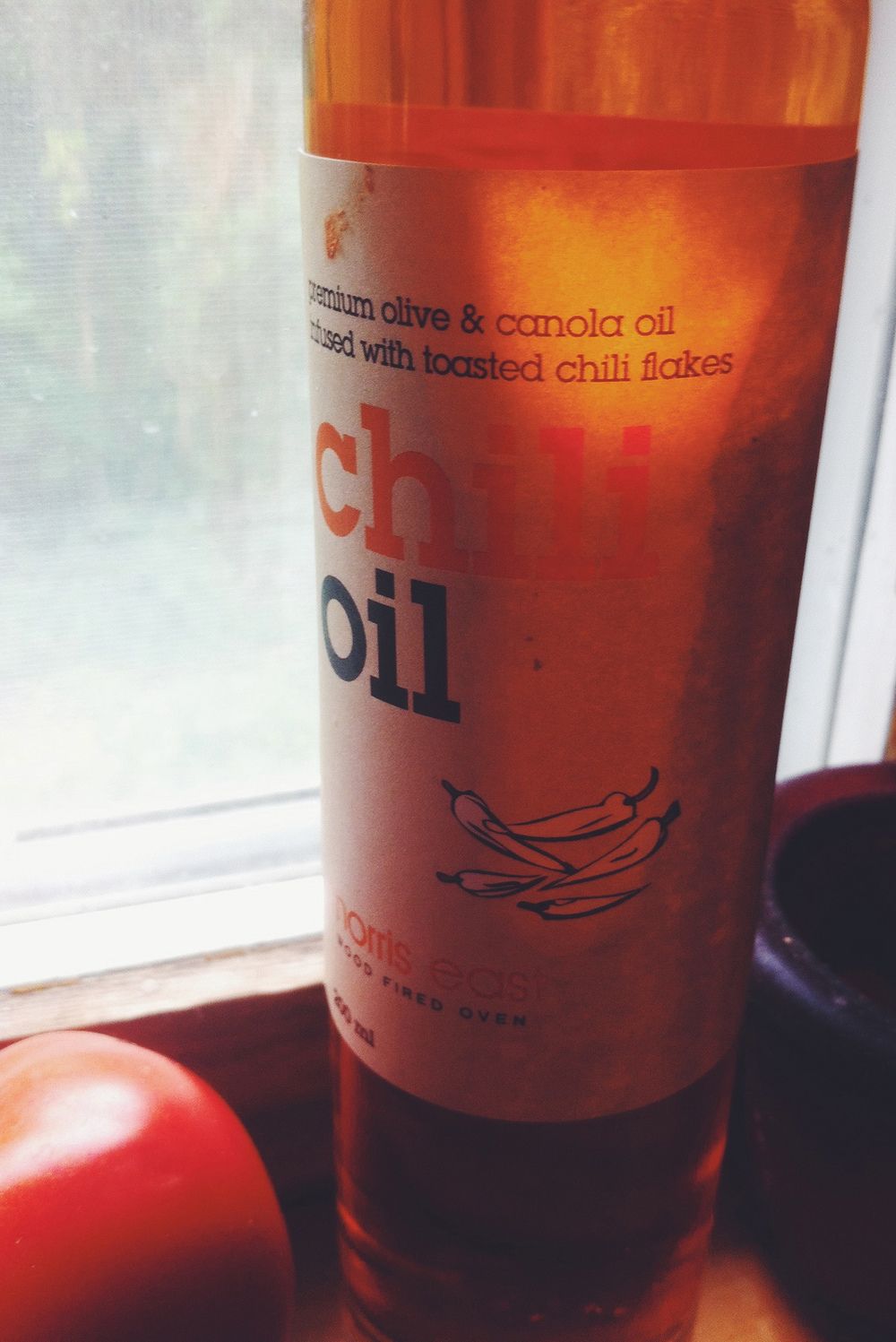 Chili oil from Morris East
The final stop for my Big Day was something that I'd been thinking about for a while. Morris East is one of my all-time favourite restaurants. For authentic food, they are the best and with their wood-fired oven powered by Annapolis Valley wood, the pizza is delicious. Not having enough money for a meal, but still having a bit I figured that it would be great to get a bottle of their chill oil along with some of their whole wheat dough and sauce to make pizza at home. It's a great way to have fresh pizza when you want to make it at home and don't want to spend the time making the dough and sauce.
With a bit of mozzarella and parmesan cheese I assembled the ingredients at home and then cooked a nice pizza for supper as I reflected on my Big Day Downtown. The day was authentic, fun, and made me very happy. A perfect way to spend a day in downtown Halifax doing things that I love.