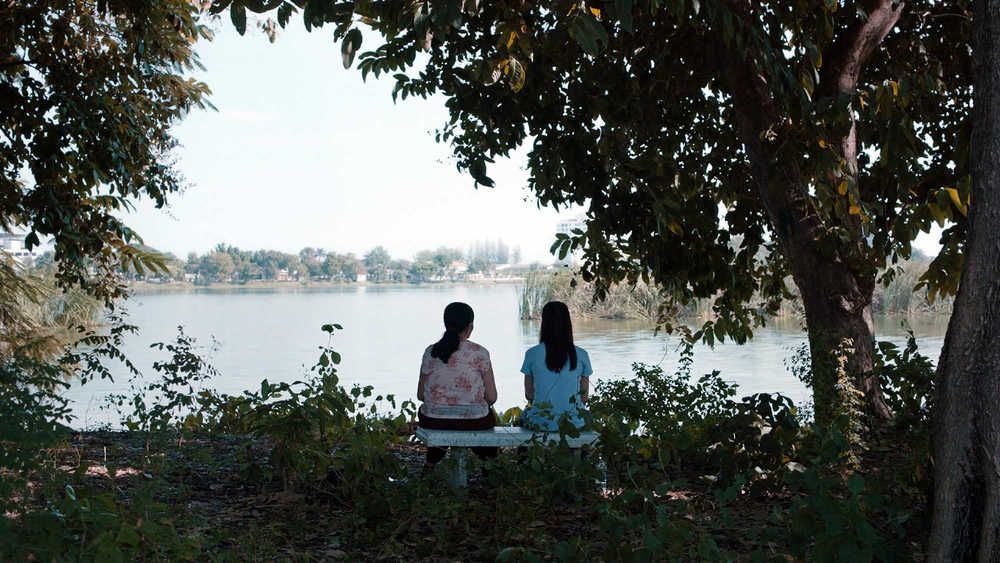 The fifth day of the Atlantic Film Festival was a lighter day for me as I am fighting a cold, but it was a day filled with subtle beauty, peace, brutality, violence, and challenging relationships. Those are the worlds and emotions that washed over me Monday with another perfectly programmed day with three international films to fill my day with strange, complex worlds created by three masterful directors.
Cemetery of Splendour
Sometimes we think too much.
The films of Apichatpong Weerasethakul are subtle and beautiful and enigmatic with a sense of play to them. At times they are almost trance-inducing and he takes bold steps in taking a mundane approach to magic realism where you are not sure what is real and what is not. His previous feature, Uncle Boonmee Who Can Recall His Past Lives, was an amazing journey through the past lives of a man as he was dying. Filled with subtle beauty and an elaborate structure that blended various genres and styles of Thai cinema and culture, it's dense and challenging at times, but rewarding.
His earlier film Tropical Malady is more subtle and tells the love story of two soldiers with a stunning transformation in style and tone in the middle of the film. In his 2006 film Syndromes and a Century he sets the action in a hospital in telling the story of two doctors (based on his parents). With Cemetery of Splendour he has a more accessible film featuring Jenjira Pongpas in the lead (who appeared in Uncle Boonmee Who Can Recall His Past Lives as well as Weerasethakul's earlier features) and the two soldiers from Tropical Malady.
Weerasethakul brings many of his elements together to create a story built around Pongpas as a volunteer in a makeshift hospital in a former school that is also was the site of a cemetery and former palace. Jen went to the school, so she has her memories of the school before it was a hospital. The hospital's patients are soldiers suffering from a sleeping sickness where they rarely wake. The spirits from the past are around the area and a local temple providing another set of memories.
The film is meditative with long takes and delicately composed frames and at one point even features some guided meditation. Slowly creating a world and a rhythm, the film is peaceful and beautiful moving into abstraction at times with different colours filling the world as we return to locations and notice small and strange and wonderful things. Transcendent and beautiful cinema from a confident and unique voice.
The Lobster
At the opposite end of the comfort, immediacy, and presence of Cemetery of Splendour is The Lobster. Yorgos Lanthimos brings his idiosyncratic and deeply-disturbing stylized world into the English language with the Lobster featuring an international cast. I suspect that most of the people in the audience at the sold-out screening at the Atlantic Film Festival weren't there to see Lanthimos' film after Alps, but to see Colin Farrel, Rachel Weisz, John C. Reilly, Olivia Coleman, and Ben Whishaw. The experience reminded me of a similar reaction when I was lucky to see the world premiere of David Lynch's Blue Velvet in Montreal in 1986. People laughed a lot at the beginning, but then as things became more horrifying it got quieter and quieter in the theatre.
Opening with a shocking scene of a woman getting out of a car and shooting a donkey, The Lobster builds a disturbing surreal world through gradually revealed details of the need for individuals to have partners or be transformed into an animal of their choosing. All the elements (and some of the actors) from Lanthimos' two previous films, Alps and Dogtooth are there, but all helpfully surrounded by the frame of more explicitly-explained rules for the world. The stylized dialogue and flat acting style is embraced by the cast, most effectively and surprisingly by Colin Farrel and Rachel Weisz (whose often redundant, ironic voiceover gives another level of distance replacing many of the long, awkward silences of Dogtooth and Alps).
The distance provided by the acting and dialogue are shattered by the shock and immediacy of violence onscreen that is bloody and visceral. It creates a disturbing tension with the possibility violent change always possible. It's a dark drama with surreal comedic elements (at one point I noticed characters walking together always were in lockstep) that highlights the challenges in connecting with people and societal expectations by changing the rules in arbitrary ways. It's bold and brutal cinema from Lanthimos who is creating a strange and complex surreal cinematic world through his past three films.
Rams
An Icelandic story of two brothers who have herds of sheep, live next to each other, but haven't spoken for 40 years, Rams is a world of quiet beauty and tragedy. The brothers are played by Sigurður Sigurjónsson and Theodór Júlíusson (who was great in the 2011 Icelandic film Volcano) with a skill that made me wonder if they had found two shepherds since they were remarkably comfortable with the sheep on screen. Directed skillfully and subtly by Grímur Hákonarson and shot by Danish cinematographer Sturla Brandth Grøvlen (who brilliantly shot Victoria) it's visually stunning and quiet. With subtle camera movements and carefully designed frames it's great visual storytelling with a wonderful level of ambiguity.
It was another great day filled with challenging and reassuring visions from around the world.