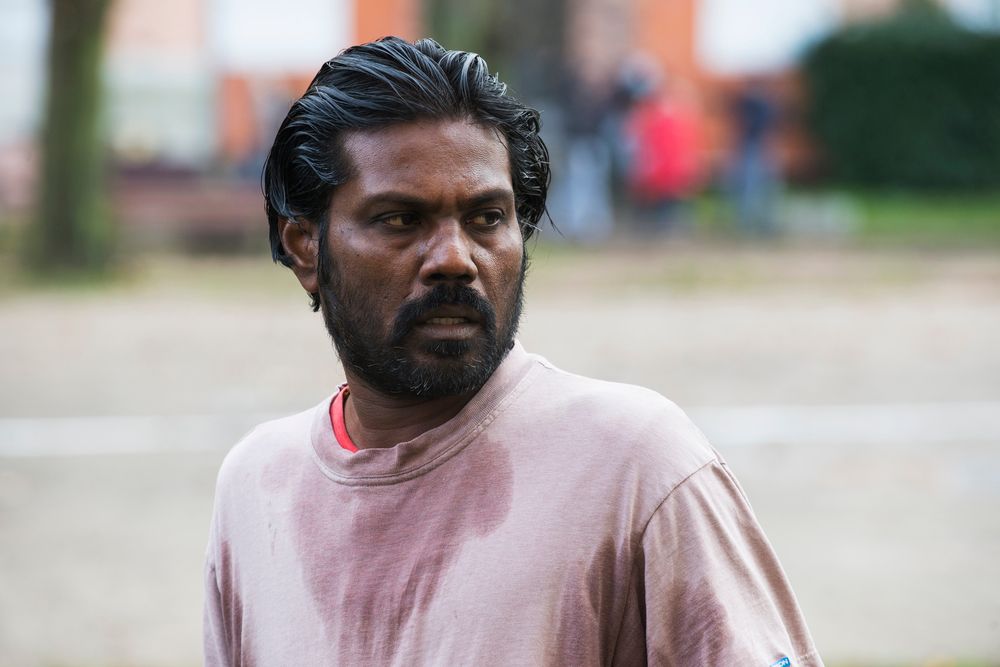 Jesuthasan Antonythasan in Dheepan
The penultimate day of the 35th Atlantic Film Festival was also the longest day of the film festival for me with an early start and being able to make it to 4 screenings. From a political comedy from Quebec to a Japanese master to a French auteur and a German experimenter, it was another fascinating cinematic day. A festival is complex and large and we're so lucky to have the Atlantic Film Festival which is thanks to a dedicated staff and volunteers who manage the moving parts in rapidly changing situations so we can be transfixed by cinema for 8 days.
My Internship in Canada (Guibord s'en va-t-en guerre)
From the first frame I was enjoying this with a old map of Canada on a wall and a faux-serious disclaimer. The camera glides in, revealing the location of the story in northern Québec helpfully indicated by a finger that moves into the frame and then slowly moves out. This establishes the tone and with skillful visual storytelling Philippe Falardeau introduces the main character, the independent MP for Prescott-Makadew à Rapides-aux-Outardes, a former hockey star and local hero. Our entry to the story is through Souverain, an idealistic Haitian intern who becomes Guibord's assistant. The MP is faced with a deadlocked parliament and a bill before the House of Commons about Canada going to war with Guibord holding the deciding vote. It's a razor-sharp satire with a thread of idealism running through it. Unexpectedly the film has some gorgeous cinematography of northern Quebec as the MP travels around the riding to consult with constituents. Great fun and timely as well.
Our Little Sister
In his introduction, festival programming director Jason Beaudry aptly set up Our Little Sister as a bit like Ozu adapting Little Women, and it was a great comparison. Using Ozu's carefully composed frames with faces in the centre and a slightly lowered camera position, the story of 3 sisters who live together and discover a fourth sister is the type of family melodrama that Koreeda embraces and excels at. Beginning with a funeral for their absent father, the empty space in the frames is filled with the absent characters. Koreeda fascinatingly adds a dynamism to the frames by always having the camera gently moving, not altering the frame, but moving slightly, almost imperceptibly. It's a film filled with memories and food with patterns and repetition as we see the relationships and how the characters relate to each other.
Dheepan
One of France's most confident filmmakers who tells stories of people on the margins of society, with Dheepan, Jacques Audiard reworks elements of his other films into something a bit different and new. As with his other films there is an element of crime in France and people who don't fit into that world. But with Dheepan it's about a family that is a lie with three refugees from Sri Lanka who pretend to be a family in order to escape from their homes where they have lost their families. With nuanced and complex performances from Jesuthasan Antonythasan (in his second film) and Kalieaswari Srinivasan (in her first) as the couple, the use of actors that aren't recognizable adds another level to the film.
Thematically similar (and with a great homage through one shot) to Mathieu Kassovitz's brilliant La Haine (who acted in Audiard's A Self-Made Hero) also set in the housing projects outside of Paris, it's vital and beautiful. Along with the largely unknown cast, Audiard also boldly chose Éponine Momenceau as his cinematographer after seeing a short film she shot. An impressive feature debut for Momenceau, she creates some gorgeous lighting and memorable images for Audiard. Told efficiently and in an impressionistic style, it's visual and beautiful, moving in unexpected ways that are surprising, but inevitable. Audiard is a master stylist and the Palme d'Or that it won this year was well-deserved.
Every Thing Will Be Fine
An interesting exercise in 3D from Wim Wenders that uses locations in Quebec effectively, but hampered by a simplistic script and leaden performances, Every Thing Will Be Fine is an oddity. Without the 3D I'm not sure if it would work on any level, and I don't know what was going on, but there is a deliberate, slow pace to the film that had to have been intentional. But it didn't work for me and while immersed in the physical space of the film, there is never any depth added by the characters or the dialogue.
While I'm tired and had a bit of disappointment with one film, overall it's been a great festival with another day that will be sure to have some more great films as this celebration of stories on screen moves towards the conclusion.